Anthony Gangi Jr. Unveils New Website
Updated online presence for karting standout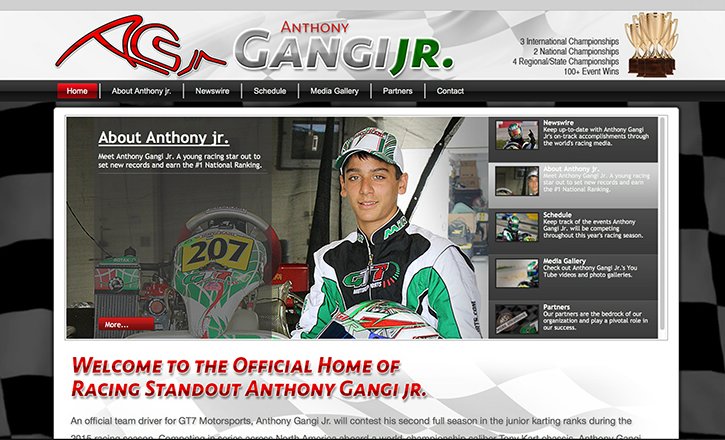 Noted as one of the top junior drivers in the nation, Tony Kart driver Anthony Gangi Jr. is pleased to launch his new personal racing website. Designed by Studio 52's Ken Johnson, www.GangiJr.com highlights the young career, future development and growth in the world of racing for the up-and-coming motorsports standout.
"I would really like to thank Ken for his work on the website," explained Anthony Gangi Jr. "When we first started talking about the design, it was hard to picture what it would look like when complete. In the end, I think it is incredible and invite everyone to come and check it out."
Working with web developer Ken Johnson in between scoring race wins and podium results across the country, the new website is a simple to use platform that provides ease of use for site visitors. Having all the information for Anthony Gangi Jr.'s sponsors, results, news, upcoming events and photos in one place is a great marketing tool and promotional aspect for the future motorsports star.
The GT7 Motorsports Team is a proud Tony Kart and Vortex engine dealer for the US North East. For more information on Anthony Gangi Jr. please check out his website at www.GangiJr.com. For more information GT7 Motorsports please visit their website www.GT7Motorsports.com or contact Anthony Gangi Sr. at 516-635-8594 or email at agangi@mac.com.
Please follow and like us: