Nicholas Sweeps the Weekend in Race City USA, Michael Earns Solid Top 1- Finishes in USPKS Debuts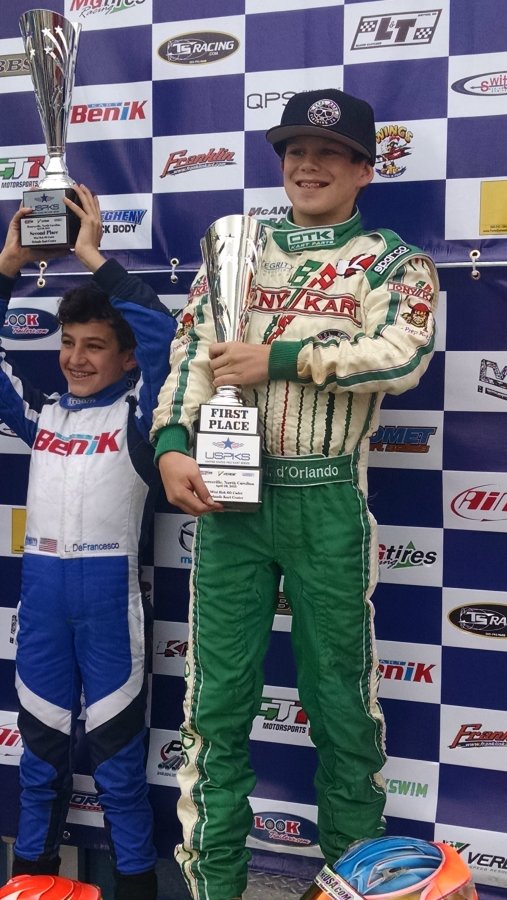 Nicholas d'Orlando
Even the rain could not stop the d'Orlando brothers from an impressive debut in Race City USA, Mooresville, NC, as Nicholas kicked off his United States Pro Kart Series (USPKS) campaign for 2015 at GoPro Motorplex, earning back-to-back wins in MiniRok 60 Cadet, and Michael showed why he is one of the top rookies to watch coming away with two impressive top 10 finishes in his Lepoard 125 Junior debut.
What a race weekend for Nicholas d'Orlando as he battled both the elements and a solid field of drivers in MinRok 60 Cadet winning both Saturday and Sunday races. His weekend kicked off with solid runs in Friday's practices in perfect North Carolina spring weather but conditions would change as the rain came in on Saturday morning causing very slick track conditions. Nicholas had to quickly adapt to the slick track as he ran solid through practice into qualifying as he put his No.15 Tony Kart in 3rd spot. In Heat Race 1 Nicholas would fall back as far as 18th but then battled back to finish up in 8th position. He would start Heat Race 2 once again in the qualified 3rd spot and fell back to 4th on lap-4 but in lap-6 he would take 2nd with team mate Ugo Ugochukwu holding him off to finish in 2nd.
It would be an interesting final as Nick started from 3rd position, after the Heat points were tallied, and would once again battle with his team mate Ugochukwu for 2nd. With Luca Mars driving away from the field early on it would be a fight for 2nd with Ugochukwu fending off Nicholas.  After crossing the line in 3rd, it was later announced that both Mars and Ugochukwu failed to pass post-race technical inspections. Nicholas would officially be declared the race winner.
"I am always happy to get a win", said Nicholas. "I thought my team mate Ugo was better as well as Luca than I was. I was surprised to hear they were both disqualified after post-race inspection.  I hated it for them. Race wins are hard to get and we took the win and moved on to Sunday."
Sunday started out cold damp and rainy again in the morning but cleared up in the afternoon. Mother Nature didn't bother Nicholas as he continued right where he left off. He was again top of the field in warm up and qualified his No.15 Tony-Kart in the 7th spot.  In Heat Race 1 he had fastest best lap of the race with a time of 00:56.579, and finishing up in 5th.  For Heat Race 2 he would work his way from 7th qualifying starting spot to 3rd by lap 4.  Once again he would have team mate Ugochukwu in his sights but Ugochukwu would fend off Nicholas for the win.
It would be an exciting MiniRok 60 Cadet final as Nicholas started 5th on the grid, after the heat race points were tallied.  He wasted little time as he made his way to the front taking 3rd spot on lap-4. By lap-6 Nicholas would be in front of the field leading an impressive 8-laps with a sizeable margin but on lap-14 the field of drafting competition would catch up.   Nicholas slipped back to 3rd but would quickly take back 2nd. The final lap set up for a dramatic battle between Nicholas, Lachlan DeFrancesco, Robert Noaker III, and Pauly Massimino. In an amazing last lap pass on the final turn on all three drivers, Nicholas held off the competition to take the lead and the win, bringing home back-to-back wins for race team  KoeneUSA.
"Overall I thought I had pretty good weekend, said Nicholas."It started out a little tough. I was never really there in the beginning of the weekend and the rain made it a little more challenging. The type of rain we had did not make it fun to drive in as it was pouring rain and cold. As the weekend progressed I felt more confident heading into Sunday's race. I had a good kart capable of winning. We were strong all day as well as my teammate Ugo was. That final was fun to drive especially that the track dried up making for an exciting race.  It was awesome to get the win especially to do it on the final lap. I can't thank my team enough for a great a weekend".
It was a solid race weekend for big brother Michael d'Orlando as well, as he brought home two top-10 finishes in his Leopard 125 Junior debut at GoPro Motorplex. Despite the weather, Michael showed why he is one of the top drivers and rookies in the field as he quickly adapted to the changing track conditions.
With the slick track conditions on Saturday Michael would not only battle a strong experienced field, but Mother Nature as well. The rain did not seem to bother him as he stuck to his game plan by using both practice and warm up sessions to his advantage to dial in his No. 51 Tony Kart for qualifying.  Michael came away with an impressive 7th place qualifying run of 01:02.186.  Although the Heat Races were not the finishes Michael was looking for he made up for it in the Final.
Starting 9th after the heat race points were tallied, Michael would get forced a little further back in the field on the opening corners but wasted little time making his way back up. By lap-4 he made his way back to the 9th spot and as the experienced field charged ahead, and he would finish up with an 8th place finish.
Sunday morning damp conditions would not put a damper on Michael's day as he had another strong qualifying effort putting his No. 51 Tony Kart in 5th spot. In Heat 1 he would finish up in 9th spot.  Michael would have another strong run in Heat 2 as he finished in 6th spot showing he was one of the drivers to look out for in the final.
As the sun peaked its way out for the final and the track dried out making conditions the best they had been all day, Michael would start the Leopard Junior final in 5th spot.  He kept his No. 51 Tony Kart in the top-10 throughout the race as the field spread out.  Laying down some fast times with a 48:960 on lap-13, he would run out of laps and hold on to finish in 7th position.
"Coming into the weekend I knew it was going to be a bit of a challenge because it was a new class for me and the competition is very good," said Michael. "It was a great learning experience for me. The rain made it a little more challenging but I don't mind driving in the rain. I was happy over all with top-10 finishes. I got faster as the weekend went on. I qualified pretty well. My kart was fast in Sundays final and I ran some really good laps & finished 7th. I am getting better and better.  This was a good start to my USPKS season."
Next race for both Michael and Nicholas and their race team, KoeneUSA, will be the debut of the Rotax US Open series on May 15-17 at Dallas Karting Complex in Dallas, TX.
DRC would like to give special thanks to their supporters and sponsors at Iona Preparatory School, Kool Nerd Clothing, and adidas Motorsport.  A special thanks to Mike Maurini, Martijn Koene & Chris Wheeler from their race team KoeneUSA, as well as DRC's Adam Johnson, for their continued hard work, support and driver development.
d'Orlando Racing Corp.
For more information on Michael or Nicholas d'Orlando, please visit www.dorlandoracing.com. Be sure to follow Michael and Nicholas on Facebook (Michael d'Orlando Racing or Nicholas d'Orlando Racing), Twitter (@dorlandoracing) and Instagram (@dorlandoracing) to stay up to date on news, information, photos and results.
Please follow and like us: