GoPro Motorplex Driver of Week: Ian Habiuk's Love for New Challenges Fueled Recent Switch from Dirt to Sprint Karting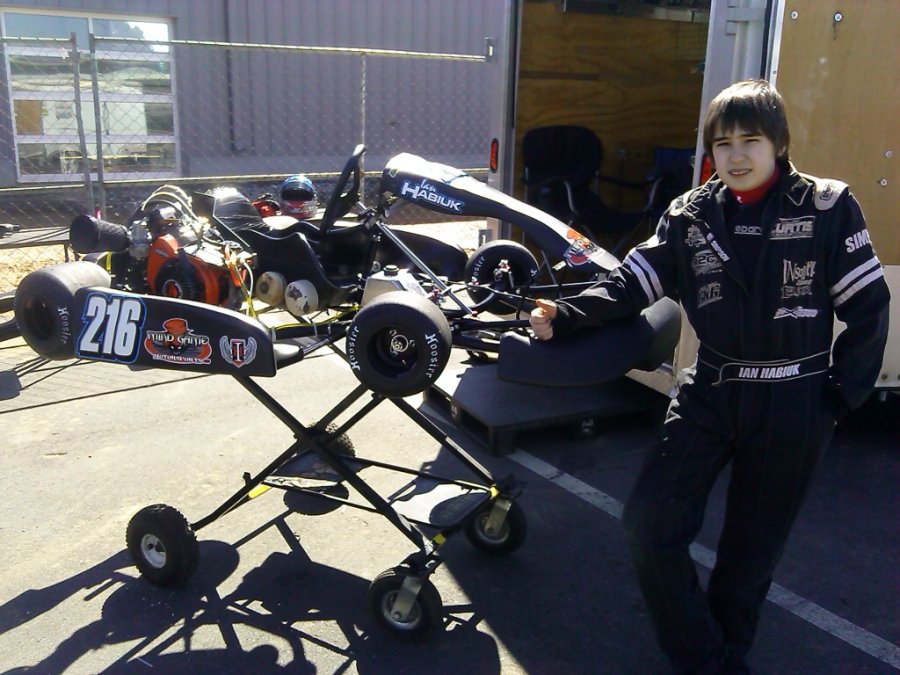 Ian Habiuk
"They are both karting, but in my mind they are two different sports," said Ian Habiuk. "One I know and I'm a champion in and then in the other one I have no idea how to control the kart or even how to complete a pass."
So, after 44 wins and 2 track championships in four short years of dirt oval karting experience, what made Round Three's GoPro Motorplex Karting Challenge Presented by Hoosier Racing Tire Driver of the Week, Ian Habiuk, try an entirely different style of karting with no experience at GoPro Motorplex?
"I think that's fun. New challenges," said Ian. What an impressive quality to have for a 12-year-old from Concord, N.C. It hasn't been easy by any means, but Ian is not afraid of the adversity that comes along with new challenges.
Ian's first sprint karting race in the MotorsportReg.com Briggs Junior division at GoPro Motorplex was 'baptism by fire' for Ian as a driver and his dad, Tim, in the role of crew chief, both having to learn the hard way as first-timers. They were almost disqualified from qualifying for unknowingly illegally heating tires (legal in dirt karting) and Ian accidentally wrecked a fellow competitor by trying to pass on the outside (Ian is known for his signature, high-side passes in dirt karting).
However, through all of the challenges and only two rounds in, Ian is already excelling, finishing in the top-five each race so far.
"It's all still new and I'm learning, but I'm having so much fun," said Ian. "I love it. I'm still doing dirt karting as well, but this road course style is my favorite right now."
We sat down with Ian to learn more about him and how he is adjusting to making left and right turns this year:

Fast Facts:
Name: Ian Habiuk
Birthday: September 4
Age: 12
Hometown: Concord, NC
School: Carolina International School, Concord, NC
Hobbies: Karting, Ju-Jitsu, Football
Fears: Poisonous spiders
Favorite Food: Chinese food or Macaroni and Cheese
Favorite Track: Monaco
Years Racing: 4 years on dirt oval, first season on asphalt road course

Q&A:
Q: Who are your biggest fans?
A: Oh, my supporters, MGM Racing Chassis, CKE Engines, Axcel Sports and GKart Graphics, for sure. But also my parents and my Facebook Fans; I think we are up to over 3,000 'Likes' now!
Q: How did you get into karting?
A: It was about five years ago, I was on the internet and I saw a karting blog and I thought that maybe that was something I would like to do one day and that's where the idea started. I have been doing dirt karting for four years.
Q: But this is your first year in sprint karting, how did you get into this style?
A: I saw GoPro videos of this place (GoPro Motorplex) and I was so excited! I wanted to race these things. I came to race the Junior Rental Karts here and when those ended we decided to get serious about this type of karting.
Q: So you still do a lot of dirt karting too, how do you balance both schedules?
A: My dad has a calendar with all of the races for both. We are competing for a track championship on dirt and we will run every Karting Challenge club race too. My goal is to at least finish in the top-10 in points for the Karting Challenge this year.
Q: What are similarities between dirt and sprint karting?
A: That is a tough one. I know they are both styles of racing, but I feel like there are little to no similarities between the two types.
Q: What are the differences?
A: A lot! There are no cautions in sprint karting, so mistakes are so much more costly than in dirt oval. If I brake wrong or mess up a turn, I lose a lot of ground. There is so much more pressure on the driver in sprint karting and more pressure on the crew chief in dirt with everything you can do to the tires. It is two different driving styles. You can't be as aggressive in sprint karting or do the Kyle Busch-style bump-and-run. Also, dirt has a much shorter season where I think you can do sprint karting all year long.
Q: What helped you make the transition from dirt to sprint karting?
A: Well, I watched so many GoPro onboard videos on YouTube that I felt like I already knew the track (GoPro Motorplex). We made the transition in a very short amount of time and with barely any testing. 
Q: What do you like most about GoPro Motorplex?
A: It's an easy enough track, but it's challenging. When you figure out one corner, there's another corner that is difficult. That's what I like about it. It's a never-ending list. When you complete your list and keep doing the same thing over and over again it gets boring, so I love every corner here and the challenge of mastering the track.
Q: Would you say that the Briggs Junior Division is a good starting place?
A: Yes, I would definitely say so especially because we race in the same group as the Briggs Senior drivers and I can try to follow the adults, stick with them and I've learned a lot by doing that.
Q: What would you tell other karters who are thinking about trying sprint karting?
A: Just go out there and try your hardest even if it doesn't seem like it is working out. For me, I felt like it wouldn't work, but my dad kept encouraging me. I'm having so much fun with this style of karting that I may even switch to it full time, it's my favorite right now.

See Ian in action during Round 3, May 9:
Round 3 of our 10-round club series will be on Saturday, May 9. The series features 11 karting divisions, including the Rental Kart Light division. Each segment of the Karting Challenge Presented by Hoosier Racing Tire consists of two practice sessions, qualifying and two finals per division. The race day starts at 8:30 a.m. and Spectator Admission is free! Competitors can pre-register in advance at a discounted rate on MotorsportReg.com. For more information on the Karting Challenge series, CLICK HERE>> (http://www.gopromotorplex.com/racing/default.cfm?cid=56753)
2015 Driver of the Week Program:
The Driver of the Week program is new for the 2015 Karting Challenge Presented by Hoosier Racing Tire. The goal of this program is to spotlight our club series karters each week leading up to a Karting Challenge race. Each "Driver of the Week" will be chosen at random by blind draw from Driver Bio forms that are returned. Each "Driver of the Week" will represent one of our 10 divisions. Competitors can click here to complete a Driver Bio Form>> (http://www.gopromotorplex.com/assets/Driverbioform.pdf)