Top Kart USA Successful in North Carolina Rain
Two weeks, four poles and twenty-nine podium finishes at GoPro Motorplex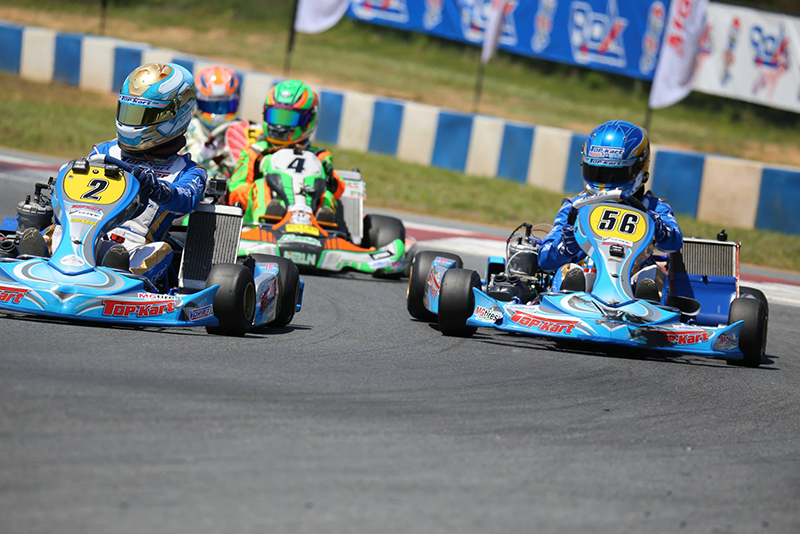 Top Kart USA drivers battled hard at the GoPro Motorplex (Photo: Top Kart USA)
Over the course of a rainy two weeks at the GoPro Motorplex in Mooresville, North Carolina, Indianapolis based Team Top Kart USA brought home four pole positions and whopping twenty-nine podium finishes in two of the top eastern United States karting series. The weekends marked round two of the World Karting Association (WKA) Manufacturers Cup program and the opening round of the 2015 United States Pro Kart Series (USPKS) season.
"Even though the rain never seemed to let up completely for either week of racing, we managed to push hard," explained Blake Deister, co-owner of Top Kart USA. "We put several karts at the front of the field in handful of classes. We're very pleased with these results and with the hard work of our drivers and crew."
During the WKA weekend, Top Kart drivers recorded a 2-3-4 finish in Yamaha Junior. David Malukas finished second just ahead of Zach Holden in third and JP Southern, Jr. in fourth.
Zach Holden redeemed himself as he took the win in Pro IAME Junior, with David Malukas finishing just outside the top-five in sixth. Teammates JP Southern, Jr., Jack Miller, Myles Rowe and Abby McLaughlin also showed speed all while gaining experience in the top junior division.
Dustin Stross took home a podium finish; placing third in Pro X30 Senior class while Alexander Kardashian crossed the line just behind him, in fourth. Stross also secured another top-five result in the Pro IAME Senior division crossing the line in the fourth position.
Jason Welage secured the pole position in Yamaha Sportsman, and turned that front row starting spot in to a second place result in the main event. In Pro TaG Sportsman, Welage added another podium result finishing third. Tyler Ferris, Riley Erickson and Owen Mahle rounded out the class for Top Kart USA. Erickson and Mahle also recorded strong finishes in Yamaha Rookie.
National newcomer Kaden Wharff and teammate Connor Ferris showed consistency and improvement all weekend. Ferris added another podium for Top Kart USA coming home third in Mini Swift Pro, with Welage adding another top-five finish in fourth.
Dakota Pesek gave Top Kart USA another victory to add to their already astounding resume. Claiming the top step of the podium in the Yamaha Senior class, Pesek started his quest for the championship off on the right foot and will look to carry that momentum onwards in 2015
The second event weekend at the GoPro Motorplex stretch saw Top Kart USA compete at the opening round of the USPKS program and even more success blue chassis.
After a nasty crash on Saturday in Vortex Mini ROK, Jason Welage pulled off a fifth place finish on Sunday. Showing his true determination and diversity, Welage managed a pole position and two second place finishes in Yamaha Cadet, in both Saturday and Sunday finals all while competing with an injured arm from Saturday's on track incident.
"With Jason taking a nasty hit on Saturday, we weren't sure how he was going to feel the rest of the day and even on Sunday," said Greg Welage, father of Jason. "As a hardworking and dedicated young driver, even though he is so small in size, his passion for driving and performing is clear. The Top Kart USA team repaired the kart and got him tuned up for the following races. It gave him the ability to go out there and give it his best shot, while earning podium finishes."
Zach Holden and David Malukas would be back in action during the USPKS portion of the two week racing adventure in Mooresville and claimed fourth and fifth place results in Leopard Junior, with teammates Jack Miller, Sheldon Mills, JP Southern Jr., and Abby McLaughlin not far behind.
Dustin Stross took pole in the second Leopard Pro Senior final, finishing the race in sixth place.
Kaden Wharff took his first national podium, in the Saturday's Yamaha Cadet race with a solid third place result while Top Kart USA teammate Jason Welage topped the blocks claiming the victory. Top Kart USA teammates Stone Slattery and Emilie Schultz also finished inside the top-fifteen after a very hard weekend of competition.
In Yamaha Junior, David Malukas scored two pole positions and turned those into first and third place results in the main events while Zach Holden was once again on the podium in Saturday's main event. Teammates JP Southern Jr., Austin Schultz, Dalton Peak and Sheldon Mills also recorded strong finishes and will be back to fight for race wins and podium results at future events.
Dakota Pesek continued his winning ways as he once again climbed to the top step of the podium. Taking the victory in Yamaha Pro, Pasek has proven that he will be a threat for the overall series crown in both WKA and USPKS competition.
Owen Mahle recorded third and first place finishes in Yamaha Rookie while teammate Riley Erickson was also quick showing top-ten speed throughout the weekend.
"It is always great to see many of the Top Kart drivers racing competitively at the National events," said Bill McLaughlin, Jr., co-owner of Top Kart USA. "It is even greater to support the drivers while helping them learn and progress throughout these race weekends. We will continue helping racers achieve these goals throughout the season at each event."
About Top Kart USA – Top Kart USA is located in Indianapolis, Indiana and is a distributor for the Top Kart product line. Housing a national level race team and competing in the World Karting Association and SuperKarts! USA programs as well as throughout the regional level in the Midwest, Top Kart USA is continuing to evolve and develop Top Kart dealerships throughout the United States. Supported by Top Kart importer Grand Products, Top Kart USA is owned and operated by McLaughlin Motorsports.
Please follow and like us: