Hamilton Back in the US for Pro Tour Opener This Weekend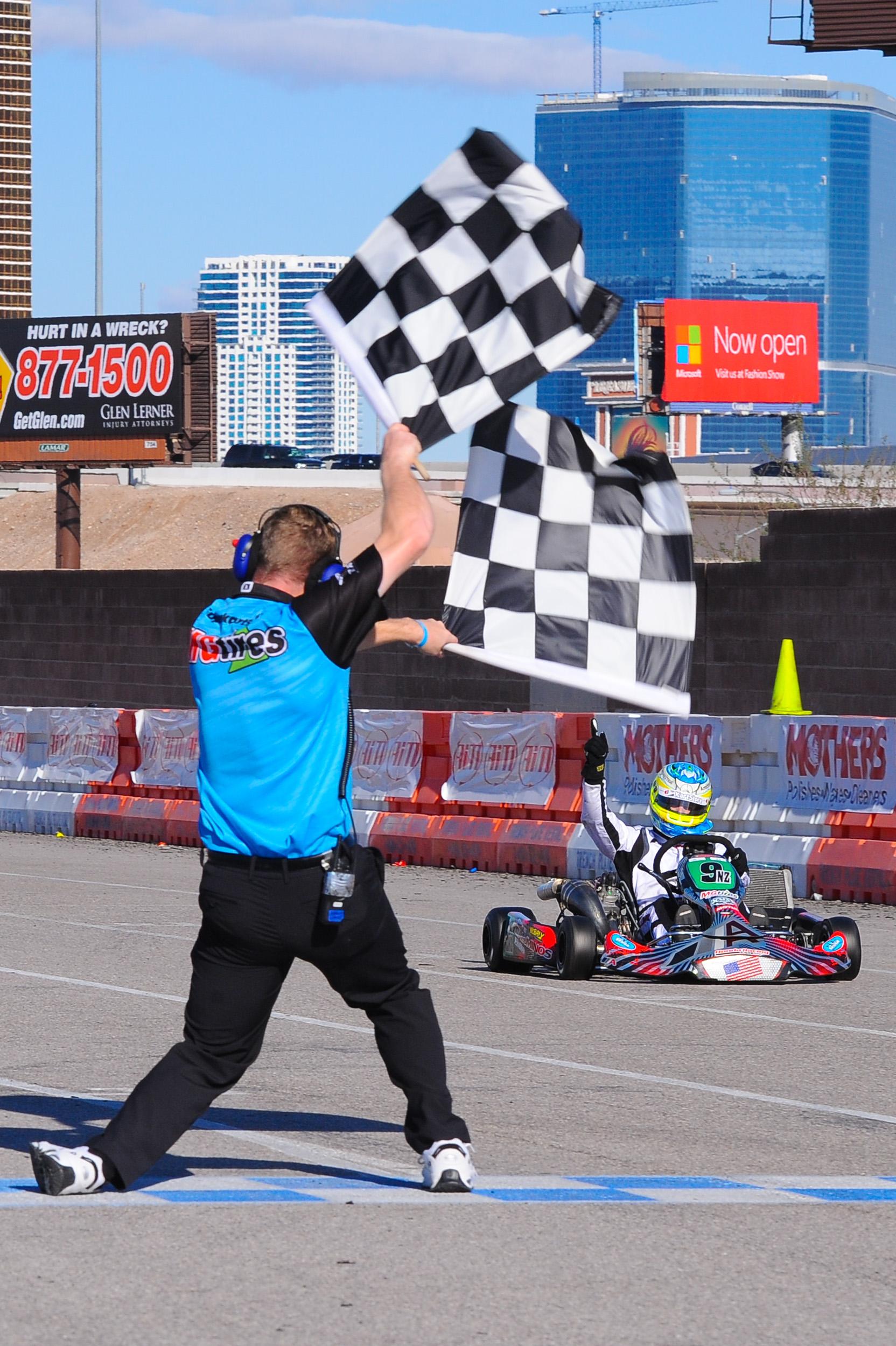 Christchurch driver Matthew Hamilton greeting the chequered flag at the final round of the 2013 SuperKarts USA series in Las Vegas (Photo: On Track Promotions - otp.ca)
Multi-time New Zealand KartSport champion Matthew Hamilton from Christchurch is back in the United States this weekend contesting the opening round of the Fikse Wheels 2015 SuperKarts USA (SKUSA) Pro Tour in Arizona.
Hamilton finished third overall in the S4 Masters Stock Moto class in his first full year on the SKUSA circuit last year. And this year he is back to run with the same team – Aluminos – in the premier S1 class.
This year's series again runs over three big double-header meetings, from the SpringNationals in Arizona this weekend through the SummerNationals in Indianapolis in July to the SuperNationals in Las Vegas in November.
Hamilton's success in the US comes on the back of pioneering work by fellow Kiwi Daniel Bray who won the S1 Stock Moto title in 2011 and finished second in 2013.
Bray will also be at Phoenix this weekend, but as a set-up man and mentor for drivers in the Aluminos team.
It's a role the Auckland-based international, who regained the New Zealand KZ2 class championship title at the 2015 Sprint Nationals at Easter, enjoys as much as driving, something he combined with great success in Mexico only last weekend.
"My job," he said from San Francisco earlier this week, "was to make the team faster. I was meant to be only advising/tuning for them but in the final practice on Friday I jumped in one of the karts and went three-tenths faster than anyone else so the team said I was racing!"
He was too, breaking the S1 Stock Moto class lap record and leading home a team 1-4 finish in the S1 Stock Moto class. Team drivers also finished first and second in the Masters class and first in the Cadet class.
Please follow and like us: