Brandon Lemke Scores USPKS Hat Trick in Mooresville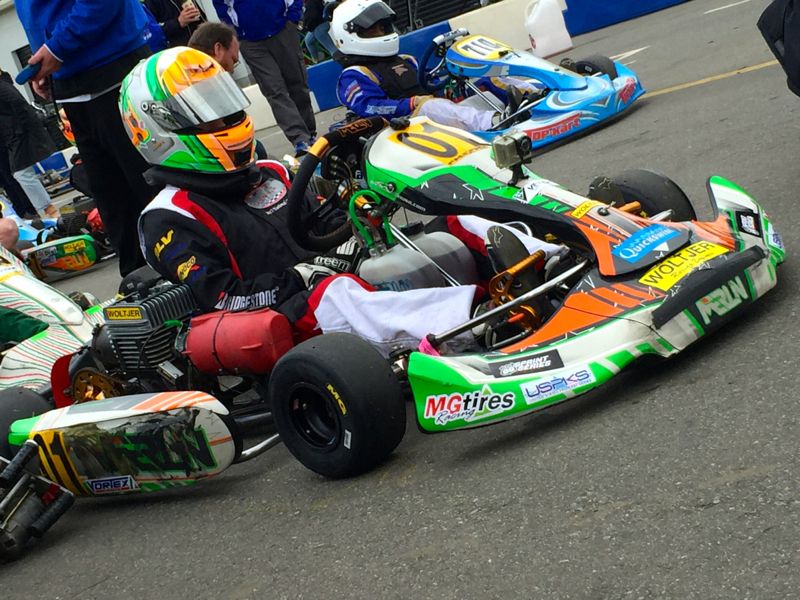 Lemke on the grid Sunday at GoPro Motorplex (Photo: NCRM)
Only his Merlin / Franklin Motorsports teammate overtaking him in the final corners of Sunday's Yamaha Junior main event kept Eagle, Wisconsin's Brandon Lemke from going four for four in junior main-event competition at GoPro Motorplex this past weekend, where the United States Pro Kart Series (USPKS) kicked off its 2015 campaign with record entry counts and some of the best competition national-level sprint karting will see on the east coast all season.
While Gio Bromante won the Yamaha Junior final Sunday afternoon, Lemke had his way in the junior categories the rest of the time. The former WKA Triple Crown champion scored the USPKS hat trick at Mooresville, winning Saturday's Yamaha Junior final and sweeping the Leopard 125 Junior category.
That's right, in Leopard 125 Junior, which attracted nearly 30 entrants, Lemke qualified on pole both days, won both heat races each day, and scored each day's main-event victory.
"It's always the goal to win as many as you can, but I'm also pleasantly surprised because, honestly, I didn't think I was going to win three out of the four and get second in the other one," Lemke admitted after races Sunday. "So, I am surprised with that, but I'm glad to get the wins. I always know we're capable of weekends like this; just a few things always have to go your way when racing against this level of competition. This weekend we were really fast and had a little luck here and there to help us out."
Wet weather Saturday turned to dry, albeit overcast and chilly, conditions for Sunday. In the weekend's last race – Leopard 125 Junior – Lemke's key rival, David Malukas, jumped out to the early lead while Brandon battled with Anthony Gangi Jr. for the second position.
Once Lemke passed Gangi, he set his sights on Malukas, who was clicking off fast laps while alone out front. As the latter stages of the 16-lapper approached, Lemke started slowly cutting into David's lead, and when the Chicago driver slightly overshot turn one, Lemke closed the gap from approximately 10 kart-lengths to a mere bumper.
Lemke wasted little time moving his No. 01 Merlin to the front, shooting under Malukas's Top Kart in turn eight less than a half lap after Malukas overshot turn one. Malukas would not go down without a fight, muscling back past Lemke with two laps to go.
But Brandon wouldn't be denied, slipping back past Malukas on the white-flag lap and beating him in a drag race to the checkered flag to score the weekend hat trick.
Brandon spoke about his battle with Malukas.
"I think I was catching (Malukas) a little bit here and there, but I don't think I would have caught him if he didn't make a mistake in turn one. It was tough to keep up with him, but once I got to his bumper, it was another tough battle and I was lucky enough to pull off the win," Lemke said.
"I have to thank my mom and my dad, Jason Birdsell for tuning all weekend, Woltjer Racing Engines, Race Ready Engineering for helping with the carburetor all weekend, Quickswim, Inc., QPS Employment Group and my whole family," Brandon added.
After consecutive weekends racing at GoPro Motorplex (Lemke also competed in the WKA Manufacturers Cup Nationals at GoPro April 17-19, netting a best finish of second in Pro IAME Junior), Lemke and his team are headed to Glendale, Arizona, for this weekend's SKUSA SpringNationals at the Phoenix Kart Racing Association.
For more information on Brandon, visit his official website at BrandonLemke.com
Please follow and like us: