So Cal Oval Karters Invites You to Try Out Racing Kart This Sunday at Perris Raceway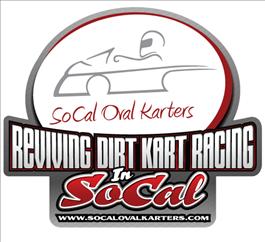 When the So Cal Oval Karters make their second appearance of 2015 at the Perris Raceway this Saturday night, April 25th, they are offering prospective new racers a chance to drive a kart on the famous Barton Road track in the newly developed "Arrive and Drive" program.
During intermission of the show, potential new drivers can jump in a kart built by the So Cal Oval Karters and cut some laps.  The cost is $25.00 for 10 laps (there is also a $10.00 admission fee to the facility).  The arrive and drive is designed for kids age 8 and up and for adults as well.  Drivers have to wear tennis shoes, a long sleeve jacket and jeans.  If they have a helmet, it is recommended they bring that as well, but for those who do not have one, some helmets will be available.  Gloves and racing collars will be supplied by the SCOK.
"The idea is to gauge potential drivers interest," So Cal Oval Karters spokesman Mike Nigh said.  "It gives them a chance to see if they like it before they go out and buy a kart.  Hopefully they will like it and we can generate a lot of interest and gain some new racers for the club."
Space in the "Arrive and Drive" is limited to four or six drivers this Saturday and Nigh would like prospective karters to call or E-mail in advance for reservations.  Anyone interested can call him at (805) 857-2595 or click on the following E-mail link mailto:scokart@gmail.com.
Saturday's race will be the third in the 2015 SCOK championship series and the second at Perris Raceway.  At the first race at Perris on March 21st, Matt Drottz of Long Beach won in the F200's, Rev Parker took the KT100 main, Bonita's Matt Martis won the SR 4 Cycle and Darren Elliott captured the victory in the Opens.
Matt Drottz of Long Beach won the season opening F200 main event at Perris on March 21st.  Media, please feel free to publish this photo of Drottz and please give photo credit to Schnarzy.
The pits will open at 2:00 PM on Saturday.  Practice is slated to start at 5:00 and the first race will take the green flag at 6:00.  Perris Raceway is located at 1205 Barton Road in the city of Perris.
After Saturday's race, the So Cal Oval Karters get a couple of weekends off before returning to John Aden's Wheel2Wheel Raceway on the San Bernardino County Fairgrounds in Victorville on May 16th.
The So Cal Oval Karters would like to thank the following sponsors who help make the series possible.  Burris Racing, Cory Kruseman Sprint Car Driving School, Hubcapmike.com, Perris Auto Speedway, Professional Announcer Chappy, R&J Motorsports, THC Home Medical Services, T-MAC Racing and Yoa Racing Engines.  If you would like to become a part of the So Cal Oval Karters 2015 season, please call or E-mail Mike Nigh at (805) 857-2595 or mailto:scokart@gmail.com
Please follow and like us: