d'Orlando Brothers Kick Off Their 2015 United States Pro Kart Series Campaign in Race City USA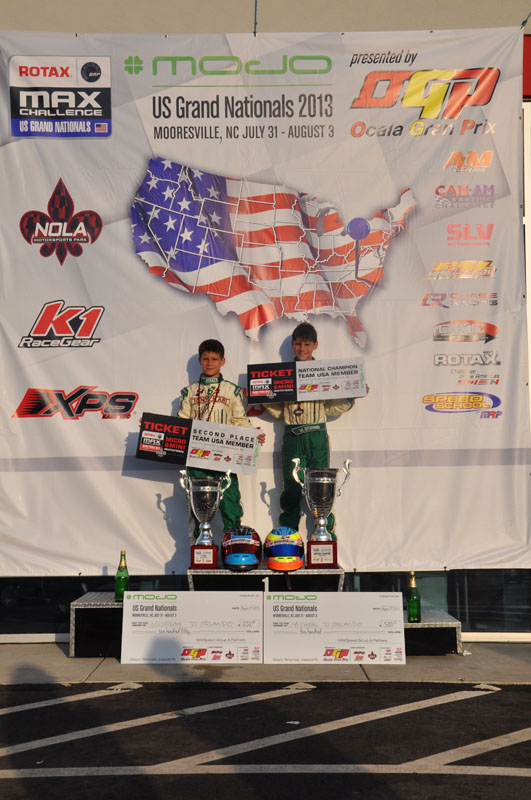 The d'Orlando brothers head to Race City USA, Mooresville, NC, home to many of the top NASCAR teams, to kick off their United States Pro Kart Series (USPKS) campaign for 2015 at GoPro Motorplex. Michael and Nicholas are no strangers to the 0.7-mile sprint track and both have had great success here in the past with Michael claiming the race win & national championship title in Rotax Mini Max and Nicholas crowned Vice-Champion in Rotax Micro Max in 2013, additionally both were consistently in front of the field in the 2014 PanAm Challenge.
While Michael will be making his Leopard 125 Junior debut this weekend, Nicholas will be running the familiar Mini Rok 60 package.  Both drivers will be racing in large fields stacked competition.  Michael is looking forward to making his Leopard Junior debut at a track where he has enjoyed past success and competing with some of the best competition in the country.
"I really like racing at GoPro Motorplex.  It's a special place for me as I won the National Championship here in 2013," said Michael. "It's a fast track that fits my driving style. You can pass here which makes for good racing. This is one of the tracks I look forward to coming to each year.  I ran in the top 3 here at the Rotax Pan Am Challenge last year until bad luck with an engine in the pre-final pushed me to the back of the grid to start the final, but driving through the field to get up as far as 4th was fun. This weekend I will make my first start in the Leopard 125 Junior class and I am looking forward to a good race weekend."
After coming off a successful Florida Winter Tour campaign, Nicholas is looking to keep that momentum going in his United States Pro Kart Series (USPKS) debut.  He is excited to be competing in Mini Rok 60 class at GoPro Motorplex were he has typically been at the front end of field in the past.
"This is a track I look forward to racing at," said Nicholas. "It is a very fast track to race at.  I have earned a national vice-championship title here in Rotax Micro Max, and last year I ran in the top 5 of the Rotax Pan Am Challenge.  Unfortunately an on-track incident in the pre-final forced me to start from the tail of the field for the final but I worked my way back up to the top ten. So now I am looking forward to driving in the Mini Rok class here.  The competition in the USPKS is always tough and you are racing against the best. I am looking to stay up front and bring home a win."
Both Michael and Nicholas will take to the track with their race team, KoeneUSA, on Friday April 24th for official practice before two full event days of competition on Saturday and Sunday April 25 & 26.
DRC would like to give special thanks to their supporters and sponsors at Iona Preparatory School, Kool Nerd Clothing, and adidas Motorsport.  A special thanks to Mike Maurini, Martijn Koene & Chris Wheeler from their race team KoeneUSA, as well as DRC's Adam Johnson, for their continued hard work, support and driver development d'Orlando Racing Corp.
For more information on Michael or Nicholas d'Orlando, please visit www.dorlandoracing.com. Be sure to follow Michael and Nicholas on Facebook (Michael d'Orlando Racing or Nicholas d'Orlando Racing), Twitter (@dorlandoracing) and Instagram (@dorlandoracing) to stay up to date on news, information, photos and results.
Please follow and like us: