EKN Driver Diary: Jake Craig – Rotax Max Euro Challenge Salbris Report
TaG Driver Rankings #1 pilot begins tour as factory Formula K driver in Europe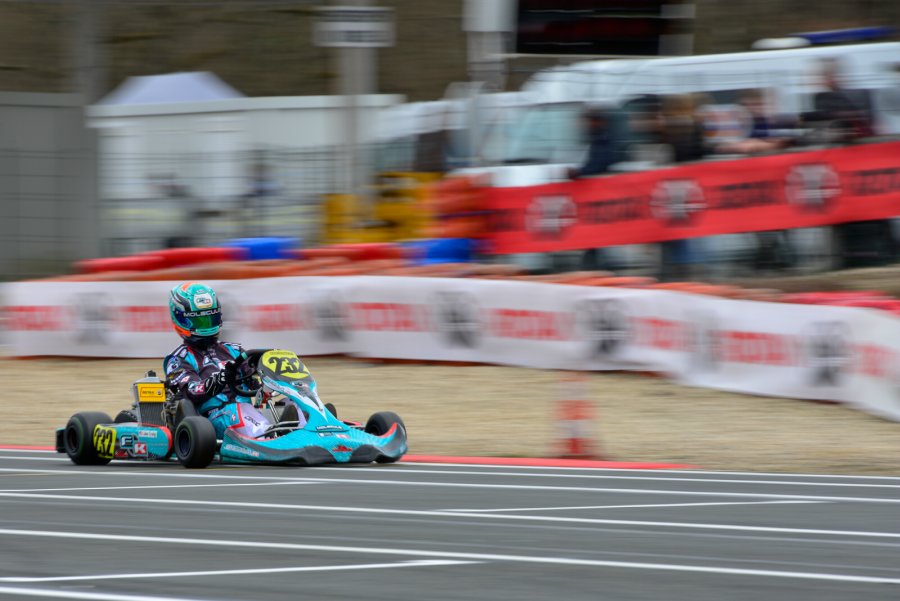 (Photo: theracebox.com)
In December, it was announced that Jake Craig, the top TaG driver in the 2014 EKN Driver Rankings, was moving to the Formula K brand and partnering up with the RaceLab operation along with tuner Kyle Kuntze. The deal included the Southern California driver signing on as an official Formula K Racing driver, making him one of a few Americans to earn the title of a true factory driver. The 2014 Superkarts! USA Pro Tour and US Rotax Max Challenge Grand Nationals champion worked hard over the last three months, competing in a number of events and testing as much as possible, leading up to his European debut with Formula K. That race was the Rotax Max Euro Challenge event in Salbris, France on March 30-April 1.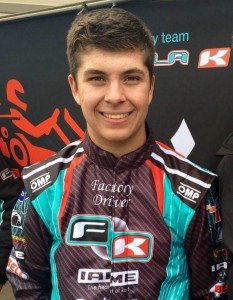 Monday, March 30
We arrived at the track and the first thing scheduled was a track walk. As soon as I started to walk it, I knew it was going to be a challenge. The track is very sweeping with multiple heavy braking zones and tight corners. The curbing on the track is a bit bigger than most, so it looked like there were no sections of using them. A big thing I noticed was the fact there was no rubber on the track, because it had been raining for a few days. For the most part everything seemed very well taken care of and I couldn't wait to drive it!
Tuesday, March 31
It was time to get the chassis built and get everything fitted! The team had the roller assembled for us so it was an easy task. We just needed to do pedals and steering position, weight, and get the exhaust brackets set up. After we finished, we waited for Roberto and Danilo from FK to get to the track and try on all of our new FK clothes! When we were done at the track, we all went out to dinner to discuss our game plan for the week to be as organized as possible.
Wednesday, April 1
Today was the first day of free practice for the event which was made of 8 eight-minute sessions. Luckily, the track was dry all day so that I was able to learn it with no issues. Sessions 1-4 were mostly focused on me getting up to speed and finding a good balance with the chassis. On session ,5 we put a different engine on and unfortunately it didn't start so we winded up missing that one. Luckily the problem was easy to fix and we were able to get on track for session 6. We started showing good pace in sessions 7 and 8, which was a nice way to end our day and get ready for the next. The track requires a much different driving style than any track I've ever driven so it was difficult to adapt at first. I definitely thought the track was going to start picking up rubber as the day went on, but that wasn't the case as the track stayed very similar all day. I know I have more I can improve on in my driving to be better for tomorrow…
Thursday, April 2
It's time for day two of free practice…It was raining quite a bit last night so it left the track fairly wet. For session one, everyone went out on rain tires except for my teammate and I. The track didn't look like it was wet enough for rain tires so we decided to just go on slicks. In the beginning of the session, I was hooking the curbs around all the sweeping corners and going straight over the curbs in the tight corners, but as the track started to dry it was time to attack the corners harder and stop using the curbs in the sweeping corners so I could carry more speed. Our speed was very good in these conditions. Throughout the rest of the day, we were continuing to improve our speed in the full dry sessions as well.
Friday, April 3
Today was timed qualifying. Our goal was to qualify in the top 30 to give ourselves a good starting spot in the qualifying heats to move forward. Well, that did not go as planned. My engine wasn't working properly so I was classified 60th, which meant I would be starting all of my heats from last place (30th position).
Saturday, April 4
It was three qualifying heats for me to move up in hopes of making the action on Sunday. Luckily, it was raining all morning so the track is going to require wet tires. I would rather have to come through the field in the wet, because I feel it is possible to make up more positions. In heat #1, I finished 16th, which is not a bad position for points. In Heat #2, the track was starting to dry, but was still too wet for slick tires. I played it a little too safe on the first lap not making up enough positions in the beginning and ended up in 17th. Heat #3, the track just dried and everyone was on slick tires. I knew going into this race I had to make up as many positions as possible going into turn two on the first lap. I was able to get quite a few spots, which made for a good start and I continued to get a few more karts. Then, it started to rain with four laps to go and I started to make up more positions. The race directors decided to cut the race two laps short so I had to settle for 13th position in the last heat. With the points we scored in the heats, we were fortunate enough to just slip into the final placing – 28th in the overall heat results. It was also a big learning curve today finding out the way everyone raced. They raced very aggressive and defend into every corner, but everyone had great respect at the same time.
Sunday, April 5
The sun was shining and we knew it was going to be a dry day. First, we had the Prefinal, in which again I had to make up as many positions possible for a good starting spot in the Final. There was a crash right in front of me on the start so I had to go off track to avoid it, which put me in 32nd position. I was able to work my way up to 21st and I was happy about getting an inside starting spot for the Final. I felt like the chassis needed a change in the front end for the Final, so we changed a few things to try and improve it. It was time for the Final so everyone made their way to the servicing park and then we all lined up in our starting spots on the front straightaway. I managed to get a good start and get up to 10th on the first lap. Then, on the second lap I made up two more positions to 8th. All was going well until I got hit from behind, putting me into the driver in front of me and we both ended up going off the track. That was the end to my race. Overall, I learned a lot and look forward to next round at Castelletto!
I would like to thank everyone that supported me back home. I couldn't have accomplished what I did without you guys! I would also like to thank eKartingNews.com for this opportunity and I look forward to doing it again!
Another big thanks goes out to all of my sponsors Formula K, The RaceLab, Molecule Motorsports, TruTech Racing Engines, and Complete Trailers.