Jetpak Jak Wins in California
Pilot tests and scores victory on Energy Corse cadet chassis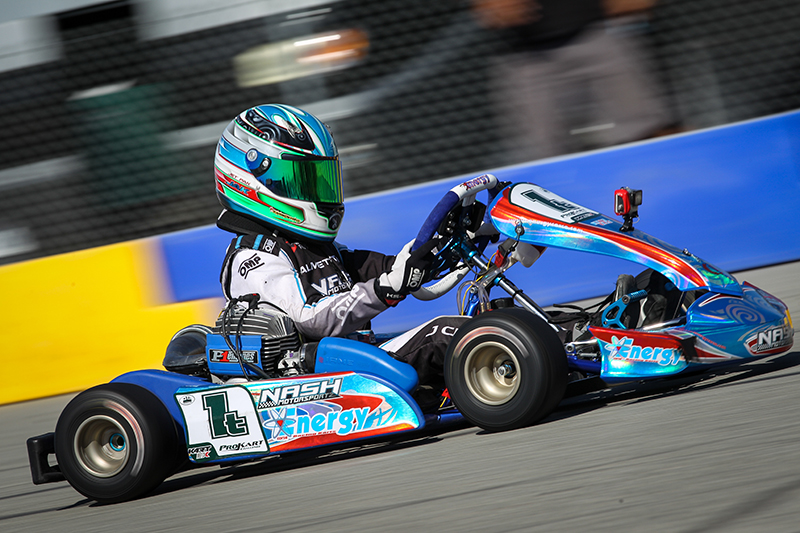 Jak Crawford score the TaG Cadet victory at the SKUSA Pro Kart Challenge event at Buttonwillow Raceway
aboard an Energy chassis (Photo: Dromophotos)
For the third event of the SuperKarts! USA (SKUSA) California ProKart Challenge (CPKC), the young Texan, 'Jetpak' Jak Crawford rolled into town with no experience on the Buttonwillow track, the IAME motor, or the Energy chassis, yet he walked away with over a 3.5 second win ahead of some great Cadet competition in a field of nearly 30 drivers. The CPKC format is a driver's format that includes practice on Friday only of the race week and qualifying and wheel-to-wheel competition on Saturday. Two quick days to put it all together.
Most everyone in the karting community knows that Jak Crawford, the speedy nine-year old pilot, can wheel a kart around a track, so the bigger news might be that the Energy chassis found its way to the top stop of the podium after a long absence and virtually no current United States market share. After an invitation to fly out West and test the new Energy Corse cadet chassis and with factory support from Italy, Crawford joined with his long-standing Nash Motorsportz team and made his plans quickly.
The victory came after a 2015 year that has not been without challenges for the talented Crawford. There have been lots of opportunities but few victories in the first quarter of the season. A great start at Florida Winter Tour in Rotax Micro Max, where he swept the entire first race day events, didn't endure the season. After spending every FWT event near the front of the field in Vortex Mini ROK, there was little to show for his efforts at the end of the five event series. Perhaps, the hardest blow was that his underage Rotax Mini Max debut on a full-size chassis fell short of a Rotax Challenge of Americas championship by one position on the track in the last event in Sonoma, California.
"We are not as excited about his big CPKC win as we are about expelling some of his 2015 bad racing luck which has been a whole year's worth, or more, condensed in three long months," explained Tim Crawford, father of Jak. "After high expectations and a strong ending in 2014 with a SKUSA SuperNationals podium, we were happy to see Jak get some credit at the end of a race. This Energy cadet chassis and the engineering support behind it had a lot to do with it."
Crawford continued, "Jak will once again test the new Energy equipment in Phoenix at the SKUSA SpringNationals. We will be under the Nash tent with Mick Panigada helping Seth Nash from Italy."
For the remainder of 2015, Jetpak will run the full SuperKarts! USA Pro Tour as well as limited United States Pro Kart Series events.  There is only one Rotax race planned for the remainder of the season as the Rotax engine changes play out.
Jak would like to thank the following groups and people for their support thus far in 2015:  OMP, Nash Motorsportz, Precision Works Racing Engines for Rotax motor support, P1 Racing Engines for Vortex ROK and IAME motor support, and Chris Hatfield.  Besides Palmetto MDR supporting Jetpak's racing efforts, Speedsportz Racing Park and the Alan Rudolph Racing Academy (www.speedsportztx.com) will also be represented.
For more information on 'Jetpak' Jak, or to place sponsorship or calendar inquiries, please contact Nikki Crawford at nikocraw@gmail.com. Also, be sure to like 'Jetpak' Jak Crawford on his Facebook page at www.facebook.com/jetpakjakcrawford.