WKA Thanks Gold Cup Racers for Great Jacksonville Weekend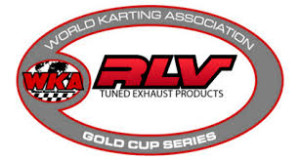 On behalf of World Karting Association President John Ferris, The WKA Board of Trustees, Office Staff, and National Officials, our sincerest thanks to the many participants, sponsors, and fans, as well as the North Florida Kart Club, for providing a great start to the 2015 edition of the RLV Tuned Exhaust Products Gold Cup Series in the Ionic Edge Chassis Nationals this past weekend at 103rd Street Sports Complex in Jacksonville, Florida.
Despite a little rainy weather on the front end of the weekend, conditions on Saturday and Sunday could not have been better as the top 4 Cycle drivers in the country kicked off a new season. The beginning of the Contingency program kicked into gear, as well as prize money going to drivers in 4 of the 11 national classes by virtue of the participation numbers. Those names, as well as a full rundown of the weekends activities will be presented later this week in a recap of Race #1.
In the meantime, drivers now turn their attention to the Kart City Performance Nationals June 5-7 at Carolina Motorsports Park in Kershaw, South Carolina, stop #2 on the series. On that weekend, competitors from the 2014 season will also be honored for their efforts in an awards presentation at the Palmetto Club, on the speedway property Friday evening. To make reservations for the awards presentation, contact Marie Borsuk at the WKA Office at (704) 455- 1606, extension 111.