So Cal Oval Karters – Perris Raceway Results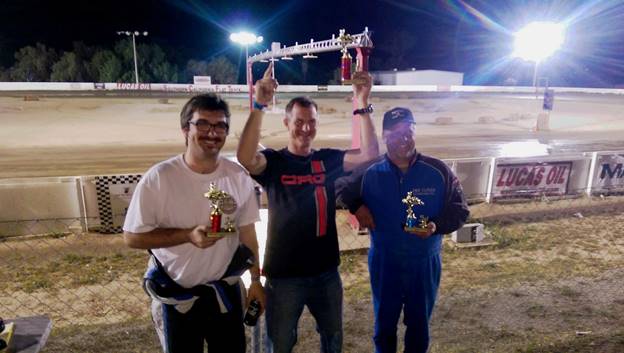 Open Class winner Darren Elliott (center) is surrounded by second place finisher Cody Night on the left
and third place finisher Steve Patton (Photo: So Cal Oval Karters)
The So Cal Oval Karters kicked off their 2015 season last Saturday at Southern California's picturesque Perris Raceway.  A larger than anticipated field of 38 karts was on hand they were joined by the Speedway Sprints from Wheel 2 Wheel Raceway.
Five divisions comprised the Oval Karters portion of the show on a gorgeous night in front of a large season opening crowd.  In the Open Class, 2014 class runner-up Don Amigliore of Menifee swept the two heat races, but it was shifterkart superstar Darren Elliott besting the field and being first to cross the finish line in the main event.  U.C. Santa Barbara student Cody Nigh chased the Santa Monica racer to the checkered in the runner-up spot with Steve Patton, the 2014 KT100 Champion, of Cherry Valley, third.
Like Amigliore in the Open's, Laverne's Jason Morheiser showed the competition the fast way around the racy oval in both F200 heats, but Matt Drotz of Long Beach prevailed in the 20-lap main.  The place and shows spots went to Troy McIntosh of Lake Elsinore and 50-year-old Speedway Motorcycle racer Tony de Almeida of Chino Hills.
Rev Parker, who only made three of the SCOK KT100 races in 2014, won one of the heats and came from third to win the 20-lap main event in the KT 100 class.  Oxnard's Rob Marion, who won the other heat, and Greg Griffin of Palm Desert rounded out the top three in the division.
The only racer to post a clean sweep was Bonita's Matt Mortis who won both heats and the main event in the SR 4 Cycle class. Banning's Desiree Gaynor came all the way from eighth to finish second behind Mortis with John Leonard of Norwalk finishing third.
The kids were well represented in the Junior Junior class with A.J. Thornell of Temecula, Lake Elsinore's Troy McIntosh Jr., Tristin Juillerat of Whittier and Jacey Voss of Lake Elsinore all turning laps and taking home trophies.
Round #2 of the So Cal Oval Karters championship season will be an evening affair at John Aden's 1/8 mile banked Wheel 2 Wheel Raceway in Victorville on April 11th.  Joining the SCOK stars will be the Speedway Sprints and the Dirt Karts.
The So Cal Oval Karters would like to thank the following sponsors who help make the series possible.  Burris Racing, Cory Kruseman Sprint Car Driving School, Hubcapmike.com, Perris Auto Speedway, Professional Announcer Chappy, R&J Motorsports, THC Home Medical Services, T-MAC Racing and Yoa Racing.  If you would like to become a part of the So Cal Oval Karters 2015 season, please call or E-mail Mike Nigh at (805) 857-2595 or mailto:scokart@gmail.com.
2015 So Cal Oval Karters Schedule
March 21: So Cal Flat Track at Perris Raceway – Gates Open at 2 PM Racing at 6 PM
April 11: Wheel 2 Wheel Raceway – Victorville – Gates Open at 3 PM Racing at 6 PM
April 25: So Cal Flat Track at Perris Raceway – Gates Open at 2 PM Racing at 6 PM
May 16: Wheel 2 Wheel Raceway – Victorville – Gates Open at 3 PM Racing at 6 PM
May 30: Perris Auto Speedway Road Course            – Gates Open at 9 AM Racing at Noon
June 20: Perris Auto Speedway Father Day Forties – Gates Open at 9 AM Racing at Noon (40 lap adult mains)
July 4: Wheel 2 Wheel Raceway – Victorville – Gates Open at 3 PM Racing at 6 PM Summer Shoot Out Series (Fireworks)
July 25: The Grand at Industry Hills Expo Center – Gates Open at 9 AM Racing at Noon Summer Shoot Out Series
August 8: So Cal Flat Track at Perris Raceway – Gates Open at 2 PM Racing at 6 PM – Summer Shootout Series
August 22: Perris Auto Speedway – Gates Open at 3 PM Racing at 6 PM – Summer Shootout Series (Night Race)
September 12: Wheel 2 Wheel Raceway – Victorville – Gates Open at 3 PM Racing at 6 PM
September 26: So Cal Flat Track at Perris Raceway – Gates Open at 2 PM Racing at 6 PM
October 10: Wheel 2 Wheel Raceway – Victorville – Gates Open at 3 PM Racing at 6 PM Race for the Rack
October 31: Perris Auto Speedway – Gates Open at 9 AM Racing at Noon All Junior Divisions Race Free
This release was produced by Scott Daloisio Sports.  If you would like information on professional PR at a reasonable rate for your racer, series or track, please call or E-mail (909) 226-7768 – mailto:sdaloisiosports@aol.com