Operation Grassroots: WKA Gold Cup's Sean Meier
Team Coyote driver set to defend Pro Gas title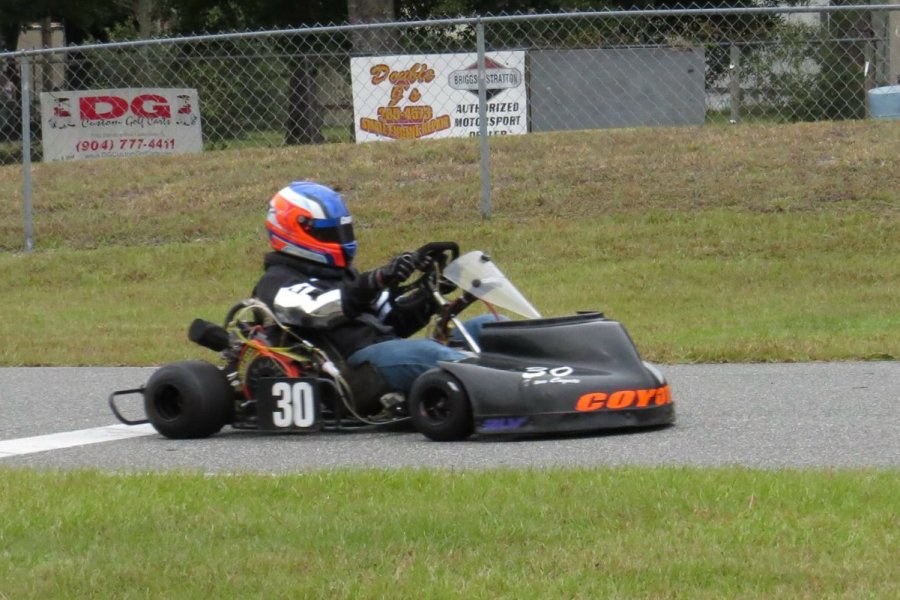 Sean Meier (Photo: Michele Noseworthy Travis)
Everywhere we travel these days, no matter what the track or the series, we inevitably get into a discussion about the merits of the Briggs LO206 engine and how it's brought the fun back into karting.  Sometimes we're talking to a national team tuner, who was a top gun himself in the 2000s, but now works as a wrench to stay in the sport and earn a living.  With an LO206 strapped to one of his team's used TaG chassis, he's back out having fun on his weekends off.  Other times, it's a family who raced for many years, got burned out on the stress and travel of high-end competition, and has been drawn back to karting by this incredible grassroots movement.  This wave of momentum for four-cycle racing has given birth to a number of new regional series around the country, all of which are aiming to work closely with local clubs to provide a new option for four-cycle competitors in their regions.
We expect that these new regional series will grow and prosper with the increasing acceptance and belief in the Briggs LO206 program, and we also hope that this will eventually ascend to the WKA Gold Cup, which is the sport's only 'national' program for four-cycle racing.  This program re-fires this weekend at the 103rd Streets Sports Complex in Jacksonville, Florida, and initial projections predict one of the best opening race turnouts in years.
One driver to watch out for at the Gold Cup opener will be Jacksonville, Florida's Sean Meier.  As a 12-year veteran of the sport, the 27-year-old loan processor vaulted his way up the speed categories of karting early in his career, jumping from four-cycle racing into shifters in 2004, running in the Florida Winter Tour, the SKUSA ProMoto Tour and the Stars of Karting series in 2005.  He returned to four-cycle competition in 2006 and promptly won another title (Sr. Animal), which attracted backing from a local shop – DL Racing – which helped him back into two-cycle racing in the growing TaG class.  Meier's strong results over the year would eventually advance him up to tenth in the eKartingNews.com TaG Driver Rankings in 2008, an impressive position for sure.  After entering college in 2006, Sean put karting on the side burner in 2010, preferring to focus his time and money on his education. Sean attended the University of North Florida and graduated with a Bachelors Degree in Finance in 2011, setting him on his career path.
Meier made the decision to get back into the sport in 2013 and elected to return to his four-cycle roots.  A strong Briggs program at his local track in Jacksonville – the famed 103rd Street Sports Complex – provided a positive club program and it wasn't long before he once again felt the need to travel, joining the WKA Gold Cup circuit last year.  Running under Jim and Mark Lipari's Coyote Karts banner and tent, Meier was instantly competitive, campaigning in the Pro Gas class.  He took two podiums in the season opener, then capped the effort with a win in the final round of the year to clinch the class title.
For 2015, Meier will return to the Gold Cup series, but will add the Senior LO206 program to his Pro Gas title defense. He'll bolt a Kart City-prepared LO206 to a new Coyote Wide Track for the Briggs crate class, and will have a Pro Gas Animal from Baker Racing Engines in the quicker category.
Meier enjoys mixing his sporting passions and the fruits of his education, which include karting, his Jacksonville Jaguars, keeping tabs on the stock market, and thanks to living near the water, running and biking on the beach. Sean is very excited for the upcoming season and thinks he has a great shot at winning a second championship with Coyote in Animal Pro Gas.
"We're planning on running the WKA Gold Cup schedule in 2015," Meier confirmed with EKN. "I'm very excited about returning to Barnesville for the final race of the series, as this technical track is one of my favorites.  We raced the Florida Pro Kart Series in the LO206 class this winter, and we were able to develop the 2015 Coyote Wide Track and we raced with a lot of great competition. I really feel that racing the winter series gave us a jump start into this season."
Meier's speed and consistency paid off in the Florida Pro Kart Series championship chase, as he was able to sweep all six main events to score the series' inaugural LO206 title.  The three overall weekend victories also brought in a total of $1500 in prize money.
"I love the competition in four-cycle racing," Meier enthused. "The field is always very close and the racing is very intense. Making the right moves on the track is important and the draft is huge; you can find yourself leading and then falling back to fifth in a straightway. I also love the camaraderie that is found in four-cycle racing. All of the racers are willing to lend a hand for each other, but it still remains very competitive on the track."
Meier, along with over 100 other four-cycle pilots, will take to the track tomorrow (Friday) to kick-off this year's WKA Gold Cup series in Jacksonville.  The series will step up its service-oriented program by offering RaceMonitor scoring coverage for those who cannot make the trip.  Look for a full race report on eKartingNews.com next week.