Wet Race for WSK in Castelletto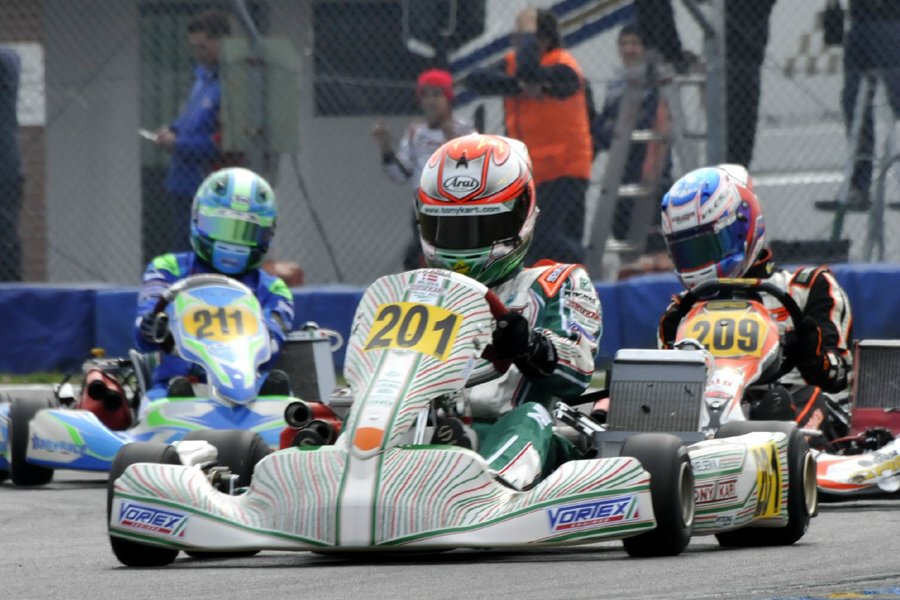 Nicklas Nielsen (Photo: Press.net Images)
It was hard but exalting! The 7 Laghi International circuit in Castelletto di Branduzzo was the venue of the thrilling performance of the kart drivers taking part in the 2nd round of the WSK Master Series. The audience during the live streaming on wsk.it was connected from 70 Countries. The rain arrived as expected: things went really tricky for the drivers on track and the result remained uncertain until the end, with many drivers standing a good chance to achieve victory after this morning's Prefinals. The Series is halfway, with still two  rounds remaining in Muro Leccese 12th April and Sarno (26th April). There are still many points to be awarded, thanks to the incremental scoring system, and many drivers who can aim at winning this prestigious series.
Ardigo' still leader in KZ2
The Italian Marco Ardigò (Tony Kart-Vortex-Vega) at the start of the decisive race duelled against the French Anthony Abasse (Sodi Kart-TM-Vega) for a few laps before gaining the leadership and crossing the finishing line in first position. Abasse had to be content with 2nd place. Third position for the Italian Flavio Camponeschi (Tony Kart-Vortex-Vega) after an outstanding recovery which brought him from 12th to third.
Basz closes the gap and wins in KF
Once again the protagonists in KF were the Danish Nicklas Nielsen (Tony Kart-Vortex-Vega) and the Polish Karol Basz (Kosmic-Vortex). Nielsen, who was the pole-sitter, was overtaken by Basz during the first laps. The Polish kept the leadership until the end of the race, while Nielsen had to deal with the recovery of the Italian Matteo Viganò (Top Kart-Parilla). The latter started from the 11th slot of the grid and finished second, beating Nielsen into third.
Novalak still winning in KFJ
The British Clement Novalak (Tony Kart-Vortex-Vega) confirms the excellent shape of this first part of the season. He won again after his victory in the season-opener in Adria. The Brit had to hold off the American Logan Sargeant (FA Kart-Vortex-Vega) during the last laps, even though the latter spun at the penultimate lap, leaving the second position to the Belgian Ulysse De Pauw (Birel Art-Parilla-Vega). Sargeant was eventually third.
Hauger back to victory lane in 60Mini
Thanks to a solitary ride at the head of the race, the Norwegian Dennis Hauger (CRG-TM-Vega) won the round at the end of a fantastic weekend. The Italian Mattia Muller (Energy-TM-Vega), thanks to an excellent start, managed to finish second ahead of the Italian Marzio Moretti (Tony Kart-TM-Vega), third.