eKartingNews.com Driver of the Month – February 2015 – Sting Ray Robb
Idaho driver goes 5 for 5 on podiums - including two wins while competing at three different events in three different states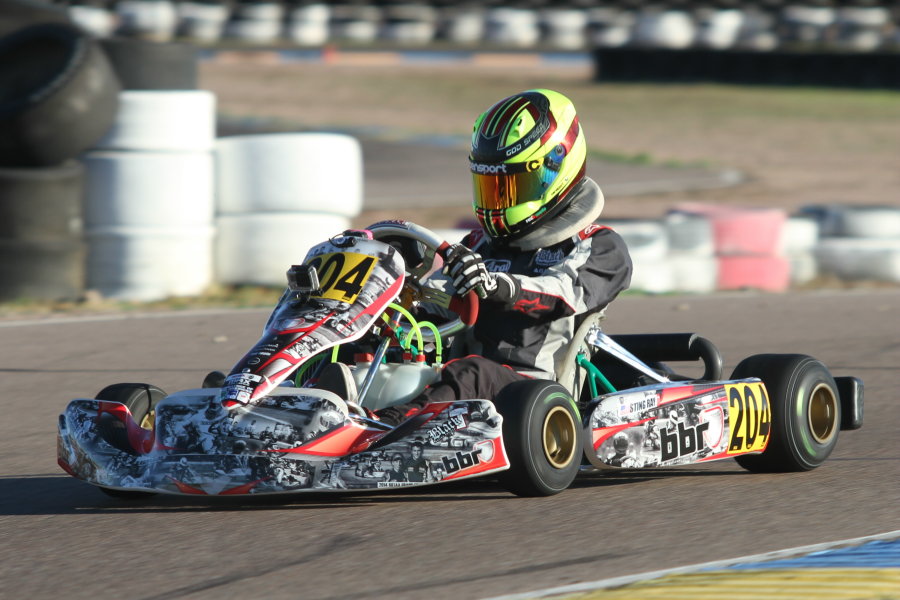 Sting Ray Robb scored five podium results in five races, including two victories for the month of February (Photo: EKN)
In a continued effort to highlight the many outstanding performances by drivers around the country, eKartingNews.com is proud to introduce the 'Driver of the Month' program. Each month, the staff at EKN will determine the one driver who stood out above the rest and give the viewers a chance to know exactly what they accomplished and who they are.
The month of February was a busy one for Junior driver Sting Ray Robb. Since he hit the national scene back in 2010, the Idaho driver has been all over the country and continent, racing every chance he can get to develop his skills behind the wheel, and make a name for himself in karting. The 2014 season was his first in the Junior category after a successful career as a Cadet driver. Robb showed speed everywhere he went, and the year was one of developing himself as a driver in the larger size kart.
Competing in the Rotax Can-Am ProKart Challenge, Robb finished the season second to Rotax Challenge of the Americas champion Austin Versteeg, and was awarded the Rotax Grand Finals ticket. That sent him to Valencia, Spain for his first ever 'Olympics of Karting'. Under tough conditions, Robb fought his way to the best finish of the Team USA Junior Max squad, making the main event and finishing 27th.
Entering the 2015 season, it was expected to see Robb among the top Junior driver drivers in the country. The month of February began with Sting Ray traveling to Buttonwillow Raceway Park for the opening round of the California ProKart Challenge aboard the new Mad Croc chassis in the TaG Junior division. Robb qualified in the fifth position on a dry surface, and then the rain came for the Prefinal. Gaining one position and feeling out the kart in the opening heat race, Sting Ray moved up to second in the second heat race. Robb took over the lead on the opening lap, and never looked back to score the victory by seven-seconds.
The following weekend took him to the Phoenix Kart Racing Association for the second stop on the Rotax Challenge of the Americas 2015 program. After a win and runner-up in Tucson, Robb entered the weekend second in the championship chase. Robb was forced to start the Saturday Prefinal from the tail of the field after making a chassis change. He charged his way forward, climbing from 19th to third while earning fast lap of the race. Robb attacked race leader Nick Brueckner early, but was unable to move into the lead and settled for second. The following day was one of dominance for the BBR Karting / Tony Kart driver, sweeping the day's action. Qualifying on the pole position, Robb led all 17 laps of the Prefinal and went wire-to-wire in the 25-lap main event.
The performance put him back within reach of the title, which he would go on to earn over the series finale on March 13-15 at the Simraceway Performance Karting Center in Sonoma, California. After winning the Prefinal and Final on Saturday, Robb clinched the championship and earned his second straight trip to the Rotax Grand Finals.
Sting Ray's February was not done after the COTA event, as two weeks later he traveled to the Sunshine State for the second stop of the Florida Winter Tour Rotax Max Challenge program. Robb traveled to the Orlando Kart Center – battling rainy conditions once again. The Saturday round was solid, as Robb ran second all day. Sunday provided dryer conditions, with Robb piloting his Ocala Gran Prix / Tony Kart machine to a third place result for his third podium in four series races.
With the COTA Rotax Grand Finals ticket already in hand, Robb heads to the FWT finale – scheduled for March 27-29 at Ocala Gran Prix – as the championship leader. He holds a 67-point lead over fellow OGP teammate Mathias Ramirez and his COTA rival Nick Brueckner, with three others still within 100 points in the best four of five championship format. The series will host a championship style event, including qualifying, three heat races, a Prefinal and Final with points coming from all on-track sessions.
February 2015 EKN Driver of the Month – Sting Ray Robb
Bio
Born: September 3, 2001
Hometown: Boise, Idaho
Parents: Larry Robb and Kimmie Serrano
Siblings: Four half siblings / four step siblings
Height/Weight: 5'7" 120lbs
Education: McCain Middle School (7th Grade)
Job: Red Apple Marketplace
Racing Resume
Chassis: Tony Kart
Engine/Engine Builder: Black Racing Engines/Ocala Gran Prix
Sponsors: Red Apple Marketplace
Series You Compete In: Rotax Challenge of the Americas / Florida Winter Tour / Rotax Can-Am ProKart Challenge
Years Karting: 8
How did you get started in karting? Received a kart for my 5th birthday
What has been the high point in your racing career? Winning SuperPole at Rotax Grand Nationals (2014) and winning the Rotax Challenge of the Americas championship (2015)
What are your goals in racing? I want to be remembered as one of the greatest racers ever. To be one of the best and be seen as a positive role model for future drivers to look up to. I wouldn't mind winning Lemans or the Indy 500 Hundred either. Haha. I still dream of F1. (Gotta have a dream, right?)
In a few words, how would you describe your driving style? Smooth, clam, consistent driver. I try to drive intelligently, always strategizing
Funniest moment at the race track? There hasn't been one single funniest moment at the track, however, I enjoy hanging with the team and being able to laugh while having fun.
Likes
Favorite Track: Orlando Kart Center / Simraceway Performance Karting Center
Favorite form of professional motorsports: IndyCar / LeMans
Favorite karting driver: N/A
Favorite professional driver: I have so many great drivers to look up to that I couldn't just choose one. Of course, Senna, as he seemed so close to God and carried so much heart through his career. Recently, Rubens Barrichello, as I have been able to witness his humility and grace in his presence while pitting next to him in Orlando. He shared with me that there is no room for arrogance in any sport, and to always be a gentleman, as his dad taught him.
Favorite website: Anything racing related
Favorite movie: N/A
Favorite actor/actress: Vin Diesel / Robert Downey Jr.
Favorite music/group: Macklemore
Favorite vacation/activity spot: Church, it's a place I can go in any situation and can praise God with friends and family
Favorite food: A nice juicy steak (filet mignon)
The Real Deal
What do you do when not at the track? Usually catching up on homework, but I play baseball, basketball, soccer, and tennis in my spare time. I love snow skiing, straight down the fall line!
What are your goals outside of karting? To earn a degree in mechanical engineering
What type of street car would you like to drive? Mini Cooper for my first car
What are your pet peeves or things that irritate you? When someone brags and I just want to say to them 'Show Me'
What do you think could be done to improve the sport of karting? Karting seems to be the best form of current motorsports. I don't think it is possible to make many more changes to improve this incredible sport
What are your favorite aspects about the sport of karting? I love that when I am at the track with a team, it feels like family. To be able to place your trust in your mechanic and crew is a very good feeling. Also, the competitiveness and competition is phenomenal.
February 2015 Driver of the Month – Honorable Mention:
– Oliver Askew: Florida Winter Tour (RMC) – 2 Wins in Senior Max
– Christian Brooks: Rotax Challenge of the Americas – Youngest Senior Max winner (14-years-old)
– Nick Brueckner: Rotax Challenge of the Americas/Florida Winter Tour (RMC) – 2 Wins in Junior Max
– Nicholas d'Orlando: Florida Winter Tour (Rok Cup USA) – Mini Rok Double Winner
– Kyle Kirkwood: Florida Winter Tour (Rok Cup USA) – Senior Rok Double Winner (4 Straight)