Four Rotax Drivers Test USF2000 Machines at Homestead-Miami Speedway
MAXSpeed Group and Andersen Promotions set drivers on the path to the Mazda Road to Indy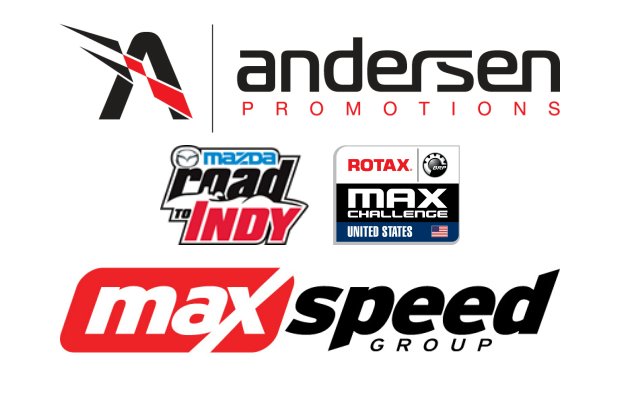 Bringing the alliance between the MAXSpeed Group and Andersen Promotions full circle, recently four drivers from the United States Rotax MAX Challenge program had the opportunity to test in the Cooper Tires USF2000 Championship Powered by Mazda, the first level of the Mazda Road to Indy. After a selection process that included applicants narrowed down to twelve finalists and interviews with the likes of Verizon IndyCar Series driver James Hinchcliffe, Indy Lights Presented by Cooper Tires champion Gabby Chaves, US karting legend Alan Rudolph, and three-time Rotax Grand Finals champion and four-time Euro MAX champion Ben Cooper, the four drivers selected participated in a one-day test at the Homestead-Miami Speedway road course, part of official winter testing for the USF2000 series.
"What a great experience for these up and coming karters," explained MAXSpeed Group's President Richard Boisclair. "To get behind the wheel of an open wheel formula car straight out of their Rotax powered kart is something that some racers will never have a chance to do. Thank you to the Mazda Road to Indy, Andersen Promotions, and all the staff at MAXSpeed for a successful partnership. We are looking forward to growing together in the future."
The four drivers included Sabre Cook, 19, of Grand Junction, Colorado, who teamed with JAY Motorsports for the late January test.
"Working with JAY Motorsports again was very enjoyable and harmonious," said Cook. "They helped me analyze my performance and the car after every session and it was very beneficial. It was such a joy driving a proper car for the first time on a beautiful track! I cannot thank everyone enough!"
Jay Green, Team Owner, JAY Motorsports, noted this of Cook's performance, "It was one of Sabre's very first times in a car. She is a very experienced karter. She did very well in the car. It was a big learning curve – a lot to learn in a very small amount of time. I think she would go very far in the series. She just needs a little more experience. She is very talented and very smart, and I think she would do a great job."
Michael McCarthy, 15, of Clearwater, Florida, partnered with Team Pelfrey in Homestead.
"For sure this test will go down as one of the best days of my life," McCarthy said. "The difference between a car and a go-kart is huge, but many of the skills needed to drive a car successfully crossover from go-karting.  The day was filled with learning new techniques, car familiarity and interaction with Team Pelfrey. I learned so much from this experience and I firmly believe that my future is in this series.  I cannot wait to get back in an USF2000 car! Thank you MAXSpeed Group, Mazda Road to Indy, and Team Pelfrey for this amazing experience!"
"We had high hopes and Michael ran very well," noted Nigel Tuckey, Team Manager, Team Pelfrey. "He is a young kid and this was his first time in cars. He had a couple of little lazy spins but nothing untoward. He went very well and ran some really good times for us down at the Homestead test."
Christian Brooks, 14, of Santa Clarita, California, ran with Afterburner Autosport for the one-day test.
"This entire experience from the application process, the live feed interview process with Gabby Chaves and Rob Howden, the INDYCAR licensing and medical exam process and the actual USF2000 test at Homestead-Miami Speedway has been an amazing learning experience to prep me for my future in motorsports!" exclaimed Brooks. "Thank you MAXSpeed Group, Andersen Promotions, Afterburner Autosport and MRTI! I look forward to racing the MRTI USF2000 series soon!"
Oliver Askew, 17, of Tequesta, Florida, also joined Afterburner Autosport in Homestead.  Askew was only able to complete four laps due to a mechanical problem and his test day is being rescheduled.
Tim Walsh, Team Owner, Afterburner Autosport had this to say of Brooks and Askew, "Christian jumped right in the car and took it easy and careful at first, but caught right on with the car and the shifting and things like that. It was his first time in a car and hopefully he will be in one of these cars next year. I think he could be right up there amongst the top five right off the bat. Unfortunately, we encountered a problem with our second car and Oliver was only able to manage four laps. We will be rescheduling another test around his karting schedule and look forward to giving him a full day's outing."
"We couldn't be more pleased with our partnership with the MAXSpeed Group and our first test outing," said Michelle Kish, COO of Andersen Promotions. "The opportunity to introduce these young talents to the next step on the racing ladder is very rewarding as is the positive feedback from both the drivers and the teams."
The partnership between the Mazda Road to Indy and MAXSpeed Group, announced in June of 2014, will work to foster the next wave of up-and-coming drivers. Rotax is the largest racing series in the world in any form of motorsports with over 15,000 drivers competing each year.