Matt Miller Hungry for WKA Gold Cup National Titles in 2015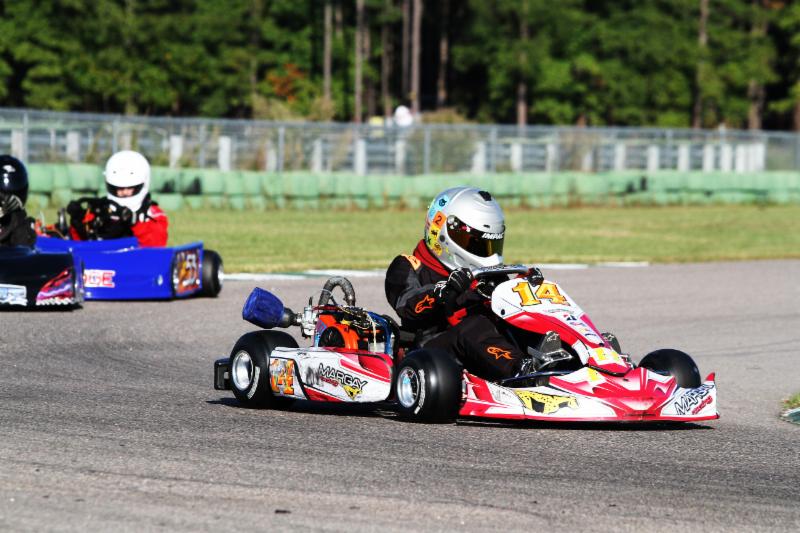 Matt Miller races ahead at Kershaw WKA Gold Cup in October (Photo: Double Vision Photography)
Matt Miller is aiming for his first WKA RLV Tuned Exhaust Products Gold Cup Series national championship in 2015 and his quest begins next weekend – March 27-29 – at the 4-cycle national sprint series' opener at the popular 103rd Street Sports Complex in Jacksonville, Florida.
The 12-year-old Perry Hall, Maryland racer is hungry to capitalize on a 2014 Gold Cup season that saw him win six Sportsman Pro Gas Animal main events in 16 starts among the four national races.
Miller's six feature wins were more than any other driver in the competitive Sportsman Pro Gas Animal Lite and Heavy divisions, and he fell just 23 points short of a national championship in the Lite class, which he was racing 15 pounds heavier than the 265-pound minimum weight.
"After just missing the Sportsman Pro Gas championship in 2013 we really wanted to win one last year," Matthew said, reflecting on the 2014 Gold Cup circuit. "We debuted the Margay kart at the (Camden) Ohio race and ended up winning six races with it between Ohio, South Bend and Kershaw. The Margay kart handled great all season and combined with the GT Machine power, we had a really strong package. We just fell a little short of the championship, but we're ready to challenge again this year and I can't wait to get on the track at Jacksonville."
In 2015 the Miller team will move to the 12- to 15-year-old Junior divisions and challenge for three national championship among the Junior Pro Gas Animal Lite and Heavy divisions and the new LO206 Junior class.
At the Jacksonville season opener next weekend, the Miller team – led by Matt's father, Brian – will place the Margay kart on the shelf and instead run a pair of Bandit chassis that both have guided Miller to Gold Cup Series wins in past years.
The team plans to bring the Margay back out for Junior Pro Gas Lite and Heavy at round two June 5-7 at Carolina Motorsports Park and race it throughout the balance of the 2015 Gold Cup circuit. Miller plans to continue to run one of their Bandits in the LO206 Junior division at all Gold Cup nationals.
"I'm really looking forward to the new season and the extra speed in the Junior classes," Matt added.  "I think we have a great shot at wins and championships in the Gold Cup. We need to stay consistent and race smart, and hopefully that will lead to at least one national championship in our first year in the Junior classes. I want to say a big thanks to my dad and all our sponsors for helping give me another shot at a national title this year!""
Matt Miller Racing is a family-owned kart team that competes in the Briggs & Stratton LO206 and Pro Gas Animal Junior divisions nationally on the WKA Gold Cup Series circuit and regionally in the WKA Mid-Atlantic Sprint Series.
Matt Miller has excelled in recent years, finishing a close second in the competitive Sportsman Pro Gas Animal Gold Cup standings in 2013 and another close second in the Sportsman Pro Gas Animal Lite division in 2014. Regionally, Miller is a six-time WKA Mid-Atlantic Series Divisional champion and he's won 60% of his Divisional Series races since 2012.
Matt Miller Racing is proud to be sponsored by JimsRacingTires.com, DaVal Enterprises, Robert A. Spooner General Contractors, SMC Clutches, M&M Performance Bodies, GT Machine, Wylie Design and SandyHookSpeedway.com.