WKA Pit Board: Manufactures Cup GoPro Entry – Gold Cup Adopts Briggs LO206 Rules – Road Racing Lifted Dual Brake for Certain Classes
Tiered Entry Fees for Mfg Cup Remain Intact, Extended For Go Pro Event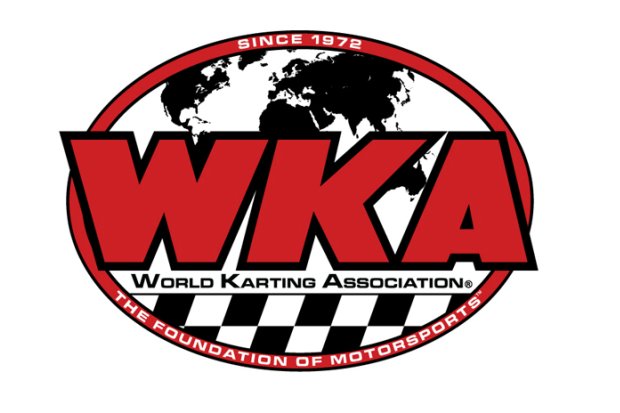 With stop #2 on the Mazda/Bridgestone Manufacturers Cup Series fast approaching, World Karting Officials have extended the initial Tiered entry fees for the IAME-USA Nationals April 17-19 at Go Pro Motorplex in Mooresville, North Carolina. With the Tier 1 deadline originally scheduled for March 13, officials have extended the deadline to March 21.
This deadline extends to all classes.
Additionally, the deadline for the second tier has been extended to April 8.
While the Tiered system was in place on the Manufacturers Cup Series in 2014, it was not in place at Daytona to begin the 2015 season. However, the tiered process was approved in 2015. But unfortunately an update on that procedure was never posted via pitboard.
WKA apologizes for the lapse in communication.
Briggs and Stratton LO206 Rules Accepted, Effective March Jacksonville Gold Cup Event
Officials from Briggs and Stratton and World Karting Association have mutually agreed to adopt the LO206 Engine Rules, beginning with the season opening Ionic Edge Chassis Nationals for the RLV Tuned Exhaust Products Gold Cup Series at 103rd Street Sports Complex March 27-29 in Jacksonville, Florida.
Competitors entered in the Kid Kart, Sportsman, Junior, and Senior LO206 classes at Jacksonville will be provided a free kit, containing an air filter, spark plug, and pipe, courtesy of Briggs and Stratton.
This package will be made available at the first event only!!
Jax Gold Cup Class Racers COULD Receive Extra $100
With Contingencies coming from every direction for this years RLV Tuned Exhaust Products Gold Cup Series, World Karting and Ionic Edge Chassis Officials have just announced yet another incentive for the season opening event March 27-29 at 103rd Street Sports Complex in Jacksonville, Florida.
With the exception of the LO206 Kid Kart Class, any other class that nets 10 entries or more in the season opener will be subject to a $100 payday. The interesting twist in this scenario is the fact that the $100 may not necessarily go to the winner. Based on the current points system, drivers need to be up on the wheel in every phase of their qualifying, heat, and main event for BOTH days. The driver with the lowest point accumulation in his/her respective class over the 2-day period will thus be awarded the $100.
To gain a better understanding of how the point system works, if a driver wins their main, they accumulate 0 points. The $100 will be awarded at the end of the weekend to the driver with the best success in their 2 main events in their respective classes. Ties will be broken by virtue of success in qualifying. For example, if a competitor sweeps the top spot in the Junior Pro Gas Animal Lite Class Saturday, based on 10 entries or more in their class, they still have to come back strong and do their best to duplicate the same effort Sunday to be in the running for the $100.
With up to $1,000 available in this unique program, WKA and Ionic Edge Chassis have partnered to share an equal financial responsibility, in an increasing attempt to give back to the competitor in anyway possible.
Activities for the Ionic Edge Chassis Nationals will begin Friday with a full day of practice starting at 8:30am. Shootout Races for the Sportsman and Junior Pro Gas Drivers, as well as the Pro Gas Animal Money Race will follow practice, roughly at 4:45pm.
2 full days of qualifying, heats, and main events will follow on Saturday and Sunday, beginning with a round of practice each day at 8:30am.
Dual Brake Requirement lifted for 5 National Road Race Classes
As competitors prepare for this weekends 2nd national event of the yearfor the VEGA/TS Racing National Road Race Series driven by Mazda at Roebling Road Raceway in Savannah, Georgia, some change has occurred with regards to the brake package previously required for 5 of the national classes.
The dual brake requirement has been lifted for the following classes, effective immediately. Competitors in TaG, TaG Heavy, Stock Leopard Sprint, Pro Gas Animal, and Animal Limited Modified are allowed to run a single brake package.
The new rule requires a 7-inch minimum disc with a minimum 3/16 thickness.
Gold Cup crossover competitors in the Animal Limited Modified and Pro Gas Animal classes can also run the single brake package, as long as they are compliant with Gold Cup/CIK Chassis rules.
This rule goes into effect starting this weekend at Roebling Road, and will remain in effect for the balance of the year.
Activities for the Roebling Road event begin Thursday March 19 with competitor parking at 6pm. A full day of practice is slated for Friday, beginning at 8am with 2 days of racing to follow Saturday and Sunday. Practice starts each day at 8am.