Race Report: Anthony Willis Extends Points Lead at California ProKart Challenge TaG Cadet Class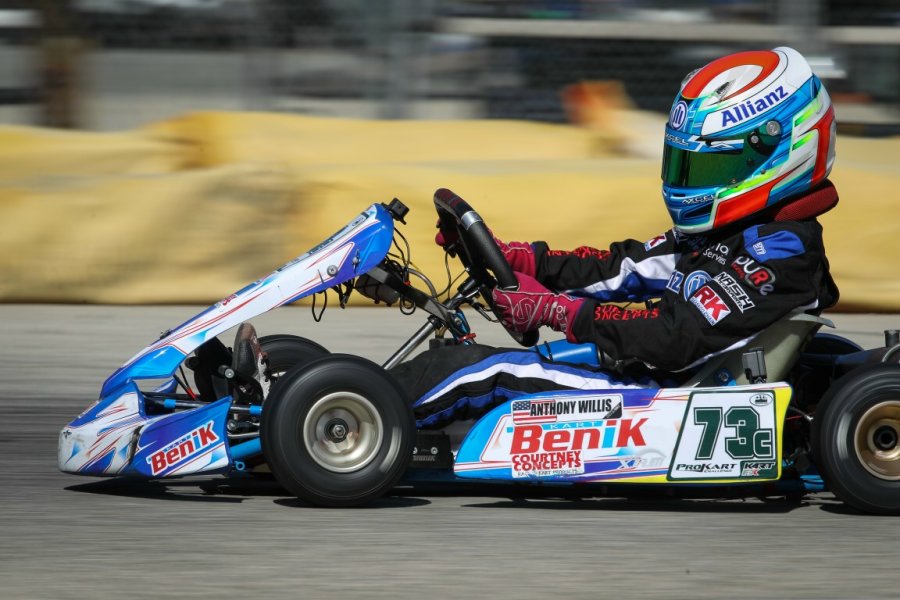 Anthony WIllis (Photo: DromoPhotos.com)
As Round 2 of the  SKUSA! California ProKart Challenge approached,  the pressure was on Anthony Willis Racing to show that their dominating performance in the opening round at Buttonwillow Raceway was  not a fluke, but a sign of good things to come for the racing season.  The young Arizona Tag Cadet pilot did just that.
After getting tangled in traffic  for qualifying, Anthony's efforts  yielded a disappointing 13th starting position for the first heat.  He was able to dice his way up to the 6th position by the last lap.
Gaining spots in the second heat was a bit more challenging as the kids at the front of the pack were very close in speed and lap times.  Anthony was able to cautiously work his way up to the 3rd position, knowing that he could race for the win if he was within striking distance.
Starting the main event from the 3rd position, behind the polesitter,  put Anthony Willis into a perfect spot.  The plan was to  push the leader for the first 8 laps and battle it out once the two had a clear separation from the secondary pack of drivers.   Anthony executed this plan perfectly.  He laid back in the draft and kept pushing until he and Oliver Calvo, the leader,  had a 5 second lead on the  rest of the field.    After  dropping the fastest lap of the race in Lap 8, the crew knew it was time to make a move.  Anthony realized that if he waited too long that Calvo would begin a defensive line and it would prove difficult to get by  But, right as Anthony decided to race it out, Calvo found some extra speed as his chassis began to come in.   The race ended with Calvo winning the main event and Anthony in a close second.  A big congratulations goes out to Calvo!
Team principle Stewart Willis said about the race, " We were anxiously awaiting the Willow Springs race because we knew that we would get in to the first moderately high grip situation of the year.  We gambled on tire pressure and peaked a couple laps too early.  But, we learned a lot going into PKC Round 3 and the Phoenix ProTour Race.   We leave round two with the championship points lead.  We can't be too hard on ourselves."   In fact,  Anthony Willis created a huge divide in the points race.  Entering the second round, he had a 20 point lead over the second place racer.  He leaves round two with a 145 point lead over second place.
When asked what he credits this huge points lead to, Stewart Willis said, "Anthony drove very well.  But, clearly we are surrounded by a dream team of tuners and engineers.  Anyone would be lucky to have access to Seth Nash of Nash Motorsportz or Phil Carlson, individually.  We had both of them in our camp.  Phil had tremendous power, while Seth Nash kept the chassis perfectly tuned.  Additionally, many of our competitors have had driveline failures by skimping on less expensive parts.   We refuse to use anything but RK  Racing Chains and X.A.M. Sprockets.  We have yet to lose a chain since moving to this combination!"
Anthony Willis' next definite race will be the return to Buttonwillow for round 3 of the SKUSA California ProKart Challenge.    It is possible that they will be a last minute entry at LAKC for their season opener as well.
Anthony would like to thank:
Courtney Concepts, RK Racing Chain, and X.A.M. Sprockets for the highest quality racing parts available.   Phil Carlson for the amazing power, Joseph Danielle for being a great teammate to share data with as well as Seth Nash, Nick Mitchell and Ben Cruttenden of Benik Kart for putting together the best cadet chassis on the market.  A special thanks goes out to Josh Robertson of JPower Racing engines for joining the braintrust.
If you have an interest in a marketing partnership or sponsorship opportunity with Anthony Willis Racing, you can email: stewartawillis@hotmail.com or "Like" Anthony's racing page on Facebook at : https://www.facebook.com/AnthonyWillisRacing