MJDrive Rental Kart Competition Draws Talent and Attention to Kart Racing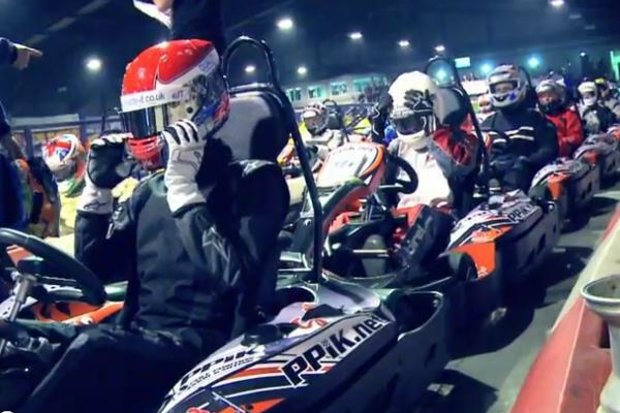 Featuring names such as "Adds, Boulle, Foss, French, Glanger, Hart, Jennings, Martin, Musser, Patterson and Piepenbrock," comprising an entry list one can only assume they are witnessing a Texas karting all-stars event. The reality is a recent initiative by Texas racer and driving coach Michael Johnson, to organizing for-fun kart races in rental karts with top driving talent. Along with karting regulars, racers from Texas circle track, sports car and motorcycle racing have also joined in to participate making the level of competition on par with major motorsport events.
"We didn't have a big plan when we started, there was no grand scheme." Explains Johnson. "We just wanted to get some good racers together and have good old fashioned wheel-to-wheel kart racing!"
With fun and low stress the key ingredients, the events have grown consistently at every meeting, with nearly forty drivers taking the green flag at the most recent edition at Dallas Karting Complex.  With a grid full of national caliber drivers aboard 4-cycle Sodi rental karts, the racing has been furious.
"The racing has been phenomenal, these guys are super talented. Often times the difference  comes down to luck of the draw and which kart you get. One race you are slashing your way through the field and the next race you are hanging onto each position like its the last transfer spot at Super Nationals!" stated Johnson.
In addition to experienced karters, the events provide an outstanding platform for non-karters to taste competitive kart racing. As a result of the events a number of individuals who are purchasing their own karts or exploring ways to go kart racing.
With the rise in participation, Johnson is expanding the racing to include a second night of racing, specifically for young participants. A first of its kind initiative, Johnson is launching the MJDrive Young Drivers Cup, a 4 round championship focusing on competition for drivers between the ages of 12-18 years of age. Drivers with or without competitive experience are welcome along with a theme of responsible, safe driving will be conveyed throughout the competition.
The next MJDrive Rental Super Prix for adult racers will take place on Thursday, March 26 at Pole Position Raceway in Frisco, Texas with registration at 6:30pm. The inaugural MJDrive Young Drivers Cup will take place the following night: Friday, March 27th also starting at 6:30pm.
For more information and the latest updates please visit www.facebook.com/mjdriveracing