WSK Super Master Series Soars from Adria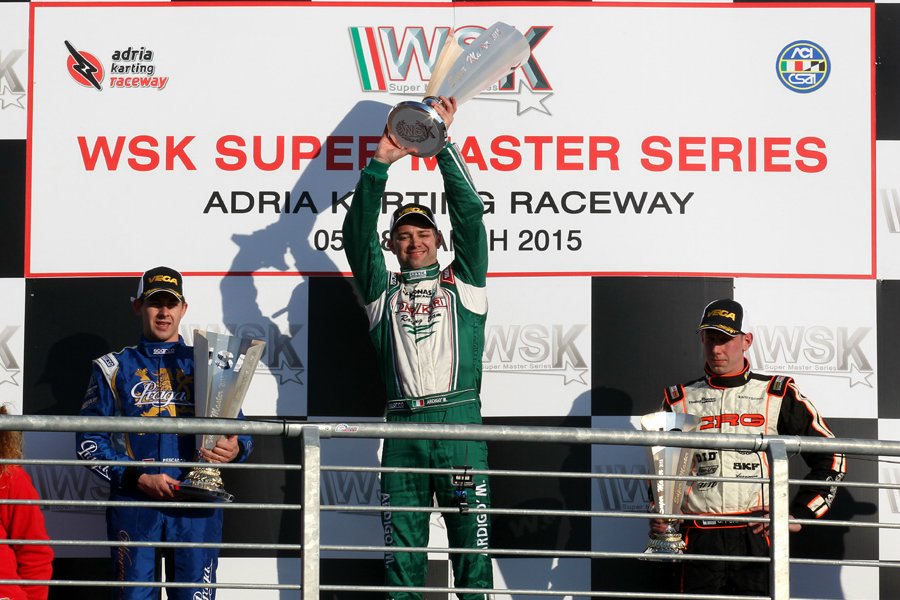 KZ2 podium (Photo: Press.net Images)
At the moment, it is the most outstanding event of international kart racing, hosted by the major circuits dedicated to this thrilling kind of motorsport. The WSK Super Master Series celebrated today, at the Adria Karting Raceway, its opening event. At the end of the day, beside the big names of kart racing, many new protagonists seized the occasion to make themselves conspicuous. 200 drivers entered the first out of four rounds of the tournament, coming from over 30 different countries and from five continents. The next round will be hosted in two weeks by the 7 Laghi International Circuit near Castelletto di Branduzzo (Pavia, Italy), while the Adria Karting Raceway will be the venue of the new night race of the WSK Night Edition on 4th July.
Ardigò still on top in KZ2
Marco Ardigò (Tony Kart-Vortex-Vega) felt shivers going down his spine at the start of the Final, when he hesitated because of a clutch overheating. Fortunately, he managed to start when he got bumped into from behind and gained the lead of the race after few bends. Ardigò finished first ahead of the surprising Spanish Jorge Pescador (Praga-Parilla-Vega) and the Finnish Simo Puhakka (CRG-Maxter-Vega), who achieved an excellent recovery.
Basz protagonist in KF
Kart racing fans were able to see another stunning episode of the saga of duels between the Polish Karol Basz (Kosmic-Vortex-Vega) and the Danish Nicklas Nielsen (Tony Kart-Vortex-Vega). The former had the upper hand because the Danish driver did not spare his tyres enough in the Final and was eventually obliged to slow down. After a long battle in the positions behind the two leaders, the Dutch Martijn Van Leeuwen (CRG-TM) managed to score the third position.
Maiden victory for Novalak in KFJ
Clement Novalak (Tony Kart-Vortex-Vega) built his first success in in KFJ little by little during the whole weekend, closing the gap today after yesterday's poor performance in the heats, starting from the pole position. He held off his opponents and took the lead of the race. Second position for the American Logan Sargeant (FA Alonso-Vortex), ahead of the Russian Artem Petrov (DR-TM), after the two drivers exchanged positions during the first laps.
Michelotto is the best in 60 Mini
The Italian Mattia Michelotto (Energy-Iame-Vega) was definitely satisfied with his performance: he won his first race beating into second place the Norwegian Dennis Hauger (CRG-TM). The latter, after getting overtaken by the Italian drivers, had to leave the second position to the Slovak Mattia Muller (Energy-TM).