WSK Super Master Series: 200 Drivers Ready to Start in Adria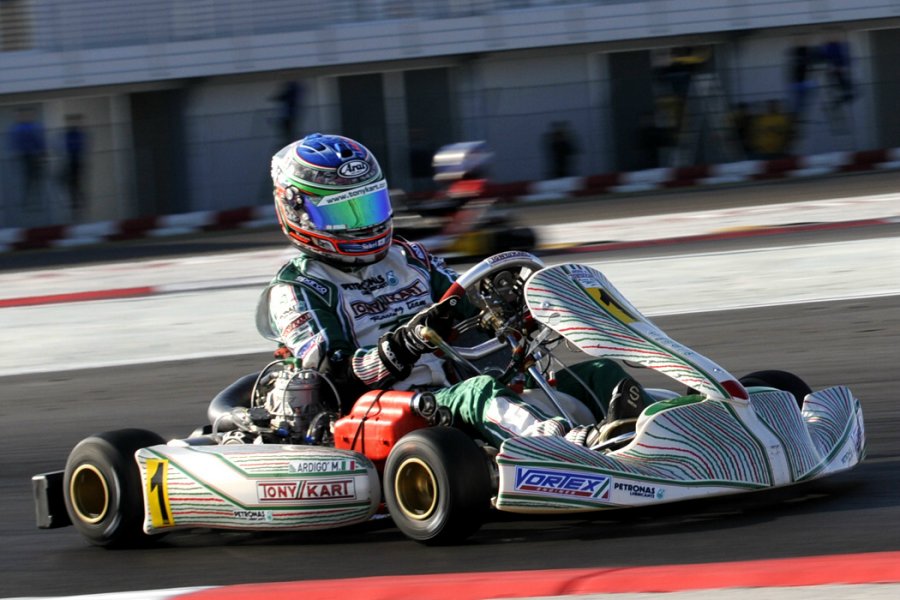 Marco Ardigo (Photo: Press.net Images)
The moment for the WSK Super Master Series has come: the event is in schedule at the International Karting Raceway in Adria (North Italy). The circuit has a full-time commitment with international kart racing in this first part of the season. From today until Sunday 8th March, the facility is hosting the first out of four rounds of the this series promoted and organised by WSK Promotion. The times set at the end of the day told us who the fastest drivers of the four categories –  KZ2, KF, KF Junior and 60 Mini – were. There were 200 scrutineered drivers on track, coming from 5 Continents, all aiming at the victory in the Finals on next Sunday. The final phase of the event will be available live in streaming on www.wsk.it. In the meanwhile, tomorrow the qualifying heats throughout the whole day.
Marco Ardigò proves to be the driver to beat in KZ2
Behind the wheel of his Tony Kart-Vortex-Vega, with an ideal set-up for the fast bends of the circuit of Adria, Marco Ardigò set the fastest time in the second session with 46"936, responding to the best lap achieved by the Italian Paolo De Conto (CRG-Maxter-Vega) in 47"119. The latter was eventually third in the final standing, given that the Italian Flavio Camponeschi (Tony Kart-Vortex-Vega), beat him with his 46"955.
Nicklas Nielsen ready for the battle in KF
The Danish Nicklas Nielsen (Tony Kart-Vortex-Vega) is back at the top of the KF. Thanks to his 47"709, he beat Karol Basz (Kosmic-Vortex-Vega) into second. Basz, the winner of the WSK Gold Cup last Sunday, stopped the clock at 47"824. Third the Belgian Benjamin Lessennes (Zanardi-Parilla-Vega), who showed to be in great shape in the eve of qualifying heats.
Lorenzo Colombo is the fastest in KFJ
He had already showed a brilliant condition in the first events of the season: the Italian Lorenzo Colombo (Tony Kart-LKE-Vega) put in his best performance so far thanks to his 49″138. Behind him two of the favourite drivers, the Brazilian Felipe Drugovich (Kosmic-Vortex-Vega), 34 milliseconds behind, and the American Logan Sargeant (FA Alonso-Vortex), third with a gap of 36 milliseconds.
60 Mini on track tomorrow
Qualify begins tomorrow morning for the 60 Mini. The driver to beat is the Norwegian Dennis Hauger (CRG-LKE-Vega), the winner in last Sunday's WSK Gold Cup.