Bordogna Engines Hitting the Florida Winter Tour Strong
Bordogna Engines rising to the top in multiple series with race wins and podiums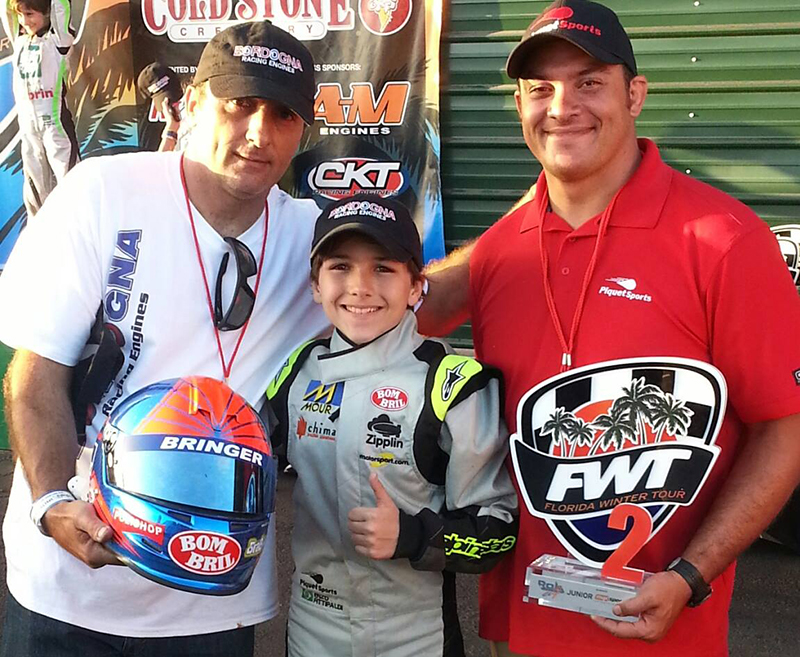 Enzo Fittipaldi added another podium for Bordogna (Photo: Bordogna.us)
It was surely a successful run for Bordogna Engines the past few weekends at the ROK Cup USA Dash for Cash, as well as at the Cold Stone Florida Winter Tour ROK Cup USA weekend. Multiple drivers with various teams in different categories achieved top results within five victories.
At the ROK Cup USA Dash for Cash event, four drivers stood atop the podium. Chase Hefner in Micro ROK, Enzo Fittipaldi in Junior ROK, Richard Heistand (who brought his engine to Bordogna's truck to hone and repair) in ROK Shifter Masters, and Danny Formal in ROK Shifter Senior all won their respective finals and walked away with a substantial total of $8,000 in cash prizes. The same weekend at the Florida Pro Kart Series (FPKS) event, Vincenzo Sarracino took pole position and won the final in the very competitive IAME Junior category. Also winning in the engine-of-the-weekend was Dan Devendorf in Mini ROK.
The following week Bordogna Engines was well represented at the Cold Stone Florida Winter Tour ROK Cup USA
program. On Saturday, drivers representing Bordogna achieved three second place finishes including Chase Hefner, Nelson Piquet, and Rodrigo Piquet. Overnight the team worked hard on customer's engines and carburetors, which proved to immensely pay off. In ROK Junior, Bordogna engines not only won the final with David Malukas, but also took second, third, and fourth place results, dominating the big Junior ROK Class.
"This was a very important few weeks for us and I am very happy," commented Bordogna. "I want to thank all of my drivers and teams who believe in my work and passion for this sport. Thank you to Vortex Engines, Helio from Piquet Sports, Tony Kart USA, Top Kart USA, Andersen Racing Team, Perry Racing Team, Ocala Gran Prix, Orsolon Racing, and everyone who is beside my truck trucking working together for Bordogna Engines."
Bordogna Racing Engines is located in Delray Beach, Florida. Bordogna offers an engine rental program, dyno testing, blue printing and maintenance of engines for all classes from Cadets to KZ1, as well as flowbench testing and CNC customized parts and accessories for engines. For those looking to get more power from racing engines to get to the front of the pack, contact Daniel by visiting his website at www.bordogna.us, call (916) 256-0385 or email danielbordogna@hotmail.com.