Utah Kart Championship Ready to Kick Off 2015 Season
Series encouraged by ongoing growth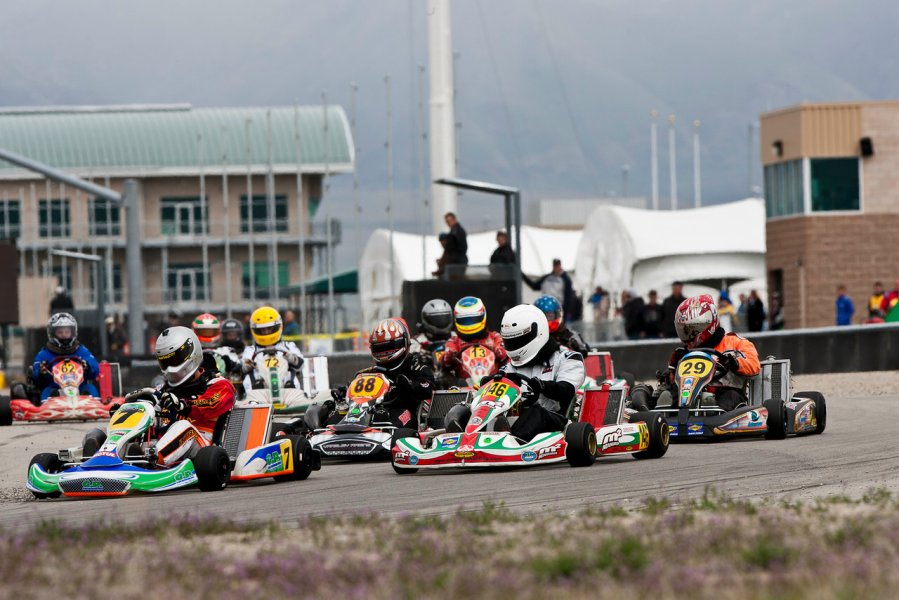 The 13-round Utah Kart Championship, based at Miller Motorsports Park in Tooele, Utah, will kick off its 2015 racing season in April. (Photo: Miller Motorsports Park / Jeremy Henrie)
The Utah Kart Championship (UKC), based at Miller Motorsports Park, is preparing to kick off its ninth annual championship season.
For 2015, the UKC continues its steady growth with a 13-race championship running from April through October. There will be 13 classes competing in all 13 rounds of the championship. There are classes available for everyone ranging from five to over 65 years of age, with a simplified class structure based around three different engine packages – Briggs and Stratton LO-206, Rotax and stock Honda.
The Utah Kart Championship is also pleased to announce sponsorship support for the 2015 season from great partners such as our presenting sponsor MG Tires, Briggs & Stratton Racing, Msquared Karting and BCK Academy.
One of the exciting features for 2015 is the continued growth of the BCK Academy 4-Cycle classes, thanks to the implementation of the Briggs & Stratton LO-206 engine program in 2014. New for this year will be the addition of a 4-Cycle Masters class for those drivers 30 years and older. Support from Briggs & Stratton Racing has been key to the growth and ongoing stability of this class.
The Msquared Karting Rotax classes in the UKC continue to grow. This growth has resulted in our program being noticed nationally and has led to our hosting the Rotax Grand National event twice in the past four years. Once again this year, we will have the Msquared Karting Rotax Challenge, a regional series within the UKC Rotax classes.
The stock Honda shifter kart classes in the UKC feature some of the nation's top shifter kart racers. The skill of these drivers, combined with the fast layout of our track, is expected to provide thrilling racing from green to checkers in every round this season.
Another new development for 2015 is a change to the tire program. Based on feedback from our competitors, we have reached an agreement with MG Tires to put all Kid Kart, 4-Cycle and Shifter class karts on the MG tire. As part of the agreement, MG Tires will provide UKC with tires to give away at each round of the UKC 2015 championship and at the year-end banquet.
"We can't wait to drop the green flag on the 2015 UKC championship," said Justin Bloxham, Director of Operation for Miller Motorsports Park. "Our strong schedule allows ample opportunity for racers to get on track, and we've been averaging over 70 entries per event. Over the past few years, the UKC program has matured to the point that we are now focusing our efforts on growth and refining our programs to maximize the enjoyment of our participants. We think we have the pieces in place to make 2015 our best season ever.
"We would like encourage out-of-town racers to join us for our club races, and invite them to review our rules, which are available on our website. Please contact us if you feel your engine does not meet our specifications; we always try to work with everyone. "
For more information about Miller Motorsports Park or the Utah Kart Championship, call 435-277-RACE (7223) or visit the track's website at www.MillerMotorsportsPark.com.
About Miller Motorsports Park:
Miller Performance is part of Miller Sports Properties, which includes the NBA Utah Jazz; MiLB Triple-A Salt Lake Bees; Miller Performance, consisting of Miller Motorsports Park, the Ford Racing School and Oneiro, an event management company; EnergySolutions Arena, which seats nearly 20,000 fans; KJZZ-14 Television; 1280 The Zone Sports Network; Larry H. Miller Tour of Utah, men's professional cycling race; and All-Star Catering.