A Lot of Champions Charging for the Victory at the 20th Winter Cup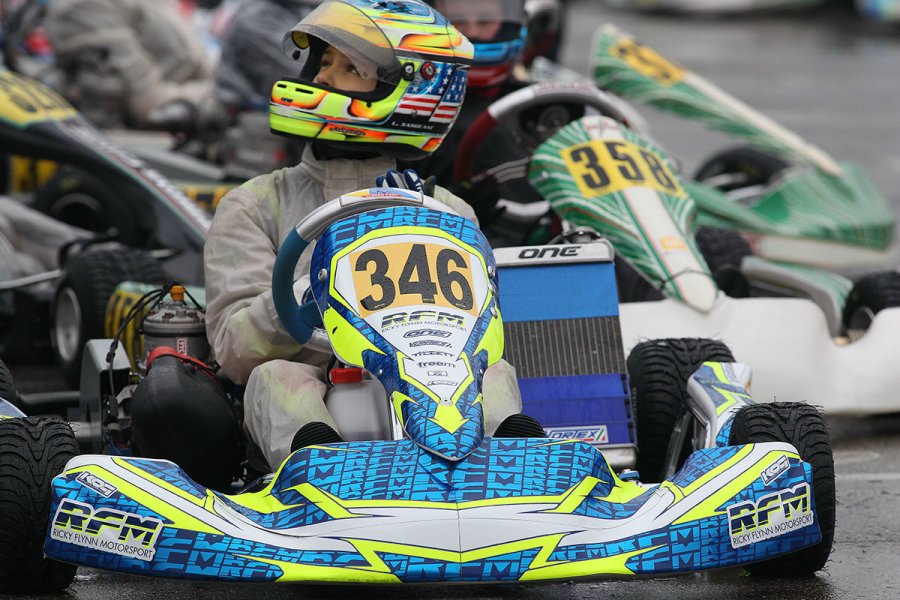 Logan Sargeant (Photo: FM Press)
At the end of the heats held on Saturday, Flavio Camponeschi is the best in KZ2, the Dane Nicklas Nielsen leads in KF, the American Logan Sargeant in KF Junior and Giuseppe Fusco in Mini Rok.
Lonato del Garda (Brescia, Italy). The 20th Winter Cup, race underway from 19 to 22 February 2015 at the South Garda Karting, will be remembered for the high number of drivers on track: 240 racers made it to the track in the 4 categories of the event, representing 36 countries from all over the world. It will also be remembered for its validity as first round of the new Trophy Bridgestone Supercup, series with a rich money prize amounting to Euros 40.000, but also for the several penalties awarded to drivers due to the detachment of the noses in consequence to the new international regulations.
More than 120 drivers have been handed penalties on Friday or on Saturday's heats valid as qualifiers for the final stages.
Weather has been bad on Saturday and made even harder the day devoted to qualifying heats and the selection of the finalists. Several champions have been protagonists of the two initial racing days and put their name forward as main contenders to the final win of this important international karting event, confirming therefore the very high level of the much awaited Final to be held on Sunday 22 February.
Flavio Camponeschi (Tony Kart-Vortex), after topping KZ2 qualifying practice on Friday, has been the quickest in the heats securing two wins. He was followed by Paolo De Conto (CRG-Maxter). A success was also obtained by the World Champion Marco Ardigò (Tony Kart-Vortex), Arnaud Kozlinski (Sodi-Tm) and Giacomo Pollini (CKR-Tm).
KZ2. Qualifying heats, results: 1. Camponeschi; 2. De Conto; 3. Hanley; 4. Abbasse; 5. Dalè; 6. Ardigò; 7. Dante; 8. Dreezen; 9. Lammers; 10. Federer.
Nicklas Nielsen (Tony Kart-Vortex) dominated KF with three heats won after the pole position set on Friday. Ben Barnicoat (Birel Art-Parilla) also obtained a victory running a good series of heats, as did Felice Tiene (CRG-Parilla), Mark Litchfield and Karol Basz (Kosmic-Vortex), who also won a heat.
Qualifying heats, results: 1. Nielsen; 2. Barnicoat; 3. Tiene; 4. Litchfield; 5. Basz; 6. Amstrong; 7. Correa; 8. Hiltbrand; 9. Marcu; 10. Van Leeuwen.
The American Logan Sargeant (FA Alonso-Vortex) has been the most productive in KF Junior as he won four heats, the pole sitter on Friday, Christian Lundgaard (Tony Kart-Vortex) won three heats instead. The Chinese Sun Yue Yang (FA Alonso-Vortex) run also a solid Saturday taking two wins, as the Swede Rasmus Lindh (Ricciardo-Parilla) secured one win at the end of the day and the Spanish Marta Garcia (PCR-Tm) also had a good run.
KF Junior. Qualifying heats, results: 1. Sargeant; 2. Lundgaard; 3. Yue Yang; 4. Tonteri; 5. Zotov; 6. Lindh; 7. Viscaal; 8. Simmenauer; 9. Novalak; 10. Giardelli.
The Italian Champion Giuseppe Fusco (Tony Kart-Vortex) secured three wins in Mini Rok, single branded Vortex, the poleman Leonardo Marseglia (CRG-Vortex) took two wins, while Jacopo Guidetti (Tony Kart-Vortex) claimed one victory instead.
Mini Rok. Qualifying heats, results: 1. Fusco; 2. Guidetti; 3. Michelotto; 4. Coluccio; 5. Moretti; 6. Crescente; 7. Szablewski; 8. Ferrari; 9. Marseglia; 10. Diaz Rodriguez.
The event can be followed through Live Timing on the web and the Live Streaming service will be available at www.southgardakarting.it on Sunday 22 February.