EKN Driver Diary: Trey Shannon – 2015 24 Hours of America Post-Race
Racing for Tourettes driver scores Solo division victory, reaching 1505 laps for 767 miles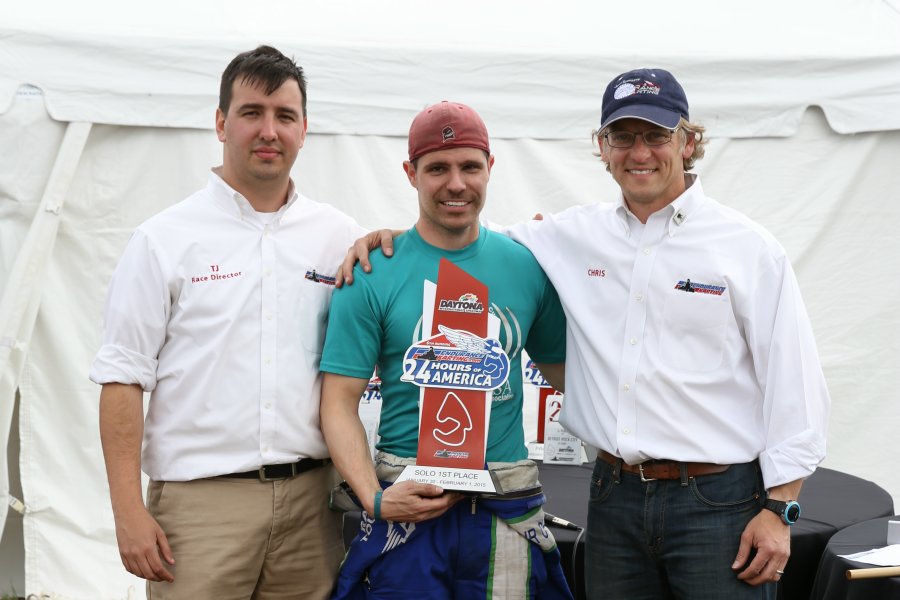 Trey Shannon excepting the winning trophy of the 24 Hours of America Solo category from Race Director TJ Halsema (left) and Endurance Karting owner Chris McCoy (right) (Photo: Perry Herndon)
eKartingNews.com has partnered up with Racing For Tourettes driver Trey Shannon as he attempts his fifth 24 hour challenge aboard a kart. This time, the Guinness World Record driver is set to challenge two other drivers at the same time, on the same track in the same event, all competing in the 24 Hours of America at the Daytona International Speedway. The three-part series will feature a Preview, a Pre-Race, and a Post-Race entry as part of the EKN Driver Diary segment.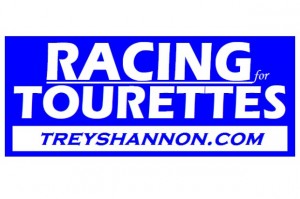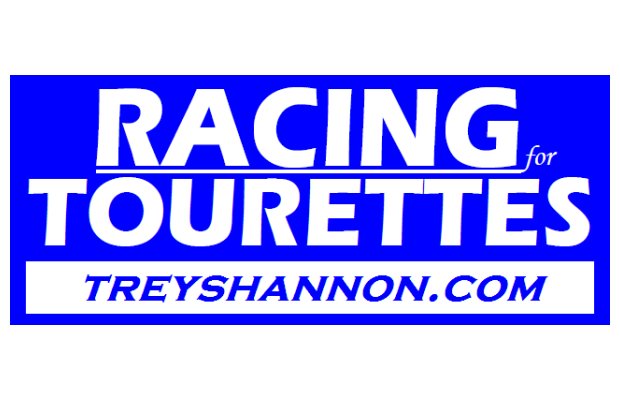 Wow! I don't even know where to begin! First I'd like to offer massive congratulations to Ennis Bragg, Joseph Buffa, Perry Herndon, and Drew Cattell on grabbing their second 24 Hours of America victory in a row. They drove a clean, fast, smart race and managed to edge out the second place team by a mere 42 seconds. All four of them did an awesome job, and again were some of the first guys to come and find me when I got back to the pits to offer their own congratulations. Great dudes, and great racers! Second, I'd like to wish a very speedy recover to Henry Brass. He was involved in a very scary accident that I'll get to in a minute. Just glad that he's ok, and hope to see him back on the track soon.
Now for that whole racing for 24 hours bit. The day started off as a normal day at the track. I ate breakfast and headed over to the track for the morning drivers meeting in which my brother Drew joked that I better bring home the fastest lap award. Little did I know how close I'd actually be to doing just that 24 hours later. The pole time was 46.666, so we figured fast lap by the end of the race would be somewhere in the low 46's. Driving way too fast aside, we got all of our drink pouches ready to go, double checked our radios, made sure the MyChron4 had a new battery in it, wished all my friends racing on other teams the best of luck, and got set up on the grid out on the front stretch.
The other two solo drivers and I decided we would start in the back and forego the Le Mans style start. So as the green flag dropped (well, American flag in this case), we all sat patiently in our karts as 25 other guys sprinted across the track and hopped in theirs. Once they had all gotten moving, the three of us gave each other one last "good luck" thumbs up and took off. As everybody sprinted away and settled in to running their pace, the fast guys were running in the mid 46's, mid pack guys in the 47's and 48's, and the slower teams in the 49's and below. Motoyasu took off and ran with the pack. He didn't have any help with him, and wasn't planning on trying to beat me or Ryan. He just wanted to see how far he could make it hauling ass, which you'll see was actually pretty far. Ryan settled into a 48/49 second pace, and I opted for a 50/51 second per lap strategy, thinking that Ryan would fade later and I could make up the time in our fuel stops.
Speaking of fuel stops, I should probably clue everybody in on what the driver change and fuel stop rules were, because they definitely became a factor. Each team had to do a driver change every 45 minutes, which included a 20 second hold in the driver change area. And since Endurance Karting was performing all the refueling, each team's fuel stop was a timed 3 minute stop, so that nobody got any advantages or disadvantages from how fast or slow the fuel guys happened to be on that stop. For us solo guys, we still had to adhere to the 45 minute stint time, so every 45 minutes we'd come in and sit in the driver change box for 20 seconds and be let back out on track. For our fuel stops, however, we were required to sit for 10 minutes instead of three. This is where I thought I'd be able to make up time, thinking that Ryan would eventually need to take more than 10 minutes during his stops later in the race. Each team, including us solo guys, had to also complete 2 mechanical stops, one between 6-9 hours, and one between 14-17 hours. This allowed the Endurance Karting crew to lube the chain, check all the nuts and bolts, and make sure nothing was going wrong with the karts. For each team those were timed to be 6 minutes.
Ok, back to the race. After three 45-minute stints, we'd all come in for fuel. After the second fuel stop, I went back out and realized our radios weren't working. At this point I was three laps behind Ryan, and it was difficult to let people through going off the pace. With those two factors in mind, I decided to up my pace and start running in the 48s. As I got more in a rhythm, those 48's became 47's, and then low 47's. Basically, I was sprinting. And I was determined to keep sprinting until I had made back the laps I gave up to Ryan early in the race. The race was no longer a marathon, and because there was still so much time left, you couldn't really call it a sprint either. It was a sprint-marathon. Every three stints we'd come in to get fuel, and every fuel stop we were both back out on track as soon as that 10 minute hold ended. Neither of us were blinking, and both were keeping up a sprint like pace. I was running in the 47s, and Ryan was running in the 48's. I was making up time, but I still had to be patient. I wasn't going to catch him for a while.
I came in for a fuel stop in the middle of the night, and realized that was when Motoyasu had hit his wall. It was a little under 12 hours in, and he was sitting in his chair eating a slice of pizza and just said to me, "So tired!" After that I think he went and got a massage in the Race Control tent (they had a dollar-a-minute masseuse) and fell asleep on the massage table. The race was now just between Ryan and myself. The complexity of the race changed during that stop as well. When I got out of the kart I asked if the mechanical window was open yet, and the answer was that it wasn't open for another 30 minutes. When I came in for my next 'driver change' stop 45 minutes later, I saw that there weren't any karts in the mechanical service bay. Knowing the mechanical window was now open, I thought I'd be clever and take advantage right then. Little did I know, that by making a mechanical/fuel stop at that time instead of sticking to our regular strategy, I left us with an extra fuel stop 45 minutes from the end of the race. Each 10 minute stop equated to about 12 laps on track. So, with that extra stop, I'd have to find a way to make up 12 laps in less than 10 hours. Needless to say I was a little pissed with myself at this point. However, knowing there were almost 10 hours left in the race and that anything could happen, I just kept my head down and pushed on. I kept running my 47 second laps and, in my self-directed frustration, turned a few in the 46's. The fastest of those was a 46.676, which ended up being less than 4 tenths off the fastest lap of the race. I was rockin' and rollin'.
I still needed something to happen to Ryan at his mechanical, or some kind of red flag to put me back in the game. At 4AM, we unfortunately got the latter. Henry Brass had run off track and collided with a parked pick-up truck. It was a nasty crash, and it happened right over by our pit, so my brother Drew saw the whole thing happen. Lucky for Henry, it was able to escape the crash with only a badly broken right leg and ankle, but his head, neck, and back are all in good shape. He's had one surgery so far to stabilize the leg, and has been transported back home to Atlanta where he'll have more follow up surgeries. It will be a difficult recovery, but doctors expect his leg to fully heal, and Henry is in good spirits, which is awesome news! While Henry was being extricated from the kart, and apparently asked math questions to ensure his brain was not damaged, all the karts remained stopped on the back stretch with the red flag out.
During the red flag I talked to some friends on other teams and through random conversation about how everybody's race was going, one of my good buddies on the Union Jack #14 team told me they were getting three hours to a tank on fuel. This would end up being the most clutch piece of information I'd receive all day. The red flag ended up lasting for an hour and a half, with the race being restarted around 5:30AM. This put us at five and a half hours to go in the race. We were about 15 minutes into a fuel stint when the red flag came out, so our next stop would still be with about three hours to go in the race. The situation hadn't really changed. We still had one extra stop to make relative to Ryan, unless we tried to make it 3 hours on our last tank instead of the 2 hours 15 minutes we'd been doing all race. Well, that's what we decided to do.
I've never had to save fuel in a race before, let alone in a kart. I just knew that it had to be done, or the race was over for us. We were either going to win it, or run out of gas trying. With all the sprinting I had done for the middle 16 hours of the race, I came in for my last fuel stop with 3 hours and 3 minutes to go in the race, and 3 laps up on Ryan. I had to make that fuel last the whole three hours, but luckily I had three laps to play with, and I needed every bit of them. At this point Drew had gotten the radios working again, and we had put mine back in during the last fuel stop, since we knew the last stint was going to require some coaching. I got back on track, channeled my inner Scott Dixon, and saved fuel as best I could. I was back running in the high 49's, low 50's once again, literally only using half throttle on the straights, and rolling through the corners with as much corner speed as possible to keep my lap times down. So physicality wise, it was about the same as the sprinting I was doing before, just didn't have to break as hard. As if having to save fuel wasn't dramatic enough, my neck collar came off with 1 hour left in the race. Fortunately, we were about to make a 'driver change' stop, so Drew just ran the spare over to me and I used the 20 second hold to make sure it was securely fastened. I looked down at my fuel tank and thought "there is no way we're making it to the end!" With one more 'driver change' stop left, I just kept saving that fuel and tried not to give up more ground that we could afford.
We came in with 40 minutes left in the race for our final 'driver change' stop, and it was officially crunch time. As I was sitting in the box, I watched Ryan go by to take the lead. The plan was simple. When Drew said "back off," I save fuel, and when he said "go," I go. I got back out on track about a straightaway behind Ryan, and the chase was on. As soon as I came out of the pits, I head Drew come over the radio and say "Go go go!" I took off and immediately was back down in the 47's running Ryan down. I caught him with about 30 minutes left and made the pass for the lead. From then it was all about managing the gap and hoping the fuel made it to the end. Drew stopped using the radio at this point, and just gave me the "easy does it now" signal every time I came by him. He did a good job of making sure Ryan didn't get too close, and an ever better job of making sure I stayed calm and didn't sprint off into the distance and run us out of fuel.
The last little bit of drama came on the final two laps, when my engine coughed ever so slightly coming out of turn one. It made me a little nervous, but I knew there was nothing I could do about it. I just had to keep going nice and steady. After 24 hours of racing, I ended up crossing the line 2.8 seconds ahead of Ryan to officially become a winner of a 24 hour race at Daytona International Speedway! Ryan and I finished with a final total of 1505 laps, which comes out to about 767 miles.
On the cool down lap, I just couldn't believe we had actually made it to the end, and that not only did Ryan and I finish on the same lap, but we were separated by less than three seconds. When we got back to the pits, we slowly and gingerly hopped out of our karts and gave each other a great big bear hug. We were both exhausted, but excited that the final outcome was so close. We knew going in that there was going to be very little between us, and our performances over the 24 hours proved that. Ryan Dyer is a tremendous competitor, and during this race he pushed me to do things I didn't even know I was capable of. Never in my wildest dreams would I have thought that we would effectively be sprinting for an entire 24 hour race, but that's what happened.
After the race Endurance Karting held their customary awards ceremony in which each class podium was presented, along with the award for fastest lap and a massive overall winners' trophy, Ryan and I sat down on the grass up in front and tried our best not to fall over. We both gave a couple interviews about the race, headed back over to our tents, and just sprawled out on the grass and lay there for a few minutes. While my parents shuttled my brother over to the airport, I got everything packed up and ready to go. Once the car was packed back up, we headed off to Savanah, GA to spend the night in the historic district, which we got a nice horse carriage tour of the next morning. I was pretty sore, and still a little tired, but the tour was a nice way to decompress and relax after such a grueling couple of days.
During the trip back to Charlotte on Monday, I got a very welcome text message from Endurance Karting owner Chris McCoy to let me know that Henry's first surgery had gone well and that he was in high spirits. Everybody at the race is still thinking about you, Henry, and hoping for a swift and successful recovery.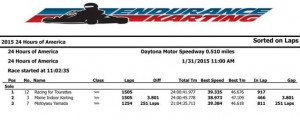 After an amazing weekend we finally made it back to Charlotte to watch the Super Bowl one day late. Miraculously, we were able to avoid finding out what happened all day Monday, so we were just as surprised by what happened at the end of the game as everybody else. I want to give a huge thank you to TJ Halsema, Chris McCoy, and the whole crew at Endurance Karting. They put on yet another outstanding 24 hour event. These guys really know how to make these things go off without a hitch, and provide such great, equal equipment for all the drivers and teams. I love racing with these guys, and really appreciate everything they did for us solo racers to make sure we had everything we needed to go racing. I'd also like to thank all my sponsors, Oktane Visual, AiM Sports, David Lee Motorsports Media, Ribtect (special shout out to them….my ribs were fine after 24 hours), C12 Recover, and of course Rob Howden and David Cole at eKartingNews for all their support and letting me share my experience with all of you. I also need to give a huge thanks to my parents for coming down and supporting me all weekend, and most importantly my brother Drew. He was absolutely awesome all 24 hours. He did an amazing job with our strategy all race long, especially in those last three hours. Without him there's no way I would have won this race.
Last but not least, I want to give a shout out to Motoyasu Yamada and Ryan Dyer for racing with me in the solo class this year. Motoyasu had pace neither of us could hang with, and Ryan is simply one of the toughest, most determined competitors I've ever had the pleasure of competing against. I've never been pushed so hard in all my life, and the amount of respect I have for this guy and what he did over 24 hours simply can't be put into words. It was an honor racing with you, Ryan, and I hope it's just the first of many.
My apologies for rambling on for so long. If you're still reading this, I appreciate your support and how bored you must be at work. This race was an absolutely unreal experience, and a great step for our Racing For Tourettes program. If you'd like any more information about Racing For Tourettes, you can visit my website at treyshannon.com. And if you'd like to make a tax deductible donation to the Tourette Sydnrome Association, please visit my Active Giving page at http://www.active.com/donate/teamtsa/racingfortourettes. All contributions are greatly appreciated.
Please follow and like us: