Smyth Gets Perfect Build-Up for Big Fortnight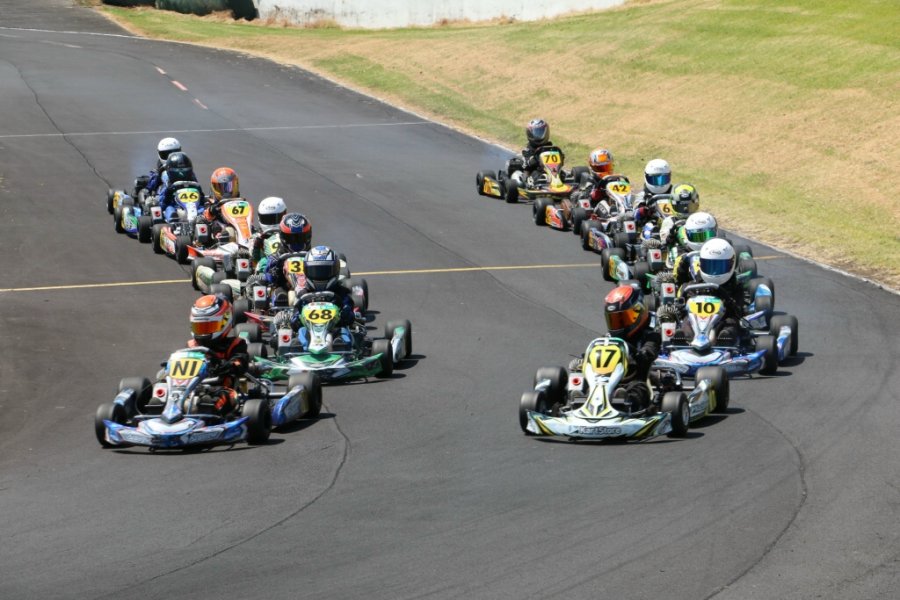 Joshua Parkinson (#NI) and Callum Hedge (#17) lead one of the rolling starts in the Vortex Mini ROK heats (Photo: Fast Company/Emilee Wright)
Auckland karter Graeme Smyth got the perfect build-up for a big fortnight of racing coming up with an eight-win clean-sweep of the KZ2 class at the two-day Lightning Racegear City of Sails kart race meeting in Auckland over the city's Anniversary weekend.
Kart and car racer Smyth heads to Rotorua this weekend for the opening round of this year's ProKart Series, then heads to Bathurst next Tuesday to prepare for his international car debut – in a Ferrari 458 GT3 no less – in the Liquimoly Bathurst 12 Hour endurance race
The 23-year-old was in devastating form on his home track, winning each KZ2 race very much as he liked, claiming the overall class win from reigning South Island class title-holder and regular ProKart series sparring partner Chris Cox from Rangiora, and category veteran Jason Farmilo from Auckland.
On the first day of racing at the annual event which was held in hot, dry condition, and with racing run in an anti-clockwise direction, track records fell to Mason Potter in Cadet ROK and Chris Smart in Clubsport 120.
On Sunday, with racing run in a clockwise direction, it was the Vortex Mini ROKs with all the pace.  At one stage the track record was being lowered by several drivers each lap, lap after lap, and was eventually claimed by Taranaki's Thomas Boniface.
The Cadet ROK class was strongly contested and at the close of Day 1 it was anyone's guess as to who was going to come out on top overall.  After the second day Mason Potter edged out Asten Addy on countback with Liam Sceats in third and Dylan Grant fourth.
The Microbe Cars sponsored Junior Restricted 100cc Yamaha class went to Jay Zeltwanger, just two points ahead of Ben Hurst.
Vortex Mini ROK, sponsored by Global Credit, was another class closely contested on track; there were some great battles over the weekend's racing.  Billy Frazer took the win from Callum Hedge and Josh Parkinson, with Ethan Donohue in fourth.
Formula Junior, sponsored by Cosgrave Awards, was the largest class on track with 18 competitors.  Racing was hard and fast and the drivers had to work for every gain made.  Connor Wilson took the class win from Lee Zeltwanger, Dylan Smith and Wellington's Josh Donohue.
Clubsport 120 was won by Richard Macey, with Chris Smart second, Lee Sefton third and Damir Skoric in fourth.
The Right Karts 125cc Rotax Max Light class saw the first leg of a Carpenter double with Nick taking the class win from Corey Green and Jordan Baldwin.
Sam Carpenter was the second leg; taking out the 125cc Rotax Heavy class by just two points from defending title holder Caleb Hartley.  Christchurch's Jordan McDonnell finished third, pipping Keith Wilkinson on countback.
Lightning Racegear 2015 City of Sails meeting Strata Networks Raceway Auckland Sat-Sun Jan 24-25 2015
KZ2
1. Graeme Smyth
2. Chris Cox
3. Jason Farmilo
4. Garry Cullum
5. Shaun Curran
6. Gerhard Benadie
125cc Rotax Max Light
1. Nick Carpenter
2. Corey Green
3. Jordan Baldwin
4. Liam Young
5. Finley McLaren
6. Kayne Laughton
125cc Rotax Max Heavy
1. Samuel Carpenter
2. Caleb Hartley
3. Jordan McDonnell
4. Keith Wilkinson
5. Mark Oudney
6. Garry Claxton
Clubsport 120
1. Richard Macey
2. Chris Smart
3. Lee Sefton
4. Damir Skoric
Formula Junior
1. Connor Wilson
2. Lee Zeltwanger
3. Dylan Smith
4. Josh Donohue
5. Ashton Grant
6. Aidan Robson
Junior Restricted 100cc Yamaha
1. Jay Zeltwanger
2. Ben Hurst
Vortex Mini ROK
1. Billy Frazer 3 heat wins
2. Callum Hedge 1 win
3. Joshua Parkinson
4. Ethan Donohue
5. William Exton
6. Thomas Boniface
Cadet ROK
1. Mason Potter
2. Asten Addy
3. Liam Sceats
4. Dylan Grant
5. Luke Thompson
6. Quade Krissansen