Road Racing 4 Life: The Read Family
Karting has made my family a close family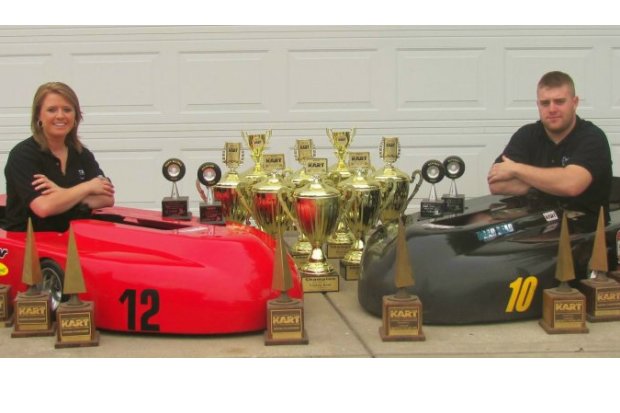 Lindsay and Brad Read
Karting is a not just a hobby, it's a lifestyle. Road Racing is a segment of the sport that may not enjoy the glitz and glamour of sprint racing, but it remains a crucial component that gives driver the unique opportunity to take on race car tracks all across the country. Road racing dates back almost as far as the development of the kart itself in the late 1950s, and since then, racers have tested the durability and speed of their machines by pushing their equipment to the limits on these long courses.
A more organized road racing program was developed by the International Kart Federation in the early 1960s, as the 'Enduro' national program was launched as the first Grand Nationals were held in 1963 in Texas (Green Valley Raceway). Races during the 'Enduro' era lasted anywhere from 30 minutes to a full hour, which is where the name came from…it was certainly more about endurance. Today, road racing still tests the endurance of karts, which races running 45 minutes for the laydown categories and 25-30 minutes for sprint-style karts.
This new EKN editorial series is designed to put the spotlight on this unique segment of the sport, one that is such a huge part of karting's rich history.
To its credit, karting is made up of many unique personalities throughout the country and around the world. The ultimate goal that most everyone has when they begin karting is to have fun. For most, there is joy to be found in the laughter of sitting around on the grid, after the races in the scale line, or during an enjoyable meal after a hard day's work at the race track.  These all remain part of the reward for the time and money that is invested in a race weekend. This is an aspect of the sport that continues within the Read family.
I first met Kelly Read back in 2000-2001 while acting as the series director of the Mid-States Series. At that time, the program brought together five different organizations, including the KART/Mid-American Road Racing Series of which Read had been the head figure for so many years. He, along with a handful of volunteers continue to promote a road racing program that features races in heartland of the country, traveling to Kansas, Oklahoma, and Nebraska facilities. If you were in attendance at any of his driver's meetings, you would surely understand 'The Man' is here to have a good time.
Like many of the traits of a parent, the love for karting and having a good time has been passed down to Kelly's children – Brad and Lindsay. The youngest sibling, Lindsay, was able to take part in her first Daytona KartWeek this past December – competing in both Piston Port laydown divisions, along with the Stock Leopard Sprint category. Brad is a racer himself when not performing with his band HayWired.
Kelly began karting back in 1967 at the age of nine. After three years of sprint racing, he moved into the enduro side of things. Occasionally, he would return for a few sprint races, but his love grew for road racing, which is where he has remained. Many around the road racing community do not know Kelly, but know 'The Man'. It's a nickname that came about several years ago when Read was doing nearly everything – promoting, direction, tech, wrenching, and the occasional racing himself, all in the same weekend. Fellow racers started calling him 'The Man' because of all of the effort he did to do whatever he could for his racers.
Along with the mantra of being 'The Man' comes with a penchant for pulling off pranks. A few years ago, Mr. Prank himself 'Robby Harper' and his group of racers went to a KART race and got Kelly with their traditional 'cream pie in the face at the driver's meeting', right in front of everyone. Read gave it back when they went to Harper's race at Barber Motorsports Park, laying toilet paper all over their entire paddock like it was Toomer's corner at Auburn. This one, however, included 'lady undergarments' and a few other items for racers to view when they entered the paddock the next morning.
Read is part of the driving force behind the KART Mid America Road Racing Series. Two of the unique facilities at which the program races are Lake Afton and Lake Garnett. Many have seen these facilities as being 'too dangerous' for racing karts. It's the complete opposite when you ask Read. "Low cost tracks like these are a must. That's four races we have alone. I, and several of our racers from this area, have traveled across the country and race at what we call the 'big name' tracks. We tell anyone that Afton and Garnett are just as safe, if not safer then some of those other tracks. They are vital for our racing, as if we lost them, we could end up like other parts of the country with little or no road racing to speak of. People don't realize that the SCCA used to run at both these tracks up to the mid-70's and early-80's. These tracks are fun, fast, and not demanding."
Over the last few seasons, the KART National Championships have welcomed big fields, with drivers trekking in from the far west and the far east to contend for their prestigious Triad trophy. This year's annual event is moving from Heartland Park Topeka in Kansas, to the repaved Hallett Motor Racing Circuit at the beginning of August.
Certainly, one of the issues plaguing road racing is growth. Getting new people into the discipline of road racing karts presents a difficult hurdle for someone new, and even for some who have been involved for a number of years. Exposure is one area that Read feels road racing needs more of. Having classes that allow sprint racer to be able to come to the big tracks without making major changes is another. Organizations and series working together is yet another. The best selling point, however, is the current racers themselves, acting as salesman in promoting road racing.
The anchor to the Read family, of course, is Kelly's wife Donna. Since she and Kelly began dating and were married, she got over the nervousness of watching him race as she knows how passionate Kelly is for driving and for the sport itself. She has helped out with things at the race rack, including working in scoring and registration. Later, she would become a racing mom when their children got behind the wheel.
Kelly first took her kids to the sprint track for play days several times when they were younger to get acquainted with the karts before putting them on track against other competitors. Brad is the more laid-back, calm type of racer who is very competitive and doesn't like to lose. Lindsay wants to be the dominant one; if you give her an inch, she will take a mile.
Brad began racing at the age of eight and has a number of victories on his racing resume. Over the last few years, his focus has been on building a music career, which is going well. Lindsay is his manager, and they try to schedule shows around weekends where they do not have a race, but now music ranks over racing on most occasions. No matter what, Brad plans on racing until he can't get into a kart anymore. It's a thrill every time the engine fires up.
Lindsay first got into a kart at age 13. It took her parents a little longer to trust her behind the wheel, but she's been road racing for 11 years now. Having an older brother, the competition level was high, always with her sights on beating him every chance she got. She told EKN that her brother has taught her almost everything she knows on the track, and the competitive side that hey both have keeps things very intense.
"A win is always great for me," stated Brad. "I have won a lot of big races against some of the biggest names in the sport. If I'm racing against my sister, I definitely want to beat her, but if she happens to win, then I can't complain. She does a great job and is tough to beat when she's on."
"If you asked me this question 3-4 years ago, I would have said me, hands down," said Lindsay, when asked who was better. "Of course, I absolutely love beating him, it's less talk I have to hear when the race is over (laughing). But now that he has accepted me as another driver and a teammate, as long as we are there, running for the top positions together, that's all that matters. To be clear, I would never just give him a race, ever!"
During the last few seasons, Lindsay has raced both laydown and sit-up karts as she did at the recent Daytona KartWeek. This was her first time at the World Center of Speed, and the historic event, competing in the Stock Leopard Sprint and 100cc Piston Port categories. She won the 100cc Pipe Heavy race on day one, and crossed the line first in the Stock Leopard Sprint race on day two. That win was originally taken away, but the latest update is that the original positions will be reinstated after a tech inspection error was discovered. Her wins added her to the list of only a handful of female drivers to win at Daytona.
"I think any female in any form of racing is a great asset to the sport as it goes to show that we, too, can drive and be competitive," Lindsay added. "To me, I am just another driver going for the win. I don't view myself as being different. Being a female in the sport, you tend to take a lot of heat and a whole lot of pressure. We have to work hard to earn respect."
Not only does the competitiveness lie within Brad and Lindsay, but 'The Man' always likes to show the young guns how things are done.
"I taught them what they know, but not everything I know!!!," laughed Kelly. "Truthfully, I tried several years ago to run with Brad in the Piston Port class, but he put it on THE MAN. Both kids will say that THE MAN still has the fine tuning that they don't have."
Take away the competitive tension, and the Read family has been together at the racetrack for more than two decades, making memories, making friends, and having a good time.
In the words of Kelly – "Karting has made my family a close family."