24 Hours of America Welcomes Three Solo Drivers to Battle for Victory
Endurance Karting hosting 28 entries at Daytona International Speedway this weekend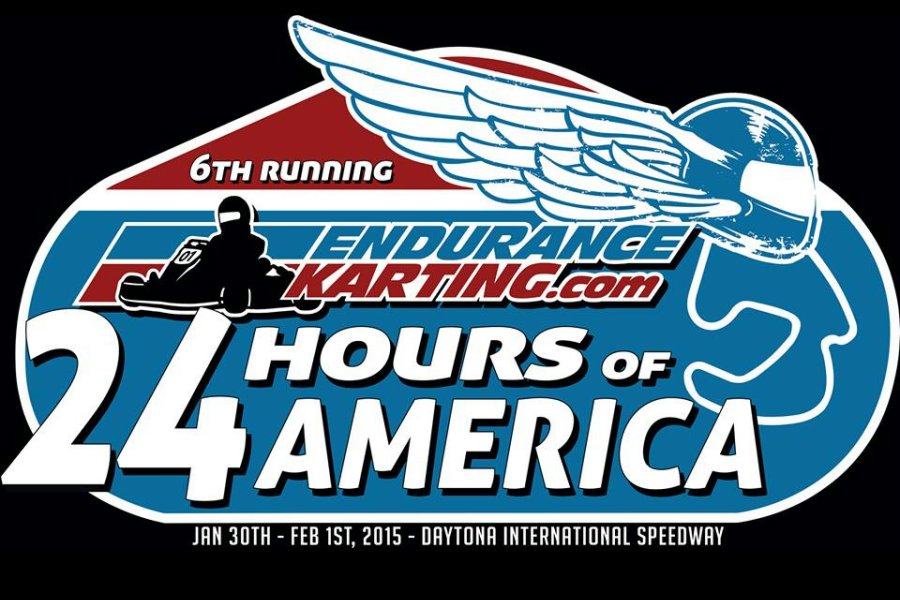 The United States is home to several high profile endurance races that racers from around the world want to win. The 12 Hours of Sebring, the Rolex 24 at Daytona, and the 25 Hours of Thunderhill are all at the top of any endurance racers bucket list. Karting even has the RoboPong 200, which normally takes around 4 hours to complete. This weekend, however, karting has its own 24 hour challenge with the 6th running of the Endurance Karting 24 Hours of America, which will be run this year inside the Daytona International Speedway. Twenty-eight teams will do battle on the infield sprint course at Daytona. This event draws competitors from all over the world, including current and past IMSA, IndyCar, and F1 stars.
Returning champions Ennis Bragg, Drew Cattell, Joseph Buffa, and Perry Herndon look to defend their title and become the first back-to-back winners of the event. While 24 other teams will be trying to take their crown, including one entry from the TUDOR United Sports Car Championship, the big story revolves around the three solo entries in the field. After Trey Shannon's participation in last year's 24 Hours of America at Charlotte Motor Speedway was a great success, Endurance Karting decided to add a Solo class to this year's roster. Shannon will once again be flying solo, along with Ryan Dyer and Motoyasu Yamada, who is making the trip from Japan to race at Daytona this weekend.
Trey Shannon
Of the three solo drivers, Shannon has the most experience with 24 hour races. With three 24 Hour Guinness World Record attempts under his belt, and past participation in the 24 Hours of America, this event marks Trey's fifth 24-hour solo kart drive. The Racing For Tourettes driver is the former Guinness World Record holder for distance in 24 hours by a solo kart driver on an outdoor circuit, and current holder of the 24 hour indoor record, pending Guinness ratification. His endurance racing experience gives him a good shot at victory this weekend, but he'll have his work cut out for him if he wants come out on top.
"I can't tell you how excited I am for this race. Sharing the track with Ryan and Motoyasu will be a real privilege, and I know I'm going to really have to dig deep to keep up with them for 24 hours," Trey said. "Competing solo in this race last year (2013) was a truly amazing experience, and the fact that Endurance Karting has added a solo class for this race really shows their commitment to everybody that races with them. As far as I know this will be the first time multiple solo drivers have ever gone head to head for 24 hours in kart, and I'm very happy to be a part of it."
Ryan Dyer
While Shannon may have three Guinness World Records, Ryan Dyer is the man who took one away from him. As the current official record holder for distance in 24 hours by a solo kart driver on an indoor circuit, the Maine Indoor Karting driver has certainly proven that he has what it takes to go the distance. On top of that, he's revved up about the upcoming match up.
"I'm extremely excited and grateful for Endurance Karting for giving myself, Trey, and Motoyasu an opportunity to participate in this race as solo drivers," Ryan told EKN ahead of this weekend's event. "I never thought I would have a chance to visit Daytona International Speedway, let alone race there, so it's pretty exciting. The three of us have a great opportunity to really help build the sport of endurance kart racing, especially for solo drivers, and I couldn't be happier to be a part of it. Best of luck to both Trey and Motoysau, and all the teams competing this weekend. It should be a great experience."
Having made their respective indoor record attempts at different facilities, it will be interesting to see how Ryan and Trey match up on the same circuit with equally prepared equipment, especially with a third challenger thrown into the mix.
Motoyasu Yamada
Yamada is by far the biggest unknown out of the three solo entrants. The Japanese driver's longest solo endurance race to date was the Endurance Karting 6 hours at Atlanta Motorsports Park this past year, where he showed well in atrocious conditions until a late race bobble robbed him of a podium finish. He has clearly got speed and skill, but it remains to be seen how he will fair against two guys who have completed 24 hour solo drives before, and know what it takes to make it the full distance. His two competitors are by no means underestimating him though, and both are prepared for him to be a serious threat for the victory.
Endurance Karting owner Chris McCoy talked about the excitement ahead of the sixth running of the 24 Hours of America. "I am very excited to see the growth of this race, especially in the highly competitive Pro class where we see drivers from all around the US wanting to compete against the best in Endurance Kart Racing. There is truly no other way to get such quality and quantity of seat time."
Endurance Karting's Race Director, TJ Halsema, commented on Endurance Karting's plans for this event moving forward, and what we might see in future editions of the 24 Hours of America. "I am excited by the growth we've seen with the 24 Hours of America this year, and we're working to keep the momentum growing so the series can see fields of 40-45 karts at future events. We will announce our 2016 location for the 24 Hours directly following the podium celebrations. I can't say where it is just yet, but I can tell you that it will be in a major market on a world class track. I hope to see you there."
The 24 Hours of America promises to be an exciting event from beginning to end. Practice and qualifying take place Friday, January 30, with the green flag dropping at 11AM Saturday, January 31. You can follow the action on Race Monitor, as well as view updates on Endurance Karting's twitter feed at @ekarting. With 28 teams all gunning for the trophy, there are sure to be a few surprises. In the Solo class, all three drivers are determined to be the one that comes out on top. Look for this race within the race to go right down to the wire.
eKartingNews.com is working directly with solo driver Trey Shannon, as he attempts his fifth 24-hour attempt. You can keep up with the Racing For Tourettes driver through his Facebook and Twitter accounts, along with Driver Diary before he reaches Daytona, a recap of the practice and qualifying day, and after he competes in the 24 Hours of America.