Thank you, David Cole
10 Years…Cub Reporter to Trusted Editor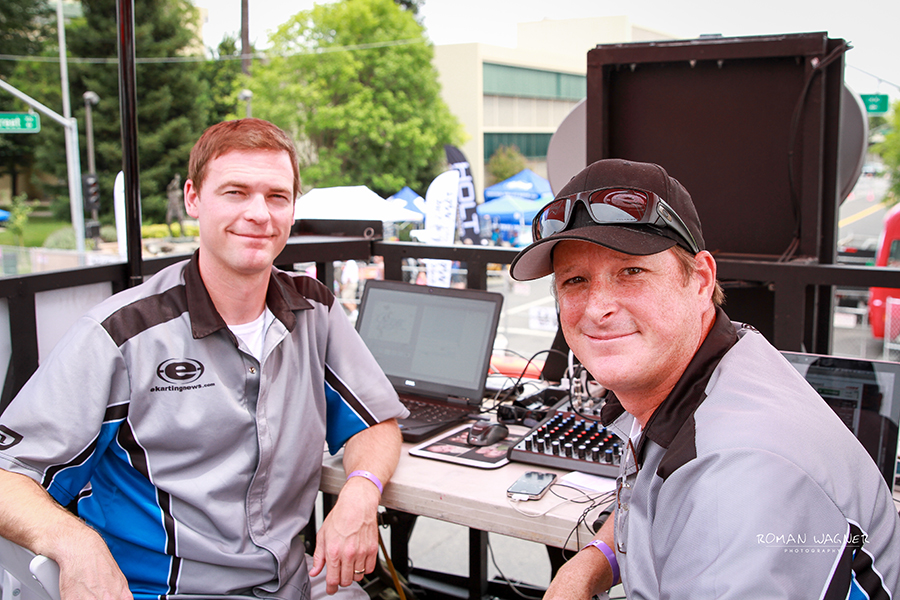 While we had a great vantage point of the action at the Modesto Grand Prix, David put in the hours all weekend, staying up until 4 am after the late Saturday night marathon
(Photo: Roman Wagner)
When you're in your 20s, rocking and rolling and 'making things happen', you scoff at the 40-something set when they tell you to stop and take a second to look around, to smell those roses. But this is sound advice. Life moves pretty fast, and it never stops, and one day you're in your mid-40s and you hit the brakes, breath in and wonder where it all went. I had an epiphany of this sort when, during dinner at an event this summer, my Managing Editor dropped the bomb that he'd been working for me for 10 years. I'm sure that my response was something along the lines of "what?.. no way". Further discussion revealed that Mr. Cole was indeed correct and it has been over 120 months since this skinny dude from Michigan first trekked to Las Vegas to help out with our eKartingNews.com coverage of the SKUSA SuperNationals at Sam Boyd Stadium.
I'm not really sure what is more impressive; that David Cole has been able to last this long in the daily grind of karting media or that he's put up with me as his boss for 10 years. They both deserve equal respect and kudos.
What I do know for certain is that you will not find a man more dedicated to the sport of karting than David Cole, on all levels. I have a regularly stated mandate for eKartingNews.com, and that is that whatever we do, the underlying motivation is to support the sport and work to grow the industry. Even though I bring it up in conversation quite often, David doesn't really need the reminder, because I can tell you for a fact that this is the true foundation of why he does what he does, and why he is so good at it.
I have a great deal of pride when I speak of David, somewhere balanced between delight that a father has for his successful son and a similar feeling that a brother has for his younger sibling, punctuated by the underlying respect felt between best friends. David came to me with a basic grasp of writing, which had been forced into his wheelhouse during his time as a primary caretaker of the Michigan Kart Club. Our first connection was during his cold calls to my office, as he attempted to get me to sponsor the MKC's shifter classes. My magazine Shifter Kart Illustrated indeed became the backer for both 'Shifter 125 1' and 'Shifter 125 2' for a few years, and I never did get to use the preferred pit spot that I was sold on. The true benefit from these sponsorships was that David would eventually become a Road Race Correspondent for us, submitting race coverage from assorted events around the Great Lakes area. It was the beginning of a long and continuing tenure.
When I bought EKN from its original owners, I was still producing SKI, and with our good friend Tim Blaney handling the editor's desk for the magazine, I needed someone to help with the site. Enter David L. Cole. That was just over 10 years ago, and now he's my right hand man, the guy I bounce ideas off, and the voice on the phone who calms me down when I get all revved up about something ridiculous that has just happened in the sport. If you've met him, you know that David is a pretty level individual in terms of his personality, which provides me with the balance that I need to run the different facets of my company.
David is the hardest and most dedicated individual who I have ever had the privilege of working with. I'm sure our readers enjoy our race coverage and our original editorial, which I believe is unparalleled in the sport, but they have no idea of the time and effort that is required to produce this product. The truth is that they don't have to know, nor do they need to care, but it's extremely important to me and it's what separates David from his peers. As the owner of EKN and our other publications, I work many 12-14 hours days and most weekends, but that's to be expected…I'm a small business owner. But these demands aren't normally placed on the staff as well. Our program is extensive, however, and our EKN Trackside Live weekend race coverage is a daily 8am-7pm grind. For David, it doesn't end there, because after handling the production of our live broadcast, there's always his regular behind-the-scenes assistance with the series we partner with, from timing and scoring help to podium presentation assistance (something he doesn't have to do, but just does anyway). After the long days at the track, and after a late dinner, he's just getting started. I can't count the number of nights that I've drifted off to sleep in our hotel room as David pounds on the laptop finishing the day's race report until well after midnight. This is dedication, and it's his commitment to our readers that drives him. He wants the race reports published for people to read when they get up in the morning, even if that means writing until 2 am. You can't teach that and I can't demand that. That's all David.
Our community is a tight-knit bunch, and like college buddies, we rip on each other pretty ruthlessly, as a show of brotherhood, of course. I know that David will take a good ribbing for this article, but every one of the guys who will fire off a barb will do so with the utmost respect, because they know what Cole brings to the table for the sport, week-in and week-out, and how hard he works. The sport of karting is better today because of the work that David has put in, work that will stand the test of time. Personally, I want to take this opportunity to thank him publically for the 10 years of dedication and friendship, because he's the guy who's been in the trenches with me, trying to provide the karting community with an online home that they can call their own, one that they can connect with each day as a lifeline for their passion. David has worked tirelessly to develop his craft and I state with utmost pride that he's come a long way from those initial race reports back in the mid-2000s. There is great detail and passion in his work, and I'm proud to have it published on EKN. David is a second-generation karting 'lifer' and I know that his parents and extended family share my level of pride and respect.
At this year's Rock Island Grand Prix, David got the chance to run both LO206 Senior and Yamaha Heavy, while still producing the live broadcast. As I stood at the start-finish line with my microphone, blasting out the play-by-play for the RIGP faithful who line the track each Labor Day weekend, it was ridiculously cool to watch my Managing Editor, my friend, running in the lead pack with the guys we've been writing about for the last 10 years. David Cole isn't just a great supporter of karting, an accomplished writer, a fantastic husband and an incredible father; the dude's a wheelman. He can drive. And in the end, that's what makes him so important to EKN and so great for the sport, he has a pure passion for driving karts.
David, thank you for 10 years of dedication and hard work. I cannot state enough how much I appreciate it.
Respectfully,
Rob Howden
Editor-in-Chief / Publisher