Top Kart USA Announces Two New Drivers for 2015
JP Southern and Jack Miller to drive under the Top Kart Tent, beginning with WKA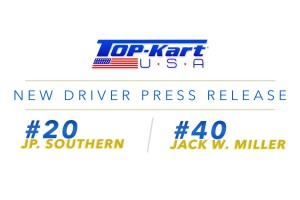 Both JP Southern and Jack Miller have decided, independently, to join team Top Kart USA for the 2015 season. This news is exciting for all parties involved. As Jack Miller explains, "We have watched the development of the Top Kart chassis over the last couple of years here in the USA. The results speak for themselves, podium after podium. Top Kart has worked very hard at making changes that will allow the driver to quickly dial in the chassis for the ever changing track conditions."
The Top Kart USA team is excited to be having these up-and-coming drivers join their Junior lineup for next year. CEO, Bill McLaughlin Jr. adds, "With a great year for our Junior program in 2014 winning the Tag Jr championship in 3 of 4 major national series, such as Florida Winter Tour, USPKS, and SKUSA Pro Tour, our experienced and talented drivers of Zach Holden and David Malukas look forward to having yet 2 more blue karts on their side to run with."
For 2015, Jack Miller will begin racing in the WKA Manufactures Cup, SKUSA National series, USPKS, Florida Prokart Series, and part time KRA series at New Castle Motor Sports Park. Miller and his family plan on filling in the voided weekends with various venues, as well as training and supporting a goal of making it to a few European races as well.
This year, Miller won both Championships in the Yamaha Junior class at NCMP driving a Tony Kart, at the ripe age of 10. The battles he endured throughout the season were intense, which set the Millers on the look out for a good, performance-driven kart, which would be critical in order for him to win. Following the championships, Jack tested a Top Kart with the X30 engine. He was fast right out of the box, and his feedback was simple and to the point, "The Top Kart turned in better than the other chassis, which makes it easier to drive." He went on to say that both Karts are good; however he liked the ease of cornering and braking better in the new Top Kart, continuing, "It's a very predictable kart to drive."
Miller has competed against Zach Holden and David Malukas, fellow Top Kart drivers, over the years when the age differences overlapped and the rules allowed. He considers them great drivers and is looking forward to racing with them again, and knowing how great of competition they are just adds more anticipation towards being a part of this team, and maybe even having the possibility of landing on the podium ahead of them. Jack will turn 12 this June and will be one of the youngest drivers to compete in the highly competitive Junior class. However, Miller just feels like age is but a number, "I have never really cared about my age or the age of other drivers I'm just having fun driving fast go karts and fighting hard on the track." Another of the reasons the Millers are excited about joining Top Kart USA is that they have a long lasting relationship with the McLaughlin family and are excited to be back under their tent.
JP Southern's camp is equally as excited to be racing with a blue Top Kart next season. "We appreciate the many years of our long relationship with PCR, Checkered Motorsports and the Budjuso family, and the success we accomplished together will not be forgotten. That being said, we could not pass up the chance for John Paul to be in close contact with the highest level of drivers Malukas and Holden, along with a team focused and experienced on winning Junior level championships. This environment will put John Paul in an situation to be challenged and help sharpen his skills in his junior program."
The Southern's plan to compete in WKA , the Florida Pro Kart Series, USPKS, and the SKUSA Pro Kart Series. They also plan on getting JP into a kart as often as possible on the lay weekends, their goal being continually raising his physical and mental abilities and preparation, maximizing his on-track-focus, as well as creating opportunities for feedback to be able to win.
The Southern's go on to say, "The change to the Top Kart USA team materialized quickly, and we will be as prepared as possible for that first lap in the new chassis at the WKA opener next week. But, be assured, we will not allow that to be an excuse not to bring the best competition level we can to the table. I have full confidence that the professionalism of the Top Kart Staff, constant communication and attention to detail they have show us to date will have the new Top Kart equipment prepared and sitting on the grid on practice day and John Paul will drive it. We plan to compete and give it our best effort to fight for the front, and that's why we will be in Daytona," continuing, "We are very thankful for the opportunity to get to work with the Top Kart USA team as well as bringing with us the continued support of Woltjer Engines and Zero Error Racing."
COO, Blake Deister, adds, "As we have a very focused core junior racing program we emphasize on trackside support and dedication to sharpening the upcoming drivers in the Sportsman and Junior categories. Keying in on race craft on track and working with drivers on Top Kart are our main focus areas. With 2 new drivers on our team for the national circuits in 2015, we have great confidence that we will again achieve success with the release of our 2015 Twister chassis for the Junior and Senior drivers as well."
With JP an experienced Junior competitor, he will look to take part in the Top Kart USA / Mclaughlin Motorsports effort to move drivers up the ladder of motorsports from karting to open wheel formula cars. JP Southern sees this as a great opportunity for his racing career and he will look to take full advantage of this program in the coming years.
Further information on Top Kart USA and McLaughlin Motorsports can be obtained by contacting their offices at 317.870.3122 or visiting them online at www.TopKartUSA.net. The top Kart USA online store is now live and ready for orders. Visit Shop.TopKartUSA.net to place your orders today.