F-Series Continues at Full Throttle in 2015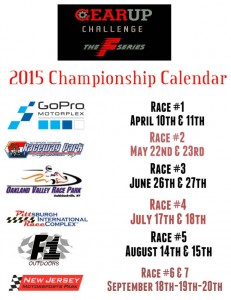 The 2015 season looks to exceed every expectation we have ever had since the F- Series began! However we are not suprised due to the dedication of so many great people. This strong future has changed nothing for us, as we will continue with the original concept for a fun, fast and fierce racing series.
Fine tuning the program to enhance the racers experience will be our priority for the coming season. The series will see strides in many areas that include improvements in registration, rules and overall a more fun race weekend. The competition has hit an all time high in 2014 and it seems that trend will continue as many factory teams and privateers have vowed the top spots are theirs. We are happy to announce the 2015 class structure will continue with a simplified an even more streamlined structure. Spectacular prizes and benefits are being worked on and will be announced shortly. Our powerhouse partnership with the Northeast Shifter Series continues to grow stronger every year and together we look forward to bring you the best possible karting experience in sport.
Gearup and Accept the Challenge !!
All detailed F-Series information can be found at www.f1series.com