Minicades Mobile Announce Kart Stars Now Available in App Store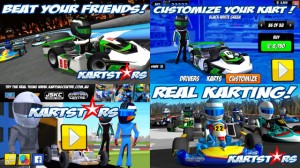 https://itunes.apple.com/us/app/kart-stars/id890658079?mt=8
It features fast kart racing on 30+ hand-crafted tracks and 300+ levels. There's 45 different karts all inspired by real karting. We've been working with real kart drivers to mix the authenticity of the real thing, with the fun of classic kart-racing games. Some of the real-world drivers included are Oscar Piastri, Bryce Fullwood, James and Dave Sera.
Gameplay video:
https://www.youtube.com/watch?v=vvSAcdkDg-4
Larger screenshots:
https://www.dropbox.com/sh/e88y6xp1nudwidm/AADz1qdfz6gF1y-iSYb1xL2Ha
Facebook Page:
https://www.facebook.com/kartstarsgame
Twitter:
https://twitter.com/Kart_Stars
About the Developer:
Minicades Mobile is an independent developer based in Melbourne, Australia and has been making games on iPhone and iPad since 2010. It was founded by two ex-automotive designers who decided it was more fun to make games than cars! A team of 6 people were involved in making Kart Stars. Some of their other titles include Mopar Drag N Brag,  Dragster Mayhem,  Stock Car Racing,  Champ Cars Racing Simulator.