2015 GoPro Motorplex Karting Challenge Welcomes the Future with All-New Structure
IAME, Briggs and Yamaha Classes Headline Championship Featuring More Races, More Value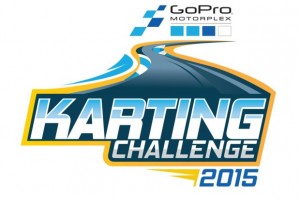 The 2015 GoPro Motorplex Karting Challenge season will bring with it several monumental changes. However, the series will stay true to its vision as in years past of providing karting enthusiasts with the most affordable and exciting race program in the region. The goals of the series continue to include building a championship that allows for the best opportunity for full fields and great competition, while remaining budget-minded.
"We have a lot of changes to look forward to in 2015. I think the new Karting Challenge structure really lends itself to what we believe the future of karting to be: Affordability, transparency, value," said GoPro Motorplex Owner, Justin Marks. "The classes are consistent with growing national karting structures, the power plants themselves are affordable and dependable and a class exists for all budgets and commitment levels. These classes represent a solid foundation for the years to come without the uncertainty of rules and procedural changes. Additionally, the significant financial commitment we've made to track improvements and site development will further enhance the experience on-site for all of our loyal karters."
Some of the significant changes we have made for 2015 include the removal of the Rotax MAX Challenge class structure, Saturday race dates instead of on Sundays, two additional race dates and a modified race-day format that includes two points races per round for just one entry fee and one set of tires. Also, in an effort to make the events more fan and family-friendly, we eliminated the $10 Gate Fee.
Race Dates (10-round Series):
March 7
March 28
May 9
June 6
June 27
July 11
August 15
September 12
October 3
October 24
2015 Minute-by-Minute Event Schedule for each Round of the series, CLICK HERE
*Schedule is subject to change
The 2015 GoPro Motorplex Karting Challenge Class Structure will be as follows:
-Briggs Cadet, Junior and Senior
-IAME Mini Swift, Junior, Senior and Masters
-Yamaha Junior and Senior
Rules Format:
2015 Class Structure and Rules Format, CLICK HERE
2015 Sporting Regulations, CLICK HERE
Registration:
There will only be one Entry Fee per round that will cover both points finals. Pre-Registration available on MotorsportReg.com prior to race days will be $70 per class and registration on the day of the event will be $85 per class. Pre-registration is currently available for Round 1 on March 28, CLICK HERE
Race Day and Championship Prizes:
2015 Race Day Purse and Championship Prize Structure, CLICK HERE
We know that change can cause confusion and leave many unanswered questions as to "Why?" So, let us explain in this Q&A, CLICK HERE
We strongly encourage ALL competitors and teams to read the above Q&A document. However, if you still have unanswered questions or confusion, please do not hesitate to contact Series Director, Dan Kraus at 704-696-2926 or dan@gopromotorplex.com.
GoPro Motorplex looks forward to hosting another action-packed year of racing for their competitors and fans during the 2015 season.