4th Annual Syd White Memorial Enduro Presented by Briggs & Stratton Racing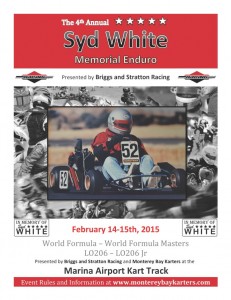 Registration is now live for the 4th Annual Syd White Memorial Enduro Presented by Briggs & Stratton Racing February 14th & 15th 2015.
As the 2015 season arrives, the time has once again arrived to prepare for one of the most exciting and unique events of the year, the Syd White Memorial Enduro.  This four hour team endurance race is a highlight for many racers on their schedule. The 2014 race provided the closest finish in the 3 year history with the local team of Team Merrill taking the win and setting a new race lap record in the process. The race has grown since its inception in 2012 and 2015 promises to be the best yet with many exciting changes.
The biggest and most exciting change to the 2015 enduro is the added support of Briggs and Stratton Racing. Because of this support, the 2015 Syd White Enduro will be a Briggs and Stratton only event, utilizing the World Formula and LO206 platforms. A limited supply of Local Option 206 engines will be sold for a discounted price of $400.00. This is to encourage the growth of the LO206 platform not only within the race, but within the Northern California region. Monterey Bay Karters believes in the future of the region and believes that future lies with the LO206 platform. If a participant chooses to purchase a LO206 engine, it must be used in the Enduro. Monterey Bay Karters hopes that racers that are new to the LO206 program will embrace this offer. As an added bonus to make this deal even sweeter, Monterey Bay Karters will give the top 8 finishers in LO206 Senior $100 as a prize, no matter the finish position. The top 2 in the Jr. LO206 class will also receive $100 each.
The 2015 race will have a new, more exciting form of qualifying on Saturday as well as subtle changes to the rules for the race itself. Monterey Bay Karters is very excited about this year's race and feel that it will be the best yet!
For registration, event rules and more visit our website www.montereybaykarters.com and please stay tuned via social media or the website for updates.