One Year Later: Juan Manuel Correa – 2013 Rotax Max Challenge Grand Finals Champion
First American to win at the 'Olympics of Karting' reflects back on his triumph in NOLA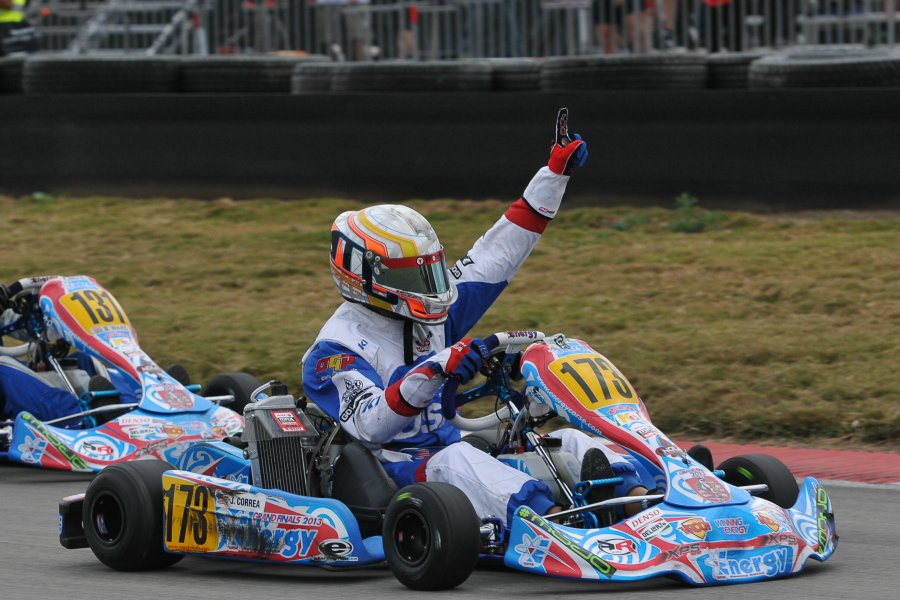 Correa drove to victory at the Rotax Grand Finals in the Junior Max division (Photo: Ken Johnson - studio52.us)
The United States welcomed its second-ever world karting champion on November 16, 2013 when Juan Manuel Correa completed a last lap, last corner pass to claim the Junior Max victory at the Rotax Max Challenge Grand Finals. It could not have been scripted any better, with the United States hosting its first ever RMCGF on American soil, sporting one of the strongest Team USA squads in the 14-year history of the event, having drivers in contention in all four categories at the NOLA Motorsports Park in New Orleans, Louisiana.
Correa,tThe 2013 United States Rotax Grand Nationals Junior Max champion, entered the NOLA event with confidence, having performing well at the Pan American Challenge which was held a month prior to the world championship. He and his mechanic Yuri Carvalho kept inching closer and closer to the perfect set-up, and Juan were able to perform well in the wet to ensure a top-five starting position in the Prefinal. Holding the spot through the set-up race, the main event was a very dramatic 15-lap event, in which he scored the win with a thrilling last lap pass that had the crowd on their collective feet.
After the RMCGF and the SKUSA SuperNationals that followed, Correa was signed to race in Europe to drive for the Energy Corse factory team, who ironically, were the chassis partners for the Junior Max category at the NOLA Motorsports Park.
Complete coverage of the 2013 Rotax Max Challenge Grand Finals can be found at the EKN Event Page.
We tracked down the now-Energy Corse driver before he made his way to the SKUSA SuperNationals XVIII event to make his first start in the United States since that amazing day last fall.
EKN: Now a year after the race, what do you feel when you think about the victory?
JMC: When I look back to the Grand Finals, my first thoughts are obviously happiness, and excitement. I also think about how amazing that day was for me and my family, and I feel very proud of myself. It is a great memory.
EKN: Going into New Orleans, did you have a feeling that you would be in contention, let alone, have a chance to win the race on the final lap?
JMC: After seeing the previous results that I had achieved during the 2013 season, I knew that if everything played out right, I could be fighting for the win. I never thought that I would win the race, especially with such a dramatic last lap pass. After I won the race, I was in some sort of shock, and did not assimilate what had happened until the next day.
EKN: Just after the Rotax Grand Finals, you were signed as a factory driver for Energy Corse to pilot one of their KF Junior entries in 2014. When did you first travel to Europe with the team? Did you live there full-time this summer or just travel for events?
JMC: After I signed with Energy Corse, I moved to live in Italy around mid-January. I lived with Mick Panigada (the team owner) in his house in Bergamo, Italy until late September. After that, I moved to a boarding school in Lugano, Switzerland in which I am currently in.
EKN: How would you grade your first season racing in Europe and in the KF Junior division? What were some of the things you had to adapt to quickly when you began racing with Energy Corse?
JMC: I had to adapt to the new engine package and tires, which are completely different from the Rotax category. The biggest change that I had to make, however, was changing my driving style in order to suit the KF Junior style and the way the tires work. Another thing that I had to change a little bit here in Europe was my race craft, since the racing here in Europe is very different from racing in the U.S. Overall, I would say that I had a successful season here in Europe. Although, I would have liked some more wins and podiums. The amount that I have learned this year has been amazing, and I wouldn't change it for anything. 
EKN: What are your current plans for the 2015 racing season?
JMC: We are not sure yet, most likely it will be KF with Energy-Corse in Europe.
EKN: How many times have you returned to the United States since your move to Italy in January, and do you have any future plans to return back to the USA?
JMC: I have been back to the United States a couple of times over the summer. For now, my plan is to stay here in Europe, but I don't rule out a return to the U.S. I will be racing at the SuperNationals this week, and I am really looking forward to it. I don't have any other races in the U.S. planned as of right now.
EKN: You got a chance to go compete in Australia for the Race the Stars event. What was that experience like and what was your favorite thing you saw or did while 'down under'?
JMC: It was an absolutely amazing experience. I loved how friendly everyone was, and the city was amazing. The racing was different than in Europe, but still competitive, and very professional. I would say that my favorite thing was going to the SkyPoint Climb at the top of Q1, the tallest building in the Gold Coast.
EKN: Is there a country or track that you would like to compete in a karting event, that you haven't already?
JMC: One of the few continents in which I haven't raced yet and would love to is Asia. I hear that they make some great events and races over there.
EKN: You were announced as a new Lotus F1 Junior Team Driver in April 2014. What have you done as far as development or training with the Lotus operation?
JMC: I was lucky enough to be chosen to be part of the Lotus F1 junior team. This implicates that I go to the Lotus F1 factory once a month, maintain a physical plan created by our trainer, and keep in touch with the program. I would like to start testing in open wheel cars next year, and possible race in 2016.