EKN Trackside: MG Tires Superkarts! USA SuperNationals XVIII – Qualifying
Fore, de Conto, and Craig top time charts in headline categories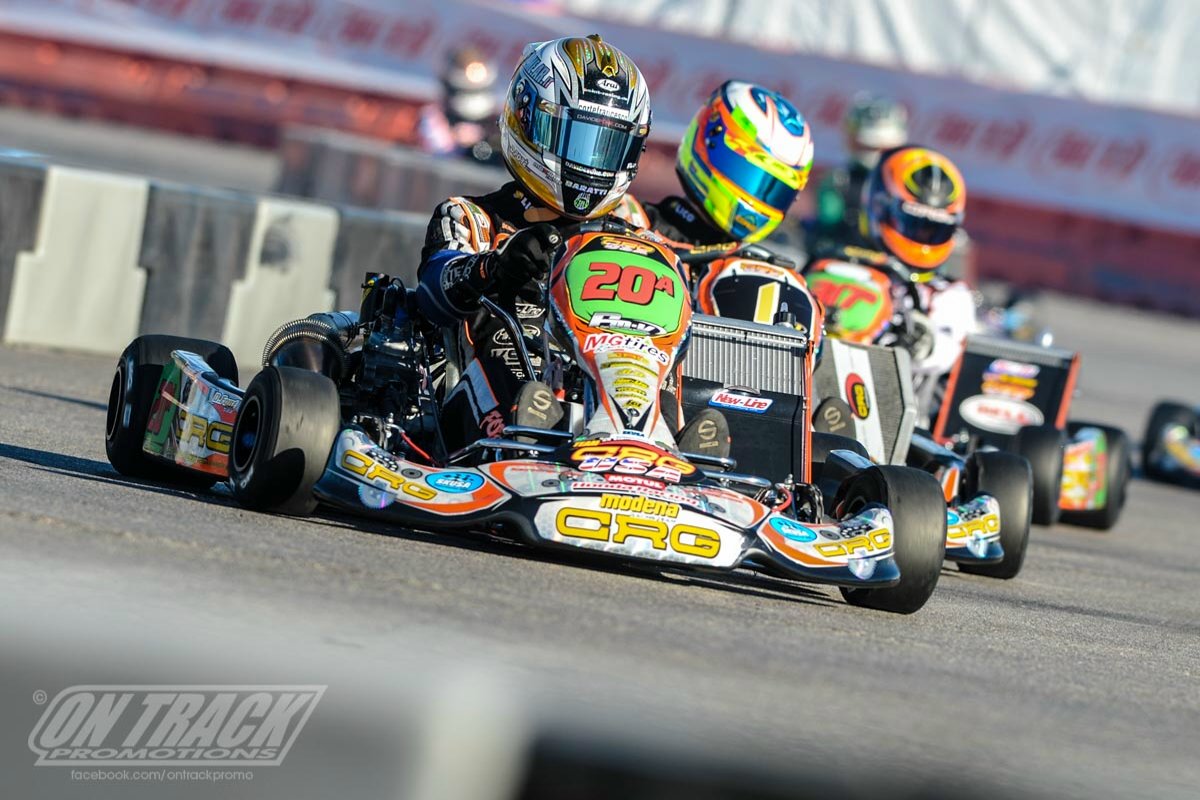 Davide Fore - a five-time world champion - posted fast lap in S1 Pro qualifying (Photo: On Track Promotions)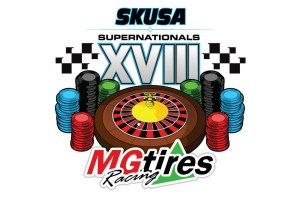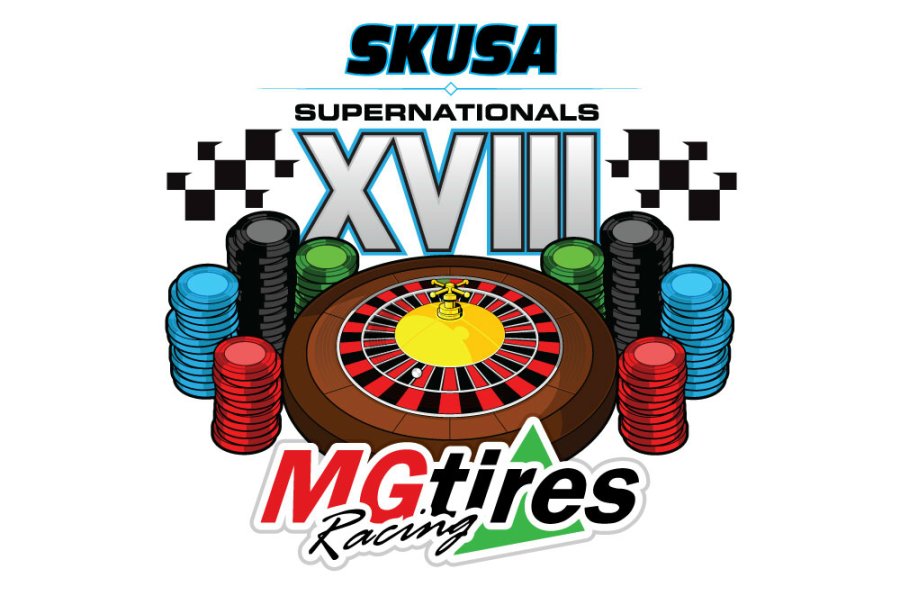 The 2014 Superkarts! USA SuperNationals completed the second day of competition on Thursday, following the four rounds of practice on Wednesday, followed by three more and the official timed session to line up the nine categories for the upcoming heat races. The weather was near perfect outside the Rio All-Suite Hotel and Casino in Las Vegas, with clear skies but a slit chill in the air with temperatures never above the 70 degree mark. The more than 500 drivers began the second stage toward SuperSunday, deciding who where they would grid up for the two days of wheel-to-wheel action.
TaG Junior – presented by Rolison Performance Group
The very successful French driver Julien Andlauer made a late charge for the pole position, laying down the fast lap of the session aboard his Praga. American Logan Sargeant (Tony Kart) was the provisional pole sitter for much of the session, until his time was eclipse by Andlauer with a 47.438-second lap. Sargeant was off by 74 thousandths to finish second. Pro Tour championship contender Christian Brooks (Tony Kart) was third with Braden Eves giving the new CompKart by J3 Competition a solid showing in its debut. John Paul Southern Jr. (PCR) and Gianluca Petecof (Tony Kart) were fifth and sixth to lead the Junior rookies. Brandon Lemke (Merlin) was seventh ahead of USF2000 Mazda Road to Indy driver Colton Herta (FA Kart). Matias Fernandez (AM Kart) was ninth with Top Kart USA's Zach Holden tenth. His teammate, and current Pro Tour point leader David Malukas was one spot back in 11th.
S2 Semi-Pro Stock Moto – presented by Honda Racing/HPD
A handful of solid drivers ended up qualifying in the first group, including last year's S5 Junior winner and champion Jarred Campbell. The Intrepid driver led the 'slower' group, posting a 45.398. That was three tenths better than Pro Tour point leader Austin Garrison (Tony Kart). Drama unfolded for SpringNationals race winner Kyle Kirkwood (Tony Kart) spun a chain leaving the grid. Able to push back, nearly the entire Ocala Gran Prix crew were able to run back to get a replacement, strap it on, and get him out on the track with two minutes remaining. In just two laps, Kirkwood laid down a 45.187-second lap to secure the pole position. His time demoted GP driver Loris Ronzano to second, with Mexican driver Fernando Casillas Jr. piloting his Vemme Kart to third. Campbell's time was good for fourth, with Pro Tour contender Kolton Griffin (Tony Kart) making up the fast five. Miguel Lopez (GP) finished the session sixth with former S5 winner and champion Austin Schimmel (CRG) in seventh. Texan Sky Finley put his DRT Racing / DR Racing Kart in eighth, with Lorenzo van Riet (Tony Kart) and Jonathan Kotyk (Tony Kart) completing the top-10, with Garrison in 15th.
S5 Junior Stock Moto – presented by SKUSA
Pro Tour point leader Trenton Estep was perfect in the three races he competed in, winning all three. He elected to sit out the fourth round, Sunday's event in Modesto. The Dallas Karting Complex / Sodi Kart USA driver started his SuperNationals completing the first feat, earning the pole position. His time of 46.688 was best, edging out Jacob Loomis (Intrepid) and Raul Guzman (GP). Loomis was off by only 52 thousandths while Guzman was back 71 thousandths. Mathias Ramirez (Tony Kart) was fourth with Aluminos driver Jason Pettit in fifth. Leading Pro Tour contender Christian Brooks (Tony Kart) was involved in a wreck during the session, putting him 15th on the grid.
TaG Master – presented by Peterson Wealth Management
A victory at the SuperNationals has been in the hand of Kip Foster before, and taken away following inspection in the tech barn. Year after year, he's been at the front of the TaG Master field, and continues to as he vies for win number one in Las Vegas. Early on, Foster controlled the provisional pole position, and went faster every lap until dipping below the 48-second mark. A 47.825-second lap would secure the pole position for all three heat races for the Aussie. Second was former IndyCar driver Richie Hearn (MMK), making a return to Superkarts! USA competition, fired up and it showed in qualifying. This year's Verizon IndyCar Series champion Will Power, making his second straight SuperNationals start, posted the third quickest lap of the session aboard his KartSport North America Arrow. Three-time winner Leonardo Nienkotter (Comp Kart) was fourth with So-Cal driver Diego Pelosi (Tony Kart) fifth. Oregon's Russell Francis (Tony Kart) edged out Pro Tour championship leader Billy Cleavelin (CRG), with Hector Alvarez (Intrepid) and Christian Dischner (Top Kart) just behind. Pro Tour top challenger Ethan Wilson (FA Kart) was tenth, keeping Cleavelin in sight as the inaugural series champion looks for redemption from last year's race.
S1 Pro Stock Moto – presented by SwedeTech Racing Engines
All season, a CRG has been up front at the final checkered flag for the first four rounds of the Pro Tour. This time however, it was a different black and orange. Five-time world karting champion Davide Fore a lap halfway through the session, and it stuck. Driving under the CRG-USA banner all season on the Pro Tour, Fore is one of the 18 drivers gunning for the $10,000 pay day to a Pro Tour regular who can win on SuperSunday. His quest began with a 45.104-second lap, edging out two-time Pro Tour champion Fritz Leesmann – who is back with CRG and the PSL Karting / Diede Racing squad. Danny Formal, making his SuperNats S1 debut, posted the third quickest time aboard his DRT Racing / DR Racing Kart entry, edging out Vegas native Matt Jaskol (PSL West / CRG) while Pro Tour point leader and four-time winner Jordon Lennox (PSL Karting / CRG) was fifth. Americans Gary Carlton (TB Kart) and Sabré Cook (CRG) were sixth and seventh, with Canadian Scott Hargrove (Italkart) in eight, Aussie Jordan Ford (Vemme) ninth, and Pro Tour top contender Nick Neri (Tony Kart) in 10th. Last year's winner and Pro Tour champion Joey Wimsett suffered a flat tire on the opening lap, while S1 rookie and points challenger had a mechanical issue that kept him back in 21st.
S4 Master Stock Moto – presented by Los Angeles Karting Championship
Going into the SuperNationals, the list of contenders in the S4 division included about half the field. Qualifying however, it was just two who led the way. Early on, it was a shuffle between defending winner Matt Hamilton and former Pro Tour champion Jimmy McNeil. The Kiwi was able to make a late run aboard his Aluminos to secure the pole position over the CRG-USA driver, with McNeil's time off by just 41 thousandths. Pro Tour point leader Gian Cavaciuti (GP) entered the mix, coming within six-hundredths of Hamilton's time to finish the session third. SKUSA veterans Trevor McAlister (Praga) and Darren Elliott (CRG) made up the fast five. Italian Roberto Toninelli piloted his Vemme kart to sixth over Streets of Lancaster Grand Prix winner Rob Logan (CRG). Eighteen-time competitor at the SuperNationals – Howie Idelson – was eighth aboard his MRC CRG, with former winner Chris Jennings (DR Kart) and Mike Mantel (Tony Kart) capping off the top-10.
TaG Cadet – presented by PSL Karting
A number of contenders showed their hand during the seven-minute qualifying session for TaG Cadet. A good mix of American drivers and notable international young guns shuffled the order lap after lap, with the drivers dropping their fast times little by little. It wasn't until the final lap that the pole position was decided, as Trey Brown (Tony Kart) secured the spot for the three heat races. A 51.745-second lap was his eighth and final circuit, edging out Aussie Jack Doohan (Tony Kart). Guiseppe Fusco was third in the Lenzo kart, rarely seen in the United States with Lochie Hughes (Praga) putting two Australian drivers inside the top-five. The d'Orlando brothers were nearly identical in their lap times to finish the session fifth and sixth. Derek Carmenate (Benik) was seventh with Pro Tour point leader Jagger Jones (Tony Kart) in eighth, Franklin Motorsports' Sam Mayer (Merlin) ninth and Texan Jak Crawford (Benik) in tenth.
KZ2 – presented by IAME USA
The KZ2 category could have another different winner and recipient of the $10,000 check after SuperSunday, if qualifying forecasts the future. Making his final start with the Birel company, Italian Paolo de Conto secured his first SuperNationals pole position. Aboard the new BirelART chassis, he crept up the order during the seven-minute session, demoting former winners Jonathan Thonon (Praga) and Bas Lammers (Formula K). Mr. 'Five-Time' Davide Fore (CRG) ended up fourth, following up his pole position in the S1 class. Throughout practice, the American contingent showed strong against the stacked international drivers in the KZ2 division. Fritz Leemsmann (CRG) was the top US pilot, finishing the session in fifth, just ahead of his fellow NorCal native Gary Carlton (TB Kart). Patrik Hajek (Praga) was seventh with Kiwi Daniel Bray putting the Aluminos KZ2 debut in eighth. Former podium finisher Jeremy Iglesias (Lenzo) was ninth with Alessandro Bressan putting the new Comp Kart inside the top-10.
TaG Senior – presented by Praga
Pro Tour point leader Jake Craig has been focused on performing well at the SuperNationals since the SummerNationals wrapped up in August. The 2Wild Karting driver has been the best TaG driver in the country, currently holding the #1 spot in the EKN Driver Rankings. The 17-year-old planned his session perfect, finding space, getting into a rhythm, and laying down the fast lap just seconds away from the session ending. The Tony Kart driver posted a 46.744-second lap to edge out Australian champion David Sera (Deadly) for the pole position. Ben Stewart (Arrow) and Kris Walton made it three Aussies in the top-four, while east coast driver Mark Boos was an impressive fifth aboard his Tony Kart. Fellow northeast driver Austin McCusker (Deadly) was sixth, while Danny Formal – a provisional pole sitter at one time, ended up seventh. Dalton Sargeant (Tony Kart) was eighth with ninth going to Santiago Porteiro (Kosmic) and tenth was former TaG Junior winner Joao Vieira.