EKN Trackside: MG Tires Superkarts! USA SuperNationals XVIII – Preview
Final event outside Rio gets underway in Las Vegas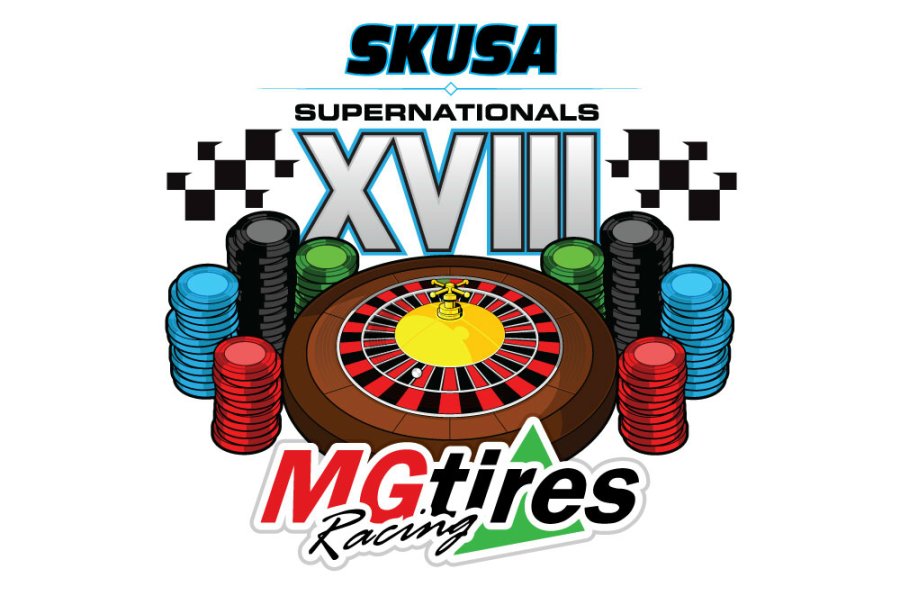 Complete coverage of the 2014 Superkarts! USA SuperNationals can be found at the EKN Event Page
Football has the Super Bowl, Soccer the World Cup, Baseball the World Series and NBA the Finals – karting has the SuperNationals. The Superkarts! USA organization will host the 18th edition of their season-ending festival, celebrating another year racing and conclude the fifth Pro Tour when the action on SuperSunday is completed. A gathering of 500 drivers from all over the world will compete in nine Stock Moto and TaG categories, vying for a piece of history outside the Rio All-Suite Hotel and Casino.
The prize purse for the 2014 SuperNationals is once again above the $100,000 mark, including a heafty $10,000 pay day for the three headline divisions – S1 Pro, TaG Senior and KZ2. A Pro Tour regular in the S1 and TaG Senior categories have the chance at the $10k, while any non-Pro Tour regular will be awarded $3,000. KZ2 once again offers the largest prize purse, with the $10,000 race winner surrendering their race helmet to SKUSA CEO Tom Kutscher. The 2014 SKUSA Pro Tour champions are to be crowned following this week's event, with the title winner in S1 and TaG Senior earning $3,000. All championship winners are to be included in the 'Circle of Champions' program for 2015, worth over $3,000 each. Companies like Honda Performance Development/HPD and Vortex have also offered up amazing cash and prizes for Stock Moto and the TaG Cadet categories. Full list of awards can be found HERE.
Previews:
S1 Pro Stock Moto – sponsored by Swedetech Racing Engines
KZ2 – sponsored by IAME USA
TaG Senior – sponsored by Praga
S2 Semi-Pro Stock Moto – sponsored by Honda Racing/HPD
S4 Master Stock Moto – sponsored by Los Angeles Karting Championship
TaG Master – sponsored by Peterson Wealth Management
S5 Junior Stock Moto – sponsored by SKUSA
TaG Junior – sponsored by Rolison Performance Group
TaG Cadet – sponsored by PSL Karting
This years's SuperNationals schedule has been updated to allow more time at night to enjoy the Vegas atmosphere and give racers and teams a chance to recharge for the following day. Practice will be conducted during Wednesday and Thursday with four 7-minute sessions on the first day, three the following. The final run for all classes on Thursday is now be qualifying. The opening two rounds of heat races are now set for Friday, with the third and final round on Saturday. TaG Senior, S2, S4, TaG Junior and TaG Cadet run their Last Chance Qualifiers, where the top-six move on to SuperSunday, while the rest pack up for home. The nine categories are split into a morning group and afternoon group, as in years past. For a complete schedule, head to the Superkarts! USA website.
eKartingNews.com, the official media partner of Superkarts! USA, is proud to present EKN Live, with full coverage of this year's SuperNationals. In addition to their industry leading written coverage, eKartingNews.com/live provides live audio and live timing of the action in Las Vegas. Play-by-play action provided by the official voice of SKUSA – Rob Howden and joined for the first time by Chris Wheeler. This year's coverage is presented by IAME USA, daily sponsors Acceleration Kart Racing, Champion Racing, in association with Cambrian Go Karts, Courtney Concepts, Leading Edge Motorsports, and Rolison Performance Group.
Be sure to follow the Facebook, Twitter, and Instagram accounts for updates, and photos and to make sure we see your posts, tag us and use #SuperNats18. Videos throughout the week, including a nightly recap from EKN's Rob Howden through the EKN Youtube channel.
A brief video from Superkarts! USA on the final event here at the Rio from CEO Tom Kutscher