Winter Briggs LO206 Seminar Scheduled for November 23 at MRP Motorsport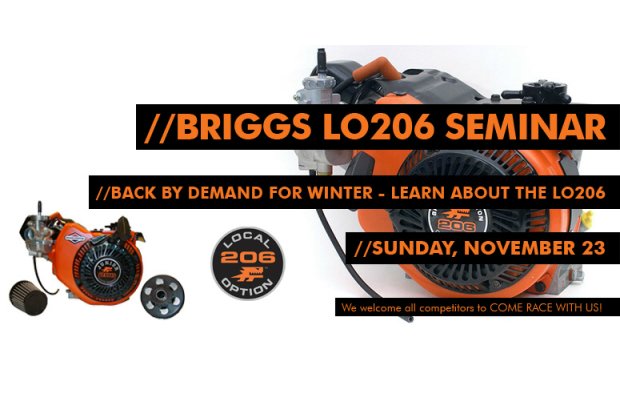 BACK BY POPULAR DEMAND! MRP Motorsport has scheduled a special winter seminar series class focused on the Briggs "Local Option" (LO) 206. The class is scheduled for Sunday, November 23 and will be held at MRP Motorsport in Three Oaks, Michigan.
The seminar is geared to have participants understand the LO206 engine, rules and leave feeling comfortable maintaining their equipment easily on their own. It will be hands-on for both current class participants and those interested in either converting to the low-maintenance class or making the step up from League Racing to a racing class in 2015. Participants will learn all about routine maintenance and optimization of their LO206 and Junior 206 engines.
"This will be the third workshop we have offered on this topic so far in 2014, just because the demand has been there," said veteran LO206 racer, John Symonds. "We hope to continually grow this great low-cost, entry-level class by making it easier to learn and compete."
The Briggs LO206 class has been touted as the most cost-effective form of karting available today as the "Local Option" class features a factory-sealed short-block with a ground cam and controlled piston pop-up in an effort to reduce compression variance. The workshop will be taught by John Symonds who has years of experience with this particular race package.
Topics being covered will be; Setting Valve-Lash, Adjusting Float Level and Float Drop, Adjusting Carb Needle Valve, Understanding the Walbro PZ22 Carb, Clutch Maintenance and Changing Clutch Springs and a complete Briggs 206 Rule Review.
Participants are encouraged to bring their engine and the following tools; Spark Plug Wrench, 1/8" Allen Wrench, 5/8" Wrench, Adjustable Wrench, Regular Screwdriver and Phillips Screwdriver.
If you are not currently Briggs LO206 owner, but are interested in this class, you are encouraged to come and participate.
Location for seminar is MRP Motorsport – 105 N. Elm Street, Three Oaks, MI 49128
•    Cost per attendee is $50.00
•    Seminar begins promptly at 1:00 PM (eastern) and will last about 4
•    Please RSVP for seminars by emailing (schools@mrpmotorsport.com) or calling 269-756-9133