Manitoba Karting Association Honors Drivers and Sponsors at Year End Banquet 2014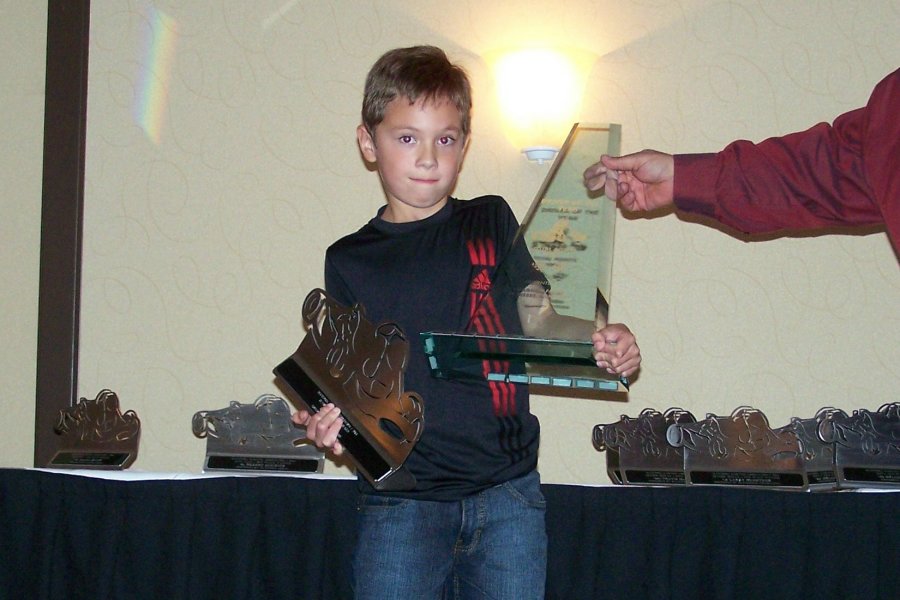 Ethan Clace MKA 2014 Driver of the Year
The Canad Inns in Winnipeg, Man. was the site of the Manitoba Karting Associations 2014 Awards Banquet recently. Friends and families showed up to celebrate our champions, special award winners and sponsors. In addition to great food, there were lots of silent auction prizes to be won.
Club President Guy Budel gave the address thanking the volunteers and MKA's generous sponsors. Once again the sponsors were so generous they bought trophies for all the competitors.
Ethan Clace was awarded the Junior 1 Briggs title, which was sponsored by Dale Air. The Junior 2 Briggs championship, sponsored by St. Andrews Towing, went to Victoria Stutsky. The Senior Briggs top honors, sponsored by Red River CO-OP, went to Rollie Fortier. The Micro Max crown, sponsored by Investors Group, was given to Brad Bachalo. The Investors Group also sponsored the Mini Max title which was awarded to Brandon Berard. Stephen Bachalo took home the Junior Rotax title sponsored by PSL Karting. Top honors in Senior Rotax, sponsored by Blackstone Contracting, were earned by Morgan McDonald. Rotax DD2 championship, sponsored by Dale Air, went to Mark Sawatsky.
The Rookie of the Year award winners, sponsored by BRE Karting, were Landon Hohm Junior 1 Briggs , Jaedin Wright Junior 2 Briggs, Cole Manning Seniors Briggs, Nicole Schellekens Micro Max, Gord Paetkau Senior Rotax.
Ethan Clace was named the MKA Driver of the Year.
The Spirit of Karting Award was presented to The Copp Family.
The Most Improved Junior, sponsored by Schiewe Farms, was given to Bianca Bovino, while the Most Improved Senior, also sponsored by Schiewe Farms, was awarded to Greg Blonski.
The Sportsman awards, sponsored by Schiewe Farms, were presented to Tiana Bovino (Junior) and Gord Paetkau (Senior).
For more information, please visit http://www.manitobakarting.ca/