2014 Rotax Grand Finals – Team USA Profile – DD2
Young but hungry quartet set to battle the world in Spain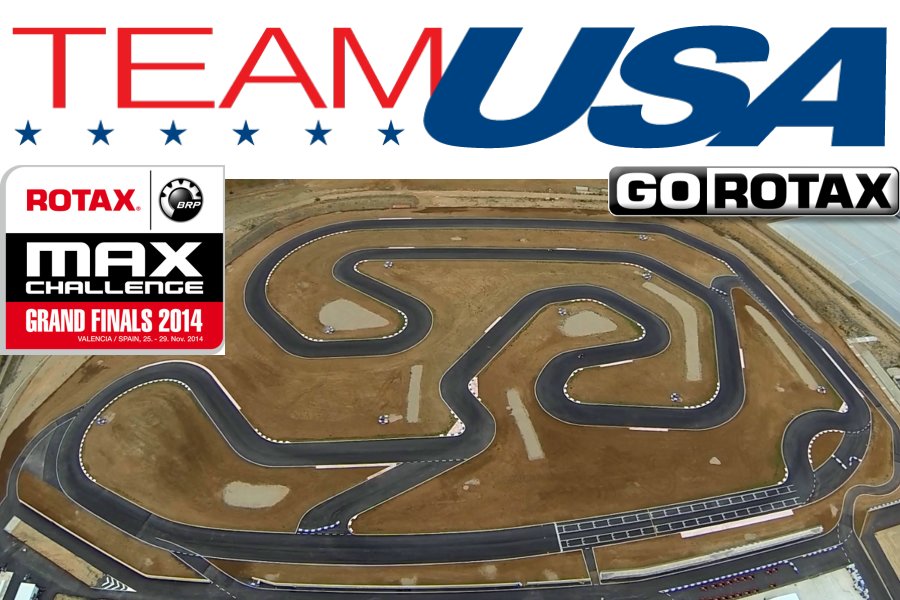 eKartingNews.com is proud to present the profiles of the 2014 Rotax Max Challenge Grand Finals Team USA members, set to represent the United States at the Kartodromo Internacional Lucas Guerrero outside of Valencia, Spain on November 25-29, 2014. EKN, the official online media partner of the United States Rotax Max Challenge, will have complete coverage of the 21 drivers competing at the 'Olympics of Karting'.
Full EKN Trackside coverage can be found at the EKN Event Page.
The DD2 roster is the smallest of the four categories, and has the most first-time Rotax Grand Finals drivers as well with three. Team USA was in the hunt all week for the first time ever at the 2013 RMCGF, with Oregon's Joey Wimsett earning a runner-up result for America's best result to date. All four on the 2014 squad have the speed to compete, but will have to outlast and endure the competitive qualifying heats should they lay down solid laps in the qualifying sessions.
Michael Ilavia
Age: 17
Hometown: Houston, Texas
United States Rotax Max Challenge Home Series: Burger King Rotax Max Challenge
Rotax Service Center: J3 Competition
Sponsors: Mom, Dad, Nana, and Papa
Rotax Grand Finals Appearances: None
Mechanic: Justin Stefani
Missing out on qualifying for Team USA last year, Ilavia was able to secure a position through his fifth place result at this year's Cold Stone US Grand Nationals. Crossing the line second in Mooresville last year, a technical DQ dropped him off the podium. He has continued to develop behind the wheel, competing in the full Florida Winter Tour program in 2014, and showed speed against another international field at the recent Pan American Challenge. There he tested the CRG chassis, preparing for what will come when he travels with Team USA to Spain.
"This is my first appearance in the Rotax Grand Finals and I am honored to represent our country as part Team USA. This has been a dream of mine since I started racing Rotax. Not only do I have the privilege to race for my country, but I get to put my skills to the test against the best drivers from around the world. I could not have achieved my place on Team USA without the coaching and support from Chris Wehrheim; along with Justin Stefani, John Giacomelli and Jim Giacomelli of J3 Competition. I would also like to thank my parents, my brother, and my grandparents for their love, guidance and support. They have given me the opportunity to compete at this level and fulfill my passion to race karts."
Jonathan Kotyk
Age: 20
Hometown: Atlantic Beach, Florida
United States Rotax Max Challenge Home Series: North Florida Rotax Max Challenge
Rotax Service Center: Ocala Gran Prix
Sponsors: Ocala Gran Prix
Rotax Grand Finals Appearances: None
Mechanic: Chris Enderlein
Kotyk is the newest member to become a Rotax Grand Finals competitor through the OGP stable. For the last few season, Kotyk has developed in the single-speed categories throughout the eastern half of the country. Coming back from a broken collar bone in September 2013, Jonathan jumped over to the DD2 division this winter, earning two podium results at the Florida Winter Tour. His fourth place finish at the Cold Stone US Grand Nationals earned him the ticket to Spain, and will use the OGP guidance to quickly adapt to the style and speed of the RMCGF.
"I am thrilled to be on Team USA. Having raced with some of the best karting talent in the world this past year, I feel prepared to take on the Rotax Grand Finals."
Nick Neri
Age: 18
Hometown: Palmetto, Florida
United States Rotax Max Challenge Home Series: North Florida Rotax Max Challenge
Rotax Service Center: Ocala Gran Prix
Sponsors: Ocala Gran Prix, Bell Helmets, Razor Image, GO Designs, Dark Horse Pros
Rotax Grand Finals Appearances: 2009, 2010, 2013
Mechanic: Alex Speed
The driver with the most Rotax and RMCGF experience is 'Four-Time' Nick Neri. From the days of Mini Max, Neri has been a contender in the United States for many years. In 2009 and 2010, he was the top Junior Max driver on Team USA, finishing 16th and 5th – which was the best result by an American until Juan Manuel Correa's victory last year. This year, Neri made an assault on the DD2 division, winning the Florida Winter Tour and the US Grand Nationals.
"After some tough luck at last year's Rotax Grand Finals, I'm excited to hopefully redeem myself a bit this year. Going into the event, I am more confident than ever and feel I have a strong chance at bringing home the win. It's going to be tough with my late arrival coming from the SuperNationals but I don't plan on letting that stop me from a world championship. All I can do now is hope everything goes smoothly from here on out."
Gavin Reichelt
Age: 16
Hometown: Rhinebeck, New York
United States Rotax Max Challenge Home Series: Northeast Rotax Max Challenge
Rotax Service Center: PSL Karting
Sponsors: N/A
Rotax Grand Finals Appearances: None
Mechanic: N/A
The youngest of the four drivers is Gavin Reichelt. Moving up from the Junior ranks a year ago, the New Yorker traveled west to the Rotax Challenge of the Americas to earn his first ticket to the Rotax Grand Finals thanks to three victories in six races. He contested the Florida Winter Tour as well, helping to gain as much experience as possible. That helped him this summer at the Cold Stone US Grand Nationals, placing third behind Neri and Italian-native Alessandro Bressan. He backed that up with another third-place performance at the Rotax Pan American Challenge to UK's Ed Brand and two-time world Rotax champion Pier-Luc Ouellette.
Chassis Specs
CRG Dark Rider EVO 32
32mm frame
VEN05 brakes with iron disc
1050mm wheelbase
CRG seat
95kg (with engine, seat, rims, tires minus fuel)
D3 Mojo Tires