2014 Rotax Grand Finals – Team USA Profile – DD2 Masters
Another stout six-pack of drivers ready to improve on best result for United States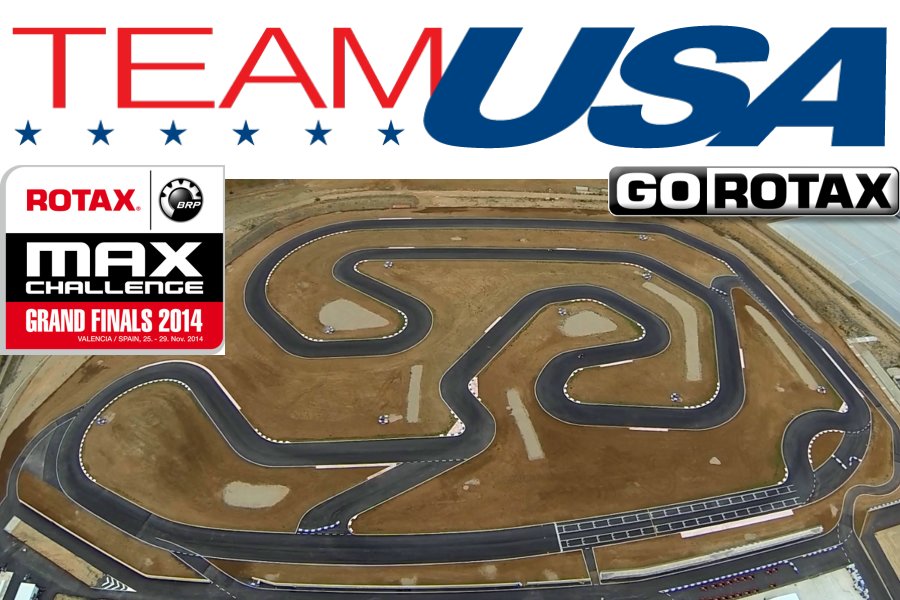 eKartingNews.com is proud to present the profiles of the 2014 Rotax Max Challenge Grand Finals Team USA members, set to represent the United States at the Kartodromo Internacional Lucas Guerrero outside of Valencia, Spain on November 25-29, 2014. EKN, the official online media partner of the United States Rotax Max Challenge, will have complete coverage of the 21 drivers competing at the 'Olympics of Karting'.
Full EKN Trackside coverage can be found at the EKN Event Page.
After being regarded as the best possible chance for the first Team USA victory at the Rotax Grand Finals in last year's race in New Orleans, the DD2 Masters drivers fell short. Five drivers started the Final, all with a chance at reaching the podium, and contact took them all out of contention. Three of the six from last year return for the 2014 edition, along with a former member of the 2011 Team USA roster and two rookies – all looking for redemption. Curtis Cooksey's runner-up result in 2008 at La Conca, Italy is still the benchmark, however, it was when the category ran within the regular DD2 division. In 2010, the DD2 Masters category was given its own group at the Rotax Grand Finals, with the best finish thus far coming from returning Team USA driver Erik Jackson in 2011, who placed 11th.
#456 – Bobby Greene
Age: 43
Hometown: Fernandina Beach, Florida
United States Rotax Max Challenge Home Series:
Rotax Service Center: Oakland Valley Race Park
Sponsors: SKLTN
Rotax Grand Finals Appearances: none
Mechanic: Mike Ramirez
Greene is a long-time racer from the Northeast, who recently moved to Florida. He competed in this year's Florida Winter Tour, placing fifth in the championship. With class champion Luis Schiavo earning a ticket through the DD2 Masters division, the spot went to Scott Falcone. While scheduled to compete, Falcone recently relinquished his spot, which worked its way down the championship standings to Greene. Bobby took part in the Rotax Pan American Challenge in October, spending the weekend in Mooresville getting adjusted to the extra speed and extra gear that the DD2 machine offers for his trip to Spain.
#467 – Erik Jackson
Age: 38
Hometown: Long Beach, California
United States Rotax Max Challenge Home Series: So-Cal Rotax Challenge
Rotax Service Center: PSL SoCal
Sponsors: Baldozier Racing, Motul, Gut Wrench Crossfit, HKE
Rotax Grand Finals Appearances: 2011
Mechanic: Francios Doran
SoCal driver Jackson is set to make his second appearance at the Rotax Grand Finals. Erik was runner-up at 2011 US Grand Nationals held at Miller Motorsports Park, and went on to record the best result for Team USA in the category with an 11th place finish. That result has stood over the last two events. Jackson was runner-up once again at the US Grand Nationals, held at the Utah facility. He is looking to repeat and better his RMCGF result when competing in Spain this year.
"To me, being on Team USA is an amazing thing. Top kart racers from across the United States going to battle the top kart racers from across the world. It doesn't get much better than that! Rotax Grand Finals is the most professional event I've ever raced at. Hands down the best race In the world."
#460 – Mike Jones
Age: 43
Hometown: Union Valley, Texas
United States Rotax Max Challenge Home Series: Dallas Karting Complex
Rotax Service Center: Dallas Karting Complex
Sponsors: Dallas Karting Complex, Sodi Kart, Bell Helmets, Alpinestars
Rotax Grand Finals Appearances: 2012, 2013
Mechanic: Sean Owens
This will be the third straight trip for Jones to the Rotax Grand Finals. In 2012, Jones won the Pan American Challenge at The Track at Centennial in Colorado, and was runner-up to Rudolph at the US Grand Nationals in Mooresville. This year, he beat out Jackson and four-time Rotax champion Jordon Musser for his first US title and a third straight ticket to the RMCGF. After battling with engine issues early on in Portugal in 2012, Jones raced his way into the main event, placing 19th. Last year, Jones was a top-10 driver, nearing the top-five. During the opening lap of the final, contact took him off course and out of contention. This year is all about redemption for Jones.
"Very honored to be part of Team USA for the 3rd year in a row. I had a promising chance to podium last year at NOLA before getting taken out on the first lap. I've been driving a lot here at the track (DKC) prepping for Valencia. Really looking forward going back to Europe. Want to thank all my guys at DKC, Sodi Factory, Bell Helmets and Alpinestars and of course my lovely wife for putting up with me."
#455 – Ken Maxfield
Age: 52
Hometown: Salt Lake City, Utah
United States Rotax Max Challenge Home Series: MSquared Racing Rotax Max Challenge
Rotax Service Center: MSquared Karting
Sponsors: Leading Edge Motorsports, KartSport North America, MSquard Karting
Rotax Grand Finals Appearances: None
Mechanic: Garrett Maxfield
One of the great things about the Rotax Grand Finals is that it's a 'bucket-list' type trip for those guys who are lucking enough to earn a spot on their national team. For Ken Maxfield, this is just that. Coming back from a serious illness toward the end of 2013, the Utah driver fought hard to recover and regain the physical strength he needed to race again. By July at the US Grand Nationals, he was back to 100% and was in even better shape than what he was before. It showed on-track, as Maxfield drove to the Masters Max title, earning the RMCGF ticket. Ken made his first DD2 start in October at the Rotax Pan American Challenge, learning about the Praga and just chasing the clock in preparation for his first RMCGF.
"It is a great privilege and honor to be on Team USA.  I have mixed emotions on racing in Spain.  First it is the opportunity of a life time to be a part of Team USA.  There are some really great drivers on the team and to be able to 'rub shoulders' with them will be fun and exciting.  I have traveled to Europe many times, but I never had the opportunity to travel to Spain, so I look forward to the cultural experience of being in Spain for a few weeks. My second emotion is that of discomfort in racing a DD2 for the first time.  My 10 year karting experience has been behind the wheel of a 125 max motor in the Master Max Class. I have to transition from single speed rear brakes, to two speed front brakes, and about four additional horse power. This is not an easy transition to make, and the learning curve is steep. I have reached out to the karting community to help with this transition.  I would like to thank a few people who have helped me get ready for Spain.  Greg Bell, Leading Edge Motorsports helped me get a Praga DD2 chassis so I could Practice.  Kevin Loster helped me get a DD2 motor and has helped me learn how to prepare and jet the DD2 motor.  KartSport North American has helped me in learning the technique to drive the DD2.  My many kart friends in the Salt Lake City area and MSquared Karting, have helped me sort out issues and helped me get some seat time in a DD2."
#454 – Alan Rudolph
Age: July 4
Hometown: Gilbert, Arizona
United States Rotax Max Challenge Home Series: Bondurant Rotax Max Challenge
Rotax Service Center: PSL Karting
Sponsors: Michael Dobbelsteyn, Bondurant, K1 RaceGear
Rotax Grand Finals Appearances: 2012, 2013
Mechanic: Jesse Dunham
The 'ageless-one' Alan Rudolph is set to making his third trip to the Rotax Grand Finals his best ever. A contender at both the 2012 and 2013 events, the final day of competition has gone south for the veteran each year. In 2012, a bold pass attempt led to a rare mistake, taking him out of contention. Contact and a spin during the main event in New Orleans last year dropped him to the tail of the field, but the never-quit attitude helped him recover to 12th. Earning a second Rotax Challenge of the Americas title, Rudolph spent the summer racing the regular DD2 category to help prepare for what is expected to be another attempt at gaining his first world title.
"I am very proud to be a part of Team USA and the Rotax Grand Finals for the third year. In my opinion, the Rotax Grand Finals is a true world championship because you have to qualify to go and everyone is on the same equipment. We have a fantastic team this year as we did last year, and I see no reason why Team USA wouldn't have another World Champion. Hopefully it's me. I would like to thank Michael Dobbelsteyn, Bondurant, K1, and most importantly my wife and family, without their support this would not be possible."
#461 – Derek Wang
Age: 36
Hometown: Kirkland, Washington
United States Rotax Max Challenge Home Series: Rotax Can-Am ProKart Challenge
Rotax Service Center: Kevin Glover Karting
Sponsors: Teleion Consulting
Rotax Grand Finals Appearances: 2010, 2011, 2013
Mechanic: Diego Valverde
There have been two difficult trips to the Rotax Grand Finals for Wang as a DD2 competitor.  He was unable to qualify for the main event in 2010 at La Conca after showing promise in his debut, and he did not make the field for the LCQ in 2011 in the United Arab Emirates. 2012 was his last attempt in the regular DD2 division before moving to the Masters category in 2013. Winning the Rotax Can-Am ProKart Challenge title gave him a ticket to the RMCGF in New Orleans. He overcame a DQ in the opening heat race to secure a top-20 start for the Prefinal. Wang advanced forward in the race, and was into the top-five early on in the Final. Contact, however, pushed him outside the top-20. He scored a second-straight Can-Am championship this year, and spent a weekend at the 2014 RMCGF facility in Spain for some early race testing.
"I'm very excited to be part of Team USA again at the 2014 Rotax Grand Finals. After a great qualifying last year, we had some ups and downs during the heat races and I didn't capitalize on opportunities in the main event. I hope we have the speed again this year, and be able to challenge for a top position."
Chassis Specs
Praga Dragon
30mm frame
IPK R2 brakes
1055mm wheelbase
IPK seat
90kg (with engine, seat, rims, tires minus fuel)
D3 Mojo Tires