Driver Diary: Joey Wimsett – CIK-FIA KZ2 Super Cup
CRG-USA pilot makes European debut with factory team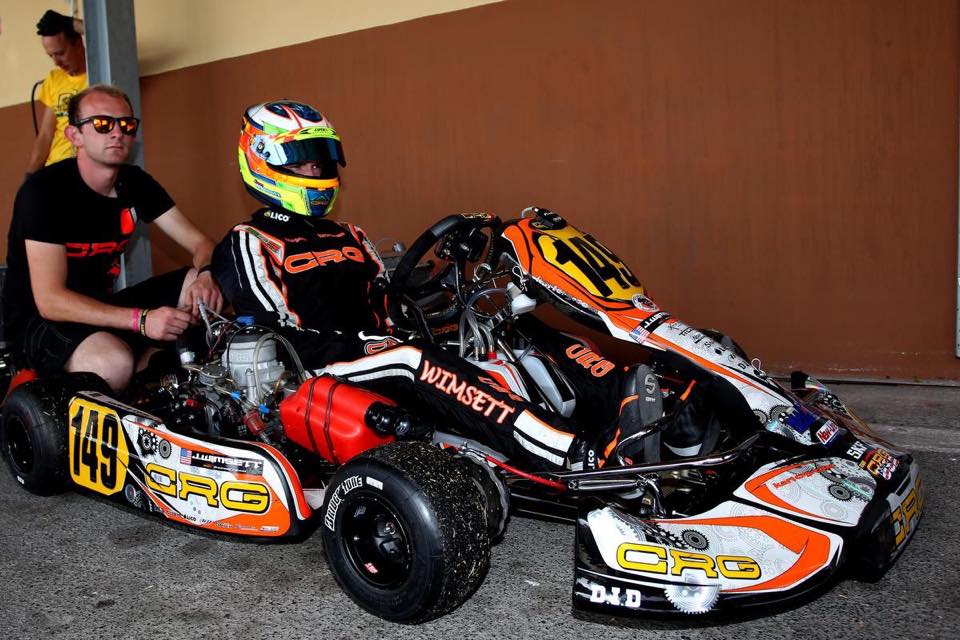 Joey Wimsett
It is a long list for legends in shifterkart racing for North America and the United States. Valiante, Elliott, White, Speed, Carlton…they all at one time were the best of the best, the benchmark for those around them. Last year, Joey Wimsett prevailed as the Superkarts! USA Pro Tour champion, thanks to his first ever S1 Pro Stock Moto victory at the SuperNationals in Las Vegas. This year, he has taken on the role of lead driver for the CRG-USA operation out of Colorado. This season, he was given an opportunity to compete with the CRG factory team at the CIK-FIA KZ2 Super Cup event in Sarno, Italy. Alongside his CRG-USA teammate Sabré Cook, the two traveled to Europe for two weeks to prepare and compete against nearly 100 of the best drivers in the world.
The following is a recap of the trip, and the experience Joey embarked on, en route to a 22nd place performance and finishing as the top American in the field.
Preparation
After the Modesto Grand Prix, I took quite a bit of time off before getting ready for the World Cup. I had to crack down and start getting ready a couple weeks before my departure date. So I spent nearly every day out at my home track, Pat's Acres Racing Complex driving my S1 kart pounding out laps trying to get my butt back in shape. I even went as far as testing on Mojo tires to prepare for the lack of grip we were going to experience on the European Bridgestone tire, compared to that of the SKUSA MG tires we typically run.
First Days in Europe
I caught an earlier flight to Dallas, meeting up with the Cook family so I wouldn't miss my flight to Rome (I let Stacey book flights so of course there was issues…haha). It was a good flight to Rome. We fought our way through customs, which wasn't very easy, and then made our way to the rental car area, where we pre rented the car. They wouldn't allow me to get the car once we got there because of my age. We finally found a company that would give us a car and we were on our way.
It took a couple hours to get to Sarno from Rome, while breaking some Italian speed laws in the process. Then we got to the track and got introduced to the team while watching some local racing. Couldn't check into our hotel because the reservation wasn't correct, so we found a hotel down the road and decided to stay there. The hotel was quite tiny, just like the rental car.
Started testing Monday (September 29) and learning the track, engine, and tires were difficult. Made good progress quickly and started to get used to everything. The team was very helpful with helping me get used to all the materials. I was expecting the tires to be bad, but it was way worse than I expected. I am used to the MG where you can push the kart and find time. I learned very quickly that if you push the Bridgestone tires, you would actually lose time, so there was a fine balance, which I was required to learn immediately. Also, I was expecting much more out of the engines. They are very fast but you learn that they are temperamental and lack low end power compared to what we find in the Stock Moto.
Tuesday (September 30) I started to drop my times down, and started to get everything figured out. I was still missing a lot with my driving. Marco, the data guy, was very helpful explaining what I was doing wrong, and with these tires you have to use the engine to slow down a lot more than I was used to with a Stock Moto, so that took a lot of adjusting to my driving style.
Wednesday (October 1) we were making good progress, but then blew a bottom end in my engine. My mechanic put on a different engine, but it was a lot slower than the one we had on before. Ran most the day on this engine and was about eight tenths off the fastest lap. We put together a newer chassis that night to test the following day.
Thursday (October 2) was the most productive day so far as the new kart felt much better and times dropped instantly. I was still struggling a bit with the engine, but switched the last session to a race engine and it felt much better. I was just lacking a bit of top end due to carburetor issues.
Tourist Time
We went to Pompeii to look around and soak up all the history. The next morning we caught a bullet train to Venice and then spent the next day and a half there. I really enjoyed Venice, this was my first time in Italy and I really was fascinated with the beauty and history surrounding me the entire time. After Venice, we took a trip to Lonato for a tour of the CRG and Maxter factories, just a few minutes away from the South Garda Karting facility. To me this was an awesome experience, as I really got a better idea about the product I race on. I also got to see the Maxter guys preparing the engines we were going to be racing with, and saw the dyno process and all the preparation needed to get everything race ready for the world championship.
Down to Business
For official practice (October 9), we had to build another chassis to test, which was very similar to the one we had just built previously but with different brake rotors, my mechanic got it built and we were ready to run in engines. It went well running in engines the first session, and part of the second, the final session went great, ended up eighth in my group and continued to make progress.
The next day (October 10) was timed practice and qualifying. I was in the top-10 of my group every session and I was starting to really feel like I was getting a handle on everything. The track is very fast and getting a right person to draft with was important when trying to get a good lap time.  In qualifying, I was able to find a good group of people to chase, but struggled getting the tires to come up to speed. Finally, on the last lap, I was able to lay down a decent time, which placed me fifth in my group and 17th overall. The team and myself were very satisfied with the result and it gave me a good starting place for the heat races.
Saturday (October 11) was five heat races to determine the line-up for the two Prefinals. The top-68 after the heat racing would race in two Prefinals to determine the 34-kart field for the Final. The first heat race was a huge shock to me. The style of racing and aggressiveness everyone has is like nothing I have seen before, the Rotax Grand Finals aggressiveness didn't even compare to this. The second heat, I placed eighth, right behind Canadian Phillip Orcic. Heat #3 was a ninth place result, with another fourth place finish in Heat #4. The last race I placed seventh, which gave me five good results. After the five races, I didn't feel like I was anywhere close to having a grip on the style of racing. I was doing my best to learn quickly, but felt that I needed more time in Europe to be better prepared for this level of event. After all the heats, we waited for the CIK trailer to release the points to see where I would be starting for the Prefinal. Once they got done tallying up the points, I was excited to see I was ranked 14th overall and would be starting my Prefinal from the seventh position.
Final Day
We had to rebuild my race engine for the Prefinal and Final, resulting in me having to break in my engine for almost my entire warm-up session. I was able to go hard the last lap and a half and very satisfied with how everything felt on old tires. My kart handled great and I was very excited to get the final day of racing underway. We put on new tires for the Prefinal to give me the best chance at making the main – needing to finish 17th or better to move on. I had a great start and made up a few positions immediately, running in the top-five. I felt a lack of grip compared to the whole week right off the bat. I really struggled to keep pace and was fighting really hard just to stay up near the front. At the end of the Prefinal, I crossed the line seventh. It put me into the show, but I was very unsatisfied with the tires that we were stuck with for the Final. The result put me on row seven, from the 14th position when combining the other Prefinal to make up the 34-kart field. It wasn't horrible by any means, but I was hoping for a better result. I came in and spoke with my mechanic about how the kart felt, so we made a small change hoping that it might have just been the track conditions.
The start of the Final went really well as I was able to get a good start and jump inside the top ten for the first couple opening laps, but then it just went downhill as I struggled to keep pace with a lack of grip. I started to get very frustrated and made a lot of mistakes myself, and all of this combined made me continue to lose positions. When the checkered flag waves, I ended up 22nd in the final results, upset because we had such a great week and that was not the way I wanted it to end.  All in all, it was a great learning experience and I was so happy to be able to work with Factory CRG and it was an opportunity of a lifetime.
I had a great time spending a few weeks with my racing family. The Cooks are like a second family to me, and they took me under their wings on this trip, and I enjoyed every moment with them. Sabré Cook was my roommate for the whole trip, and I am sure there was a few moments that we both got on each others nerves, but it made us have a better relationship in the long run. I also fell in love with Italian food, prosciutto and buffalo mozzarella looked horrible when I first saw it, but by the end of the trip I ate it for almost every meal.
I would really like to thank everyone involved in helping me fulfill a karters dream and giving me the opportunity to race the World Cup. Thank you to: My entire family, CRG, CRG-USA, UIS, Shark Shifter, Go Kart Hero, Ben Johnston, Dupell family, and everyone else who supported and cheered for me on this trip.