GoRotax.com Driver of the Month Presented by eKartingNews.com – September 2014 – Chloe Chambers
New York Micro Max driver brings entire family into the karting community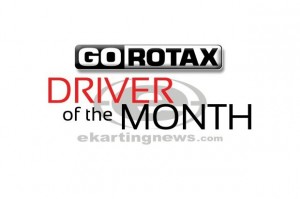 Thanks to the partnership between MAXSpeed Group and eKartingNews.com, a monthly program has been devised to promote outstanding drivers in the Rotax Max Challenge. The new program – GoRotax.com Driver of the Month presented by eKartingNews.com – is based off a similar program the leading karting website offers each month, focused on the United States 'Rotaxians'. Each month, the staff at MAXSpeed and EKN will determine one driver to profile who promotes Rotax and karting in general in a positive fashion, along with standing out on-track. Each driver's accomplishments will be highlighted, in addition to getting to know the Driver of the Month.
Karting has always been a family sport since its inception. Typically, it was a father/son combination that was found at clubs and tracks all across the country. Today, it is very common to see the entire family together at the track, with the number of young female drivers increasing every year. Female drivers continue to compete at the top level in the sport, as shown by the recent victory of Ashley Rogero at the Cold Stone Rotax Pan American Challenge in Senior Max. She is the role model and idol for the upcoming young female drivers across the country. One of those drivers is New York's Chloe Chambers – the September GoRotax Driver of the Month.
Chambers is part of the popular Northeast Rotax Max Challenge, directed by Tim Hannen of the Oakland Valley Race Park in Cuddebackville, New York. This year's program featured seven events, featuring four different facilities including a stop in Canada at the Monaco de Trois-Rivieres in Quebec, Canada. The series had 14 Micro Max drivers compete on the season, featuring four different winners. Chambers recorded finishes of first and second in the series' second double header weekend in June. After placing well during the international round at the Eastern Canadian Karting Championship/Northeast Rotax Max Challenge joint event in Canada, the program returned back to OVRP facility.
Back at her home track, Chambers drove to a runner-up on Saturday, and backed it up with her second victory of the season. Never placing outside the top-five in 11 races, Chambers finished the season third in the standings. Chloe also recently took part in the Rotax Pan American Challenge, another major international event. She qualified a strong 11th, but was shuffled back in the three heat races. In the main event, Chloe was caught up in a turn one incident, but was able to continue on and finish the race, placing 21st.
Chambers life story is truly unique, as she along with her two siblings are adopted. Chloe was adopted by Matthew and Shannon Chambers from China when she was a 1-year old. Her brother Oliver is from Ethiopia and her sister Emma is also from China. The entire family travels to races together in the RV, with everyone enjoying the time together and the sport of karting. Chloe is helping to teach her younger brother Oliver to drive, as he began in a kid kart this season, with plans of racing next year.
GoRotax.com Driver of the Month presented by eKartingNews.com
September 2014 – Chloe Chambers
Bio
Born: June 14, 2004
Hometown: Monroe, New York
Parents: Matthew and Shannon Chambers
Siblings: Oliver (5) & Emma Claire (2)
Height/Weight: 4'5" / 58 lbs.
Education: 5th grade
Job: Student and I assist Tim, Peter and Chris with teaching new karters at Oakland Valley Race Park.
Racing Resume
Chassis: Birel RK C28R
Engine Service Center: Oakland Valley Race Park
Sponsors: Prospect33
United States Rotax Max Challenge Home Series: Northeast Rotax Max Challenge
Years Karting: 3 Years
How did you get started in karting? My dad was in a local Porsche club and did autocross and track days. One day I asked if I could somehow drive, so my Dad & Mom looked into how I could drive and they took me to Oakland Valley Race Park where I learned to kart and began racing in kid kart.
What has been the high point in your racing career? The improvements I have made this year to my driving, racing and being able to provide much more feedback on my kart setup with my coach and my Dad; from those I have become very good and won races in my regional series which has a very high level of competition.
What are your goals in racing? We set goals this year to be at the front of field in Micro at national level for 2015, beyond that, to always continue to improve myself but also to help others enjoy karting as much as I do.
In a few words, how would you describe your driving style? Smooth and fast, I work on being smart about how I race. My Dad says I am 'cool as a cucumber'.
2013 Accomplishments: I really improved my driving and racing with wins at club and regional level.
Likes
Favorite Track: Orlando Kart Center – I like all tracks that are technical.
Favorite form of professional motorsports: Formula 1, but rallying looks cool too.
Favorite karting driver: Chris Bogart – he's also my driving coach, engine builder and tuner.
Favorite professional driver: Lewis Hamilton current and Ayrton Senna.
Favorite website: Minecraft.net, eKartingNews.com, chloechambers.com
Favorite movie: Earth to Echo
Favorite actor/actress: I don't know
Favorite music/group: Ariana Grande & I love to watch The Voice
Favorite vacation/activity spot: Florida – race tracks, sun and beaches!
Favorite food: I'm PASTA powered!
Real Deal
What do you do when not at the track? I swim competitively for a local swim club year round; I also play the violin; I like to FaceTime friends and play Minecraft; in the summer I like to boat and tube and in the winter I like to ski
What are your goals outside of karting? Right now I am working hard at swimming. I have a goal to drop my freestyle and butterfly times so I can qualify for the 2015 NY Metropolitan Area Junior Olympics. At school, I really like math and science, so maybe I could combine those with racing and be a race engineer.
What type of street car would you like to drive? Porsche GT3 – there is no substitute.
What are your pet peeves or things that irritate you? My little brother, Oliver.
What is your favorite aspect about racing in the Rotax Max Challenge program? The level of racing is super competitive, I can go through all the categories from Micro through Senior or DD2 and I get to travel and make friends with so many people.