EKN One-on-One: Robert Bujdoso – Checkered Motorsports
Young racer helping to guide growth of family-owned business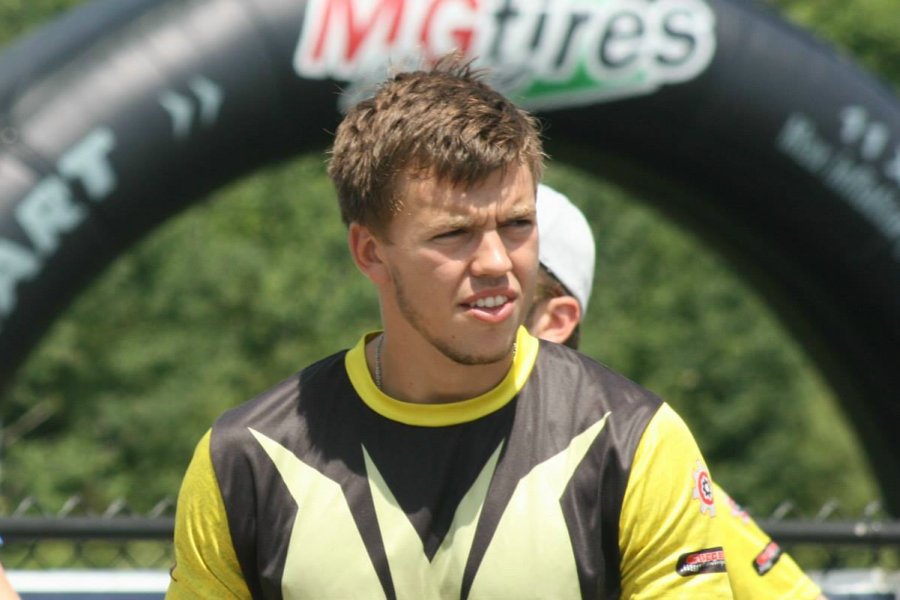 Checkered Motorsports' Robert Bujdoso (Photo: Iqbal Waryah)
The PCR brand has a long history in the United States. For years, the marque was distributed and promoted by the historic Franklin Motorsports operation out of Wisconsin, with the Mayr family fully behind the program. After the company was sold in 2005, the brand slowly lost momentum before finding a new home with Checkered Motorsports in 2009. Over the last six years, the operation has enjoyed renewed growth and stature as the company works from its base in Girard, Ohio, located just outside Youngstown.

The company is owned and operated by Csaba Bujdoso. Born in Romania, 'Chubba' as it is pronounced, moved to the United States in 1980 when he was 20. He raced dirt bikes in his native country, and moved to SCCA competition when he landed in America. In 2002, Bujdoso won the SCCA Runoffs at Mid-Ohio in the AS category (American Sedan). He competed in 2006 Trans-Am Series against names like Klaus Graf, Greg Pickett, and Paul Gentilozzi. Everywhere he went, his children came with him. That 'gearhead' mentality trickled down to both Robert and Andrew, and soon they were the ones behind the wheel.
Robert and Andrew got involved racing karts in 2008. The following year, Checkered Motorsports was created and has grown steadily ever since. Robert began in the Junior ranks but when he moved into the Senior level, success came quickly. Bujodoso was among the top contenders in the World Karting Association Manufacturers Cup Series, scoring two TaG championships each season in 2010 and again in 2011. In 2012, he added a fifth title to his CV, and finished among the top-five of the eKartingNews.com TaG Driver Rankings. The last two years, Robert has put his racing efforts into developing a stock car driver career while working on the industry side of karting.
Checkered Motorsports' race team has grown since its early days as well. The program has earned numerous WKA championships and victories over the last four seasons. This year, AJ Myers scored the top-line Leopard Pro title in the United States Pro Kart Series. Checkered Motorsports is also a supporting partner in Gearup Challenge F-Series, along with the North East Shifter Kart Series, earning wins in both TaG and Stock Moto competition.
We had a chance to talk with Robert about where he is in his career and what the future holds for Checkered Motorsports/PCR USA.
EKN: Tell us a little about how Checkered Motorsports began.
Robert Bujdoso: It began with me and my brother Andrew. We started with karting, just the three of us, and then we welcomed others into our program as we felt we could help those looking to get better. 2007 is when we started racing and the following year is when we started competing at the national level.
EKN: You excelled behind the wheel during a time when the WKA Manufacturers Cup Series was at a peak as far as numbers and drivers. What does it mean to be a five-time class champion, including two titles a season for two straight years?
RB: It all started at the shop. The majority of these races begin with all the work done prior to getting to the track. I spent extra days and extra hours prepping our equipment. We worked really close with Sean Cook at the time, and then Daniel Woltjer to provide some killer horsepower. But what I think stood out was the homework we did at the shop.
EKN: Checkered Motorsports began as a team with you and your brother. Today, it can be up to 15 drivers under the tent on a weekend. What has been a key aspect to the growth of Checkered Motorsports?
RB: I think it's really about being a big family atmosphere. We are all trying to have a good time, but at the same time we are all here to win. If we are not having fun, it doesn't feel right. We are really committed to sharing information. That is one of our key guidelines about being part of the Checkered Motorsports family. It's an open door policy that extends from the top down, and everyone is part of the group.
EKN: The PCR chassis has been in the United States for a number of decades, yet does not enjoy the popularity of some other models. What type of a relationship do you have with the Italian factory, both from a technical standpoint and in a support fashion?
RB: It's a strong relationship. With our Junior Yamaha, we have been doing a lot of R & D work, and they are very reasonable about what changes we can make to produce a better product. What we do after a race weekend is send back feedback on our results and the issues we ran into. They are quick to provide us with suggestions for those problems.
EKN: AJ Myers helped bring Checkered Motorsports its first USPKS championship this year. Did the success you had in the WKA program help translate to the quick speed of Myers in the Leopard Pro this year?
RB: When I ran, we learned a lot about the key baseline setups, so that has helped with AJ and all our other customers. I definitely think our past success has built a solid platform for all the Checkered Motorsports drivers and PCR pilots here in the United States.
EKN: The RoboPong 200 showed just how fast both you and your brother are behind the wheel, and also the speed of the PCR chassis. Racing always has its good luck and bad luck. Have you ever seen or had a race slip away like that before?
RB: I've been around karting for some time now, but the RoboPong was a hard race to swallow.  Considering the time and effort that we have done to put ourselves in a situation to win that event, those opportunities do not come everyday.  RoboPong is notorious for having freak accidents happen, most races that I have seen have been slipped away during the RoboPong.
EKN: It seems there was a lot of focus on the pit stops to make both karts under the tent get in and out as quick as possible. How much planning went into the RoboPong event?
RB: The planning was endless in preparation for the RoboPong.  It all began at the shop where the karts started from a bare frame and then worked themselves into complete race ready Leopard packages. Our part was to ensure that the equipment was going to withstand the 200 laps in addition to providing quick karts for our team drivers. Teaming up with the experienced Adrenaline Fix Karting team gave us that extra competitive advantage. They managed our pit stops and their results on pit lane spoke for themselves. We also held team meetings and practice stops to make sure all drivers and mechanics were on the same page. The planning never stopped until the checkered flag of the race.
EKN: Not only is the PCR brand doing well in Senior competition, but John Paul Southern Jr. has shined as a Cadet and recently moving into the Junior ranks. It seems the more track time this kid gets, the better he becomes.
RB: The team has been focusing across all platforms of competition, and Southern Jr. has been clicking on all cylinders. He has been working closely with the team, and his talent will take him far. Racing across the states with different engine packages and tires has allowed him to experience just about anything that can come his way. Look for more great things from the young 12-year-old.
EKN: Over the last few seasons, it seems Checkered Motorsports is developing a solid Stock Moto package with the PCR chassis. Is there any hope in expanding the brand out west to compete in Superkarts! USA competition.
RB: We are trying to develop a solid program in the shifterkart market. I think it's a better race package, and the increase in speed is always a plus. From the Sportsman level to the shifters, I think the PCR kart is a great package. We figured we had to demonstrate what the brand can do on the track to help market just how successful the chassis can be, between myself, Andrew, Kyle Smith, and AJ.
EKN: On the flip side, what about growth in Rotax racing? You work as a private tuner at a number of Rotax events across the country, including helping Ryan Norberg earn runner-up at the Coldstone US Grand Nationals. What is Checkered Motorsports/PCR USA position on developing a Rotax package?
RB: The reason we have been heavily into the Rotax racing is we have not been able to form a good relationship with a engine service center. We all know a good engine package is vital in racing to compete. We are looking at adding Rotax racing to our program, but first we want to establish a program with an engine provider. I know next year, we are going to have one or two guys racing in Rotax, but that will be it for now.
EKN: Over the past few seasons, you have competed in selected ARCA races. What, if anything, have you been able to take from karting to stock cars, either on and off the track?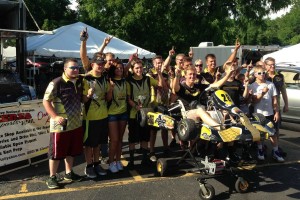 RB: The handling of the car is obviously different, but you can take the key concepts in any form of motorsports. When the car is pushing, the kart is pushing, so you understand the same type of feel. I think overtaking, using the throttle correctly can kind of relate, but it is still a big hurdle going from karts to stock cars.
EKN: Is Checkered Motorsports looking at adding a driver development program in the future?
RB: Me and my dad have talked about that, incorporating that avenue for potential and current customers. It is still in the works but is on our map.
EKN: What are the race team plans for 2015?
RB: We are going to follow the USPKS program once again, maybe some of the SKUSA Pro Tour events outside the SuperNationals – which we will be at this November. We are planning on also attending the Florida Winter Tour Formula Kart and Rotax weekends, along with the Florida Pro Kart Series.
EKN: Thank you for your time Robert, and we will see you at the next race.
RB: Thank you guys.