World Champions Reach New Heights on the Gold Coast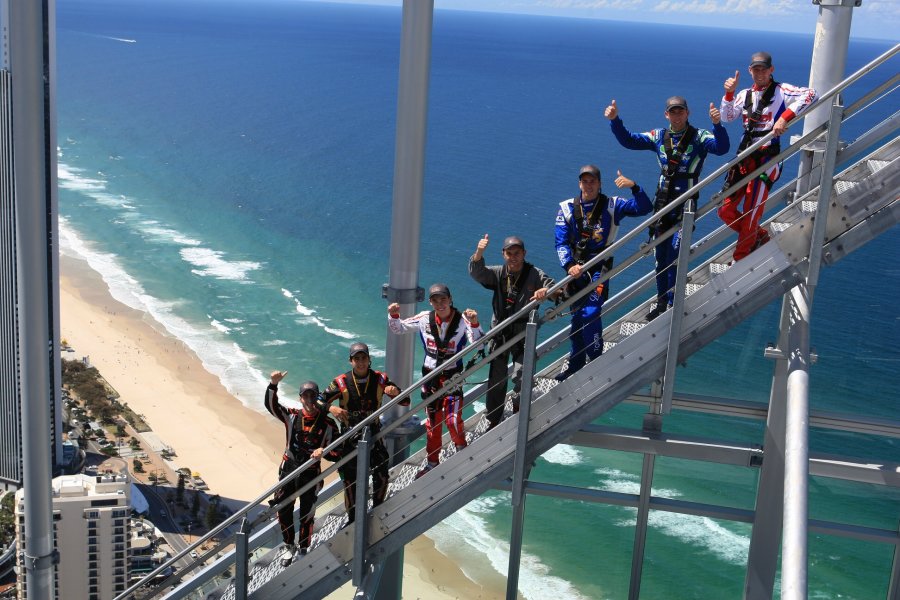 The Race of Stars international visitors on the SkyPoint Climb in Surfers Paradise today
Pic: Coopers Photography
While they have reached enormous heights in their racing careers, World Champion kart racers Davide Forè and Jonathan Thonon reached new heights ahead of this Saturday's Race of Stars on the Gold Coast in Australia.
The pair joined their fellow international visitors on the SkyPoint Climb in Surfers Paradise today.
At 270 metres above sea level on top of the regions most iconic residential tower, Q1, the SkyPoint Climb provided the international racers with breathtaking 360 degree views of the Gold Coast region.
"I was very nervous at first, I don't like altitude (heights)," said Fore.
"Once we started the climb, it was unlike anything I've done before. Although I only landed last night, we've seen a lot of the Gold Coast in one day and it has been great.
"I'd really like to thank everyone in Australia who has made this visit happen for me and I'm very excited about the race this weekend."
While enjoying the exhilarating adventure experience, the youngest driver of the international group, 15 year-old Juan Manuel Correa, is already focused on taking on Australia's best drivers this Saturday.
"This is my first time to Australia and I'm really looking forward to the race," said Correa, a member of the Lotus F1 Junior Driver Team.
"I haven't seen a lot about the Australian drivers but I'm sure they are very talented and it is exciting to be racing in a new country. I'd like to win the race but also have fun, meet some new people and learn a little bit more about Australia."
Over the coming days, there will be more than 150 of Australia's best and several more of the world's best drivers converging on the Gold Coast for the invitational Race of Stars event.
These competitors will range from the youngest in the Cadets class through to the high-speed elite KZ2 class where drivers will reach speeds in excess of 160 km/h.
The Xtreme Karting Complex is located on Pimpama Jacobs Well Road, Pimpama (Exit 49 off the M1).
The Race of Stars is powered by the V8 Superfest that surrounds the Castrol EDGE Gold Coast 600. The V8 Superfest is a community events program that is an initiative of the Queensland Government, Gold Coast City Council and V8 Supercars Australia. The free event is open to spectators and last year enjoyed great attendances.