Snake River Karters Set to End Successful Racing Season at Glen Morgan Raceway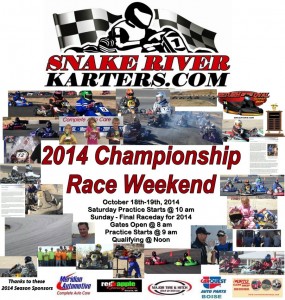 Championship Weekend 2014! We have several close battles for the Top Spot in many classes! Some drivers opting to use their one "Drop" earlier in the year and having trouble thru the season has left the door Wide Open for the Championship!
This weekend ends a season in which asphalt Kart Racing in Southern Idaho began a journey that will ensure a continued, growing and vibrant racing community just outside of Boise. The track was re-paved, new curbing set and many plans for updates are in place for the next season. The Snake River Karters found involvement from members returning to the track after years of inactivity in the sport. Membership in the club and kart counts grew by significant percentages.
A picture is worth a thousand words! The future is bright for kart racing at Glen Morgan Speedway. Join us this Sunday, October 19th as drivers and teams battle for their prospective 2014 Snake River Karters Class Championships!