Race Report: Manitoba Karting Association – Rene Berard Enduro Classic & Race 10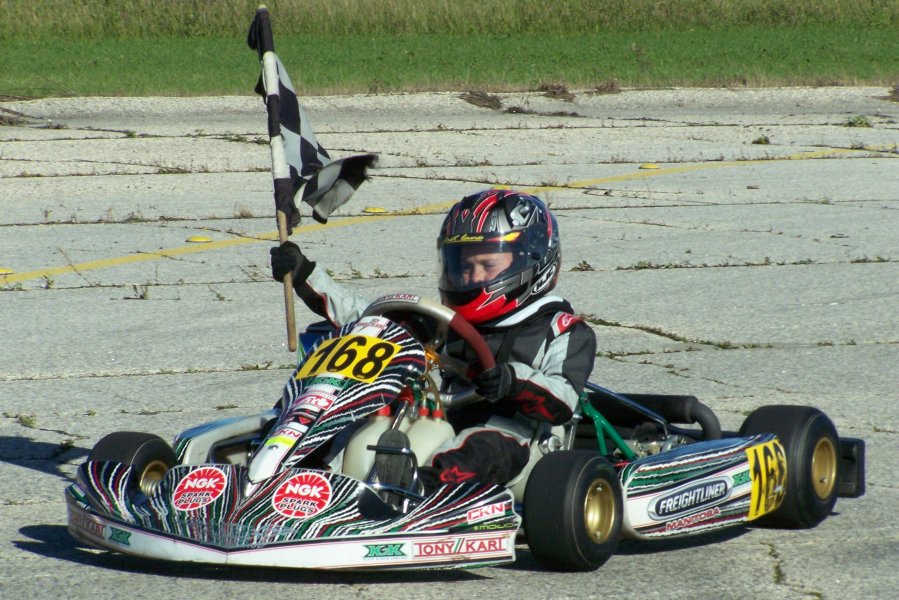 Brandon Berard
The weather was warm and sunny for the doubleheader Rene Berard Enduro Classic and Race # 10 of the Manitoba Karting Association Championship at Gimli Motorsport Park. The sponsor for Saturday's Rene Berard Enduro Classic was Red River CO-OP and Sunday's race # 10 season finale sponsor was BRE Racing.
Highlights of Rene Berard Enduro Classic
The enduro is a fund raiser for Cancer Care and is now named after the Manitoba Karting Association's longest competing member Rene Berard who has a long history of always helping out his fellow competitors as well as overcoming adversity and he keeps on racing.
The driver's choose the format of the annual enduro and this year they choose a form of kart bracket racing. Racers started based on their fastest lap from the race # 9's pre-final. The slowest racer starts first. The next racer starts based on the difference between their time and the first driver's time, multiplied by the number of laps of race distance. The same calculation is made for all subsequent drivers in each class. Based on a ten lap race, the slowest driver will get a 0.5 x 10 lap (5 seconds) head start in front of the second driver. Driver # 3 will be leaving 0.8 x 10 laps (8 seconds) after the first driver leaves … and so on. The theory being that after 10 laps, all drivers should be taking the chequered flag simultaneously. Saturday's races worked out well and all the competitors had a lot of fun at the Rene Berard Enduro Classic.
Highlights of Race # 10
On Sunday in the Junior 1 Briggs class Ethan Clace was on pole and lead flag to flag to win with Jared Malanchuk 2nd and Landon Holm 3rd.
Junior 2 Briggs had Garrett Gulenchyn on pole. The Junior 2 Briggs class ran in a tight pack with Victoria Stutsky getting by Garrett on lap 12 and holding on to get the win. Victoria won Garrett 2nd and Jeff Fulham 3rd.
A big field of Briggs Seniors had Roland Fortier on pole. Roland lead the long train of karts in the Briggs class but wound up swapping the lead with John Buzza and Michael Copp at the finish it was John 1st, Roland 2nd and Michael 3rd.
Micro Max class had Brad Bachalo on pole and he was leading until he broke his throttle cable. Mandy Veselinovich won with Brad finishing 2nd.
In Mini Max Brandon Berard was on pole and he lead flag to flag to take the win with Jill Berard 2nd and Rylan Despins 3rd.
The Junior Rotax class had Jeff Fulham on pole and he lead easily from start to finish. Behind Jeff there was an intense fight for P2 at the finish it was Jeff 1st, Stephen Bachalo 2nd and Garrett Gulenchyn 3rd.
Senior Rotax class had Morgan McDonald on pole and there was a three kart battle for the lead between Morgan, Jordan Brown and Colin Farebrother. At the chequered flag they came across the finish line to a three kart wide photo-finish with Morgan 1st, Jordan 2nd and Colin 3rd.
In the DD2 Rotax class John Buzza was on pole position and John took off and led flag to flag with Mark Sawatsky 2nd and Jordan Brown 3rd.
It was a great karting season with a lot of close and exciting racing. Some of Manitoba Karting Association's 2014 season highlights were the crowd pleasing Briggs Senior class as well as John Buzza in the Can-Am Rotax Championship winning a ticket in the DD2 class to go to the 2014 Rotax Grand Finals in Valencia, Spain as part of Team Canada. Also MKA alumni Daniel Burkett won the 2014 US Formula Atlantic Championship.
Sunday Race # 10 Results:
Junior 1 Briggs
1st # 30 Ethan Clace
2nd # 43 Jared Malanchuk
3rd # 59 Landon Hohm
Junior 2 Briggs
1st #  88 Victoria Stutsky
2nd # 643 Garrett Gulenchyn
3rd # 631 Jeff Fulham
Senior Briggs
1st # 715 John Buzza
2nd # 8 Roland Fortier
3rd # 95 Michael Copp
Micro Max
1st # 77 Mandy Veselinovich
2nd # 87 Brad Bachalo
Mini Max
1st # 168 Brandon Berard
2nd # 115 Jill Berard
3rd # 181 Rylan Despins
Junior Rotax
1st # 231 Jeff Fulham
2nd # 267 Stephen Bachalo
3rd # 243 Garrett Gulenchyn
Senior Rotax
1st # 391 Morgan McDonald
2nd # 25 Jordan Brown
3rd # 2 Colin Farebrother
DD2 Rotax
1st # 414 John Buzza
2nd # 66 Mark Sawatsky
3rd # 25 Jordan Brown
For more information on the MKA, visit http://www.manitobakarting.ca