Operation Grassroots: What Karting is All About
A personal look at what the sport means and how to get started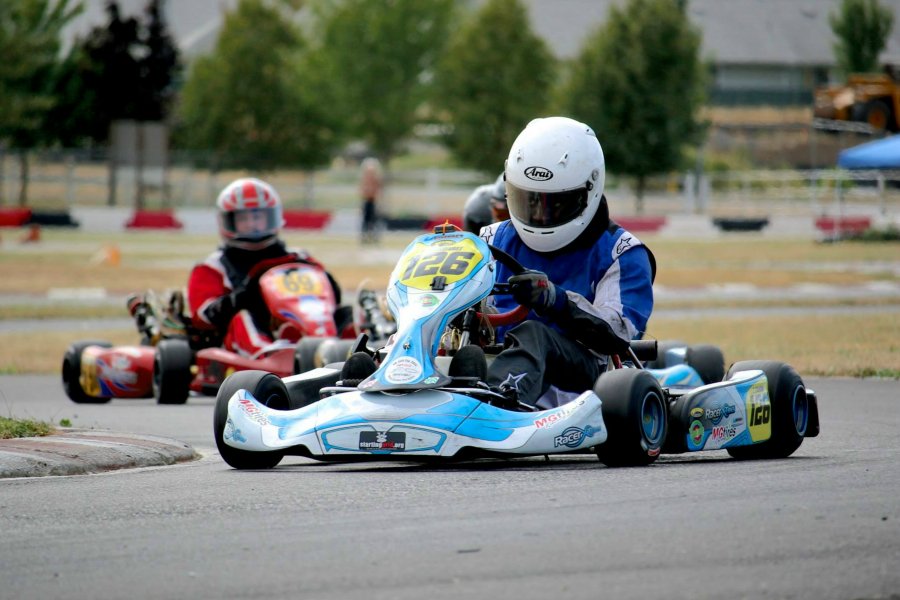 Davin Sturdivant (Photo: Jacob Janders)
As a member of the karting community since the day I was born, it is hard to understand why it is difficult to expose the sport of karting to the general public, and enjoy the love of the sport as much as I do. Part of our #OperationsGrassroots program is to provide an article series, dedicated to getting involved in the sport of karting. Much of our previous submissions have focused around what to purchase when entering the sport for the first time. Now, we are looking at how and who is coming into the karting community.
This profile is with Davin Sturdivant, a Briggs World Formula racer from Woodinville, Washington (located the I-405 northwest of downtown Seattle). His video on StartingGrid.org grabbed our attention, as it was a first-person look at what the sport means to him, which reflects what many of us feel.
We were able to dig deeper into the process and the path that put Sturdivant into the sport of karting.
EKN: Looking at your website, it appears you are a big fan of motorsports in general. Have you always been involved or a fan of racing?
Davin Sturdivant: I've always been a fan of motorsports, since I was a baby. From playing with toy cars, to racing games and eventually racing myself. I've always been hooked on motorsports.
EKN: When were you introduced to karting?
DS: I was introduced into karting about five years ago. I had been autocrossing for a few years before that, and I had been looking for a way to get some additional seat time during the off season.  A friend of mine light-heartedly introduced me to karting, and I got so hooked that I made the transition to that as my primary form of racing. The wheel to wheel experience, and the immense increase in available seat time just made karting a no-brainer!
EKN: What was your first experience behind the wheel? Was it a rental kart or a racing kart? And where was it?
DS: My first driving experience was actually in SCCA autocross driving cars. As much as I enjoyed that experience, I found myself wanting to do more wheel to wheel racing. So after a suggestion from one of my friends, my first karting experience was racing rental karts at PGP Motorsports Park. I also did a lot of indoor karting, so I could learn the basics of racecraft.
EKN: When you purchased your first kart, who or what helped in what to purchase and what not to purchase?
DS: When I finally looked to purchase my first competition kart, I had a few people helping me figure my way around. Some of my friends who raced rental karts also had competition karts. So I would go to the track to watch them race, and start asking questions. When I met up with people like Jason Hall from Xccel Racing, and Aaron Stanford, they were super helpful in answering many of my questions, and finding a competition kart for me to try to see if I enjoyed it.
The first competition kart I drove was a Briggs World Formula out at Tri-Cities Kart Club. A week later, Jason drove me out to watch the Gold Cup race there, and when I saw 20 World Formulas in one field, I was hooked on getting a four-stroke kart of my own.  My current chassis is a Velox SK1.
Four-stroke karting is also a more affordable way for me to get seat-time at all of the tracks in my area, and so that was also majorly appealing.
EKN: Was it Jason and Aaron who steered you into 4-Cycle racing, or did you do your own homework to find out what was more affordable for you?
DS: It was a bit of both steering and research. Jason introduced me to Chris and Ricky Worley, who had a four-stroke for me to drive at a practice day. Once I drove it, I asked several questions about the cost and running costs of the engine. Then called around to kart shops like Kart-O-Rama to confirm what I've learned. After doing some research, World Formula was a great fit for what I wanted, the field sizes at Gold Cup, and the speed I could afford.
EKN: Have you driven anything other than the 4-Cycle kart? A TaG or Shifter kart yet?
DS: I've driven a Rotax kart, and found that really fun. However I chose four-stroke, because I wanted to jump into a class gave me time to refine my racecraft, compete with drivers that were closer to my experience level,  and spend time collecting all of the equipment that I would need to make my kart faster.
In my opinion, it's about making sure that I have all of the tools necessary to be successful on the track, rather than jumping into a faster machine that I would have a hard time keeping running. With the help of some of my sponsors like RacerTimes and Sound Microsystems, it's made it helpful for me to have a large budget for racing, so that I can spend more time on the track.  I'll eventually make a jump into two-stroke, but I'm finding four-stroke to be a lot of fun while I'm learning.
EKN: How many times did you race this year?
DS: I competed in 19 races this year, including four regional Gold Cup races (and not counting all of the practice days I did with Xccel Racing). I placed 4th in the World Formula Pro class in the IKF Region 6 Gold Cup. I try to be in my kart, at least every two weeks. The last month, I've been in my kart every weekend except for last week because one of my motors is in the shop. The year isn't over yet.
I've got plenty of fall and winter practice days scheduled up at SIMA (Sumas International Motorsports Academy) on my calendar. I drove in the fall and winter last year at SIMA, and the four-stroke races at PGP and that seat time was extremely helpful.
EKN: What are your 2015 plans in karting, and the future?
DS: Next year, on the track I'll be racing World Formula again. I had a few engine problems this year, so I want to take a solid run at the World Formula Pro class in my region. I'll be helping to provide Xccel Racing with more information on how the Velox SK1 is handling four-stroke applications. Xccel Racing has a relationship with the factory in Italy, and there may be a different chassis stiffness that I can try using.
Off the track, I've got a few projects going on. I'll also be doing some kart coaching with new drivers. When I was running rental karts, I used to host karting clinics at Sykart Indoor Racing Center, teaching people how to go faster. So I'll be looking to host a similar programs to drivers who are new to karting. I write articles for some motorsport publications like Ross Bentley's 'Speed Secrets Weekly, sites like Build/Race Party and my own blog (StartingGrid.org). So I'll be looking to do more work like that. Some web admin work for some of the local kart clubs in my area like the Puget Sound Go Kart Association and the Puget Sound Road Race Association.
Plans for any farther in the future?  Karting-wise. I'd like to race a wider range of karts and compete in some national events. I'd also like to race a two stroke TAG package, but I haven't decided what engine package I'd be running. All depends on the budget and timing, of course. I also have ambitions to do some racing in full-size cars like a F1600 or a similar SCCA style class.