SSM Super One Rotax/Honda Round 6 – PF International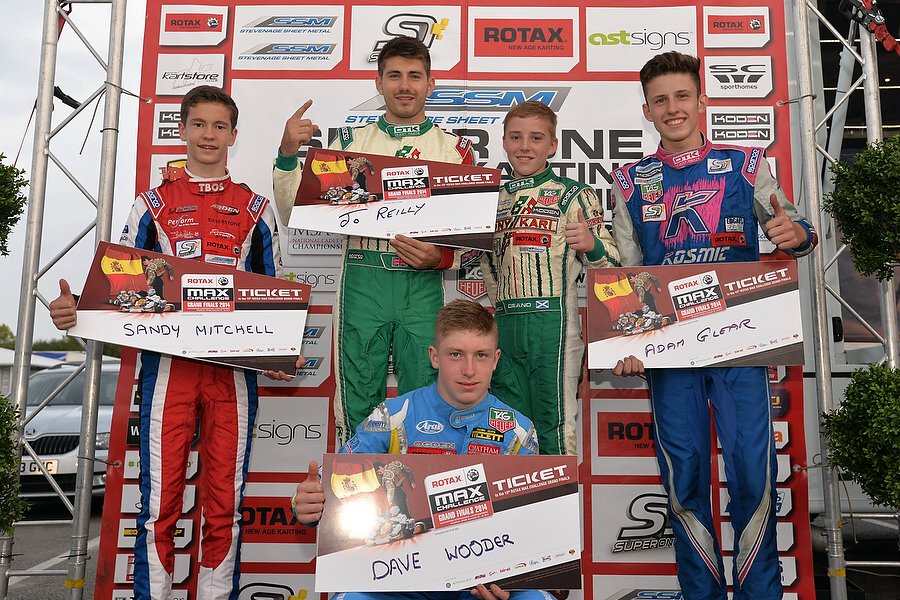 (Photo: Chris Walker - kartpix.net)
Balmy weather embraced the longest circuit of the series but the action on that track was fast and furious with several appeals to the Stewards, points being so vital. With nip and tuck in a couple of the classes nerves were jangling, so congratulations to the new champions Dean MacDonald (MiniMax), Tom Canning (Honda Cadet), Sandy Mitchell (Junior Max) and Joseph Reilly (Senior Max).
Mini Max
Championship leader Dean MacDonald started as he meant to continue with fastest qualifying time, beating Adam Smalley and Connor McCarthy whilst Alex Quinn was only 24th and Jordan Collard even further back.  MacDonald won both his heats whilst Quinn did well enough for fourth on the grid for the pre-final with Collard 14th, whilst Oliver York shared the front row. Although MacDonald set off in the lead, many trades were to take place before the finish.  Rory Hudson was first to depose MacDonald, then York, Hudson again with a brief tenure before MacDonald came storming back at him. A bit of a gap was soon eliminated as Thomas Turner now gained the front, he was dumped in favour of Jonathan Hoggard.  But he crashed with Samuel Pooley so MacDonald went ahead once more before the fast rising Collard took over.  As the others fought behind, MacDonald took second from Turner on the bridge and defended to the flag letting Collard escape. On the last throes of the race Quinn, Smalley and Tyler Chesterton all deposed Turner with York in seventh.  Collard was then given a five place penalty for blocking but won his win back on appeal.  Collard and Smalley broke away in the second final with MacDonald hung out to dry over the bridge and Turner falling back in the complex. The pack had caught up with the lead duo, Quinn moving ahead then momentarily falling to third but soon back in the lead.  York drafted up to Quinn and soon MacDonald was in close attendance as York grabbed the lead at the first hairpin, and hence the win. "I didn't need to win, the others were crashing but I managed to stay out of trouble," said MacDonald.  York was pleased with his resurgence, saying: "It's sweet, all came good, I changed teams and changed everything."
Mini Max, Final 1 (16 laps) 1 Jordan Collard 20 (Tonykart) 16m 36.49s; 2 Dean MacDonald 11 (Tonykart) +1.03s; 3 Alex Quinn 12 (Tonykart); 4 Adam Smalley 54 (Tonykart); 5 Tyler Chesterton 25 (tba); 6 Thomas Turner 24 (Tonykart).
Mini Max, Final 2 (16 laps) 1 Oliver York 27 (Tonykart) 16m 33.85s; 2  Quinn +0.53s; 3 Macdonald; 4 MacDonald; 5 Smalley; 6 Rory Hudson 44 (Tonykart).
Final provisional championship standings: 1 Dean MacDonald 761; 2 Alex Quinn 751; 3 Jonathan Hoggard 657; 4 Adam Smalley 634; 5 Samuel Pooley 631; 6 Thomas Turner 611; 7 Axel Charpentier 610; 8 Oliver York 586; 9 Jordan Collard 586; 10 Jordan Cane 580
Honda Cadet
After the timed qualifying sessions were combined it was Ollie Hall on the heat poles from Samra Keaton and Myles Apps.  The two title protagonists Tom Canning and Kiern Jewiss were 6th and 7th.  Mark Kimber, Canning and Apps took the heat wins.  In the first final Canning tried to slice past Apps at the chicane but Apps stayed ahead but briefly as Harry Thompson then Jewiss took command. Thompson established himself as the pace setter and managed to stay in front until the chequer despite pressure from Jewiss after he had taken Alex Lloyd.  Canning had fallen to seventh then was hit with a five place penalty.  Although he appealed, meaning the second final was shifted to the last race of the day, the penalty stuck putting him back behind Jewiss in the title race.  Running second behind Thompson, Jewiss was hung out to dry at the first hairpin putting him down in sixth.  Although he leapfrogged Kimber, Canning was storming up and overtook Jewiss as the latter went on a grassy trip out of the hairpins.  That reversed the title positions, Jewiss only recovering to eighth when the race was stopped early to deal with a fire on an overturned kart.  Kimber had won, but a second placed Canning had the title over a disappointed Jewiss, who said he had been hit off at the second hairpin. "I couldn't have done it without Mark (Kimber)'s help," exclaimed Canning.  And Kimber, who had taken third in the series, added that it would be his last race in the class.
Honda Cadet, Final 1 (15 laps) 1 Harry Thompson (Project One) 17m 13.95s; 2 Kiern Jewiss 1 (Tonykart) +0.03s; 3 Alex Lloyd 48 (Zip); 4 Myles Apps 0 (Zip); 5 Thomas Pegram 31 (BRK); 6 Keaton Samra 10 (Zip).
Honda Cadet, Final 2 (11 laps) 1 Mark Kimber GP (BRK) 12m 38.22s; 2 Tom Canning 7 (BRK) +0.07s; 3 Apps; 4 Ben Kasperczak 35 (CRG); 5 Dragan Pinsent 98 (Project One); 6 Pegram.
Final provisional championship standings: 1 Tom Canning 734; 2 Kiern Jewiss 728; 3 Mark Kimber 727; 4 Myles Apps 711; 5 Harry Thompson 696; 6 Keaton Samra 645; 7 Thomas Pegram 640; 8 Dragan Pinsent 627; 9 Alex Lloyd 623; 10 Zak Rogers 606
Junior Max
Qualifying was good for Dave Wooder, with Stuart Middleton nearest on times then Sandy Mitchell who had the upper hand in the title race.  Jack McCarthy, Mitchell and Richard Vershoor were the heat winners putting Mitchell on pole beside Vershoor for the first final.  Tom Gamble took Vershoor at the first hairpin for the first final lead but then ran wide onto the grass off the bridge, losing many places.  A five place penalty put him even further down.  Vershoor next lost the lead to Mitchell who led many laps until Wooder, who had lost places at the start, came back up.  Wooder swept into the lead up to the bridge, and held off McCarthy to the flag, whilst Mitchell dropped to third defending against Zak Fulk and Lucas Vaus.  William Tregurtha would have been next save for his five place penalty.  A half decent finish was all that stood between Mitchell and the ABkC National title.  Wooder was elbowed back from the lead to around eighth early in the second final, then Mitchell leapfrogged Stefano Charalambous and Vaus in quick succession to lead.  A bit of horse trading later had Mitchell down in seventh as Vaus took up the running.  Meanwhile Wooder was storming back through to the front, an interchange with Vershoor  and then Gamble delaying him slightly.  McCarthy was now in the lead, then briefly Gamble before Wooder forged to the front at the second hairpin.  Gamble and MacCarthy joined him on the podium whilst Vershoor took a five place penalty for gaining an unfair advantage but Mitchell had beaten Wooder to the title.  "It was just down to consistent results and being up the front," said a modest Mitchell.  "Everyone was battling and it allowed me to catch up, the kart was a bit slow to start with, but thanks to DHR," said Wooder.  And Max Bird and Darren Keane reached sixth and seventh having both come from the repechage.
Junior Max, Final 1 (16 laps) 1 Dave Wooder GP (Alonso) 16m 1.74s; 2 Jack McCarthy 81 (Tonykart) +0.06s; 3 Sandy Mitchell 19 (Tonykart); 4 Zak Fulk 34 (Tonykart); 5 Lucas Vaus 15 (Tonykart); 6 Stefanos Charalambous 66 (Tonykart).
Junior Rotax, Final 2 (16 laps) 1 Wooder 16m 54.850s; 2 Tom Gamble 23 (Tonykart) +0.99s; 3 McCarthy; 4 Vaus; 5 Charalambous; 6 Max Bird 12 (Tonykart)
Final provisional championship standings: 1 Sandy Mitchell 734; 2 Dave Wooder 718; 3 Tom Gamble 709; 4 Jack McCarthy 673; 5 Zak Fulk 671; 6 Josh Skelton 653; 7 William Tregurtha 614; 8 Sam McKenzie 610; 9 Lucas Vaus 587; 10 Stefanos Charalambous 580
Senior Max
Adam Glear and Jack Bartholomew had equal times in the TQ sessions, whilst Joseph Reilly could only manage 14th place.  However a win and a second in the heats restored Reilly to the first final pole over Luke Knott, the other heat winners being Bartholomew and John Stewart.  Reilly soon threw off his pursuers for a lights to flag victory and although Bartholomew twice reached second he failed to hold it. Kyle Fowlie was first to battle past, Bartholomew dropping behind Jake Dalton before having a fight with John Stewart.  Dalton lost his chain, then Bartholomew had a big fight with Josh Price, eventually ending in disaster when Price and Bartholomew speared off at the chicane.  Bartholomew fell to ninth, as Fowlie finished a lonely second.  Matthew Hirst had just got the better of Stewart for third.  Reilly again enjoyed a lights to flag victory, easily sealing the title, but Knott kept him honest through much of the second final after Stewart fell back from his initial second.  Hirst had lost his initial second place, then fell out of fourth with a visit to the weeds.  He managed to recover to sixth.  Bartholomew struggled up to fifth behind Glear and Stewart but the title had been lost in the first final, they all deposed Josh Collings on the last lap. Bartholomew said: "I've been fast all year but its difficult up against all the Strawberry drivers."  A delighted Reilly exclaimed: "I had a bad round at Larkhall and it's been really hard after four years out of a kart seat.  I won't be driving next year, I will be helping Strawberry develop their drivers."
Senior Rotax, Final 1 (17 laps) 1 Reilly (Tonykart) 16m 34.7s; 2 Kyle Fowlie 3 (Tonykart) +1.95s; 3 Matthew Hirst 96 (Tonykart); 4 John Stewart 5 (Gillard); 5 Jack Saffery 8 (Tonykart); 6 Adam Glear 37 (Kosmic).
Senior Rotax, Final 2 (17 laps) 1 Reilly 16m 35.94s; 2 Luke Knott 44 (Tonykart) +0.17s; 3 Glear; 4 Stewart; 5 Jack Bartholomew GP (Tonykart); 6 Hirst.
Final provisional championship standings: 1 Joseph Reilly 747; 2 Jack Bartholomew 732; 3 Adam Glear 673; 4 John Stewart 658; 5 Sam Marsh 650; 6 Josh Price 613; 7 Josh Collings 612; 8 Pierce Lehane 609; 9 Scott Mackrell 602; 10 Jack Saffery 596.